Monday, September 25, 2017
5 Muharram 1439
| | Starts | Iqamah |
| --- | --- | --- |
| Fajr1 | 6:06 | 6:45 |
| Zuhr2 | 1:30 | 2:00 |
| Asr | 4:55 | 6:15 |
| Maghrib | 7:34 | |
| Isha | 8:49 | 9:10 |
Tuesday, September 26, 2017
6 Muharram 1439
| | Starts | Iqamah |
| --- | --- | --- |
| Fajr1 | 6:06 | 6:45 |
| Zuhr2 | 1:29 | 2:00 |
| Asr | 4:54 | 6:15 |
| Maghrib | 7:33 | |
| Isha | 8:48 | 9:10 |
Al-Farooq Masjid
442 14th Street NW
Atlanta, GA 30318
(404) 874-7521
Solar Eclipse Prayer
Posted on Thursday, August 17, 2017 8:53 pm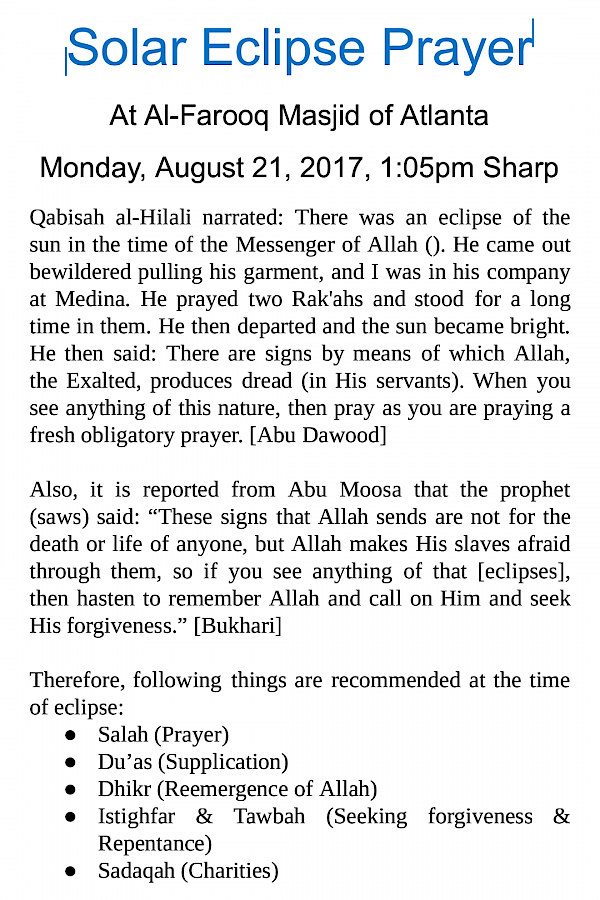 ---
Sunday School
Posted on Wednesday, August 9, 2017 4:59 am
AlFarooq Masjid Sunday school registration is open:
First day of school is Sunday, August 13th at 10:15 AM.  
WE NEED VOLUNTEERS for teachers and teacher assistants.  If you have any referrals, please let us know.
And if you have any questions, please do not hesitate to contact us.
---
Hajj Seminar - 2017
Posted on Wednesday, July 26, 2017 5:50 am
---
Masjid Beautification Day 2017
Posted on Monday, July 17, 2017 8:05 am
---
Eid al-Fitr Photos (2017)
Posted on Sunday, June 25, 2017 9:00 pm
---
MOHID is Al-Farooq Masjid's preferred method of accepting donations/payments.
Please write a check to "Al-Farooq Masjid" and either put it within a donation box at the masjid or mail it to:
Al-Farooq Masjid
442 14th Street NW
Atlanta, GA 30318
"
We have not sent thee but as a universal (Messenger) to men, giving them glad tidings, and warning them (against sin), but most men understand not."