Tuesday, April 23, 2019
18 Shaban 1440
| | Starts | Iqamah |
| --- | --- | --- |
| Fajr1 | 5:28 | 6:15 |
| Zuhr2 | 1:36 | 2:00 |
| Asr | 5:17 | 6:30 |
| Maghrib | 8:20 | |
| Isha | 9:39 | 10:00 |
Wednesday, April 24, 2019
19 Shaban 1440
| | Starts | Iqamah |
| --- | --- | --- |
| Fajr1 | 5:26 | 6:15 |
| Zuhr2 | 1:36 | 2:00 |
| Asr | 5:17 | 6:30 |
| Maghrib | 8:20 | |
| Isha | 9:40 | 10:00 |
Al-Farooq Masjid
442 14th Street NW
Atlanta, GA 30318
(404) 874-7521

(404) 919-7521
Islamic Will Seminar
Posted on Sunday, April 24, 2016 7:42 pm


Islamic Will Seminar
Sun. May 1, 2016 from 9:30am to 1:30pm
Presented by:
Attorney Br. Edward Mitchell, Director of CAIR &
Imam [Mufti] Muhammad Sajid
This annual presentation will review the specifics of creating your Islamic Will and answer technical questions in regards to Georgia Law and Islamic Law.
Sample Islamic Will from Al-Farooq Masjid for Download
---
Hifz Graduation Ceremony 2016
Posted on Sunday, April 24, 2016 7:23 pm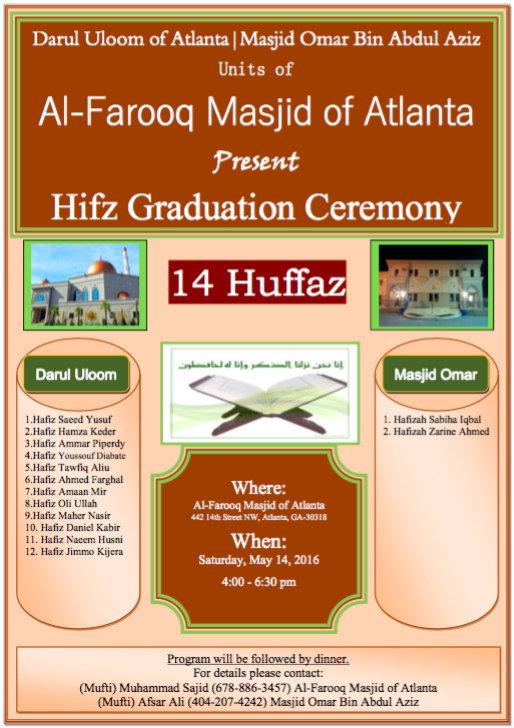 ---
Family Night at Masjid Omar bin Abdul Aziz
Posted on Friday, April 8, 2016 8:07 pm
Masjid Omar bin Abdul Aziz presents Family Night - Understanding the Other Clash of Generations. Held on Friday, April 8, 2016.
---
Tomorrow Never Came: The Redemption of Ka'b ibn Malik
Posted on Friday, April 8, 2016 3:36 pm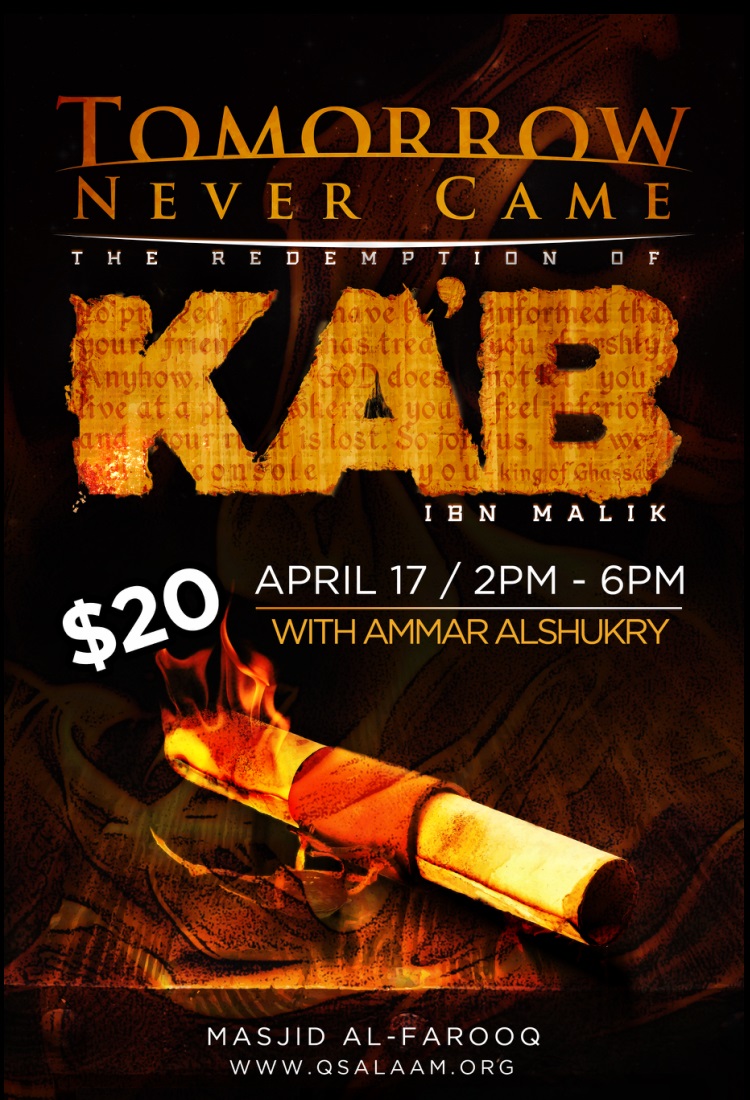 When:
At a young age Ka'b ibn Malik had it all; married, wealthy, he was a companion of the messenger of Allah, and of the very first in Medinah to believe in him and serve him. His faith was unwavering, his reputation was impeccable.
And then...he made a mistake. 
A mistake so big that it turned his world upside down and made the entire city of believers shun him. 
His mistake could have broken him. It could have destroyed him. But it didn't. 
The repentance of Ka'b ibn Malik is one of the most unique stories of the seerah. Told entirely in the first person of the person who lived it, it is a tale of loss, seclusion, trials, temptation..
And redemption. 
Some of the story highlights will include:
1) The consequences of sins in their immediate and long term effects
2) The role friendship plays in our success or failure
3) The conditions of a sincere repentance
4) The virtues of truthfulness
5) The recognizing of blessings and how to increase them
---
Journey to Islam
Posted on Friday, April 8, 2016 3:30 pm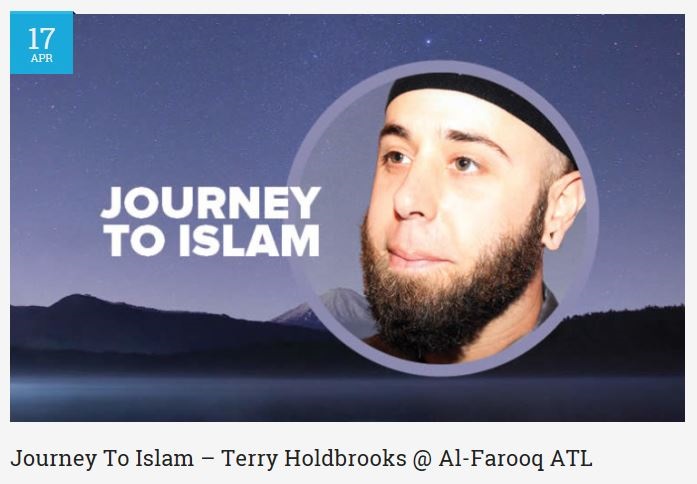 Terry Holdbrooks is a US Army veteran. His experiences in the military led him to accept Islam. Don't miss this rare opportunity to hear an inspiring journey of faith and conversion -- finding peace in Islam!
Khalil Meek, Executive Director of MLFA, is leading the struggle against anti-Muslim injustice in American courtrooms. He has traveled to hundreds of communities to inform audiences about constitutional issues impacting Muslims in America.
Sunday, April 17, 2016 @ 11 a.m.
Al-Farooq Masjid of Atlanta
442 14th St NW • Atlanta, GA 30318
---
"
And every human being's destiny have We tied to his neck; and on the Day of Resurrection We shall bring forth for him a record which he will find wide open;"