Tuesday, December 11, 2018
4 Rabi Al-Akhar 1440
| | Starts | Iqamah |
| --- | --- | --- |
| Fajr1 | 6:04 | 6:45 |
| Zuhr2 | 12:31 | 2:00 |
| Asr | 3:12 | 4:15 |
| Maghrib | 5:33 | |
| Isha | 6:54 | 7:15 |
Wednesday, December 12, 2018
5 Rabi Al-Akhar 1440
| | Starts | Iqamah |
| --- | --- | --- |
| Fajr1 | 6:04 | 6:45 |
| Zuhr2 | 12:32 | 2:00 |
| Asr | 3:12 | 4:15 |
| Maghrib | 5:33 | |
| Isha | 6:54 | 7:15 |
Al-Farooq Masjid
442 14th Street NW
Atlanta, GA 30318
(404) 874-7521

(404) 919-7521
180. The Diamond Society
Posted on Sunday, August 2, 2015 2:00 pm
Dr. M. Hisham Hawasli gives a lecture titled "The Diamond Society" at Al-Farooq Masjid on Sunday, August 2, 2015.
---
Dar-un-Noor Academy Now Enrolling for High School
Posted on Wednesday, July 29, 2015 1:06 pm
Dar-un-Noor Academy under New Management
Now Enrolling For Islamic High School - Pre-K through 9th Grade
http://darunnoor.org/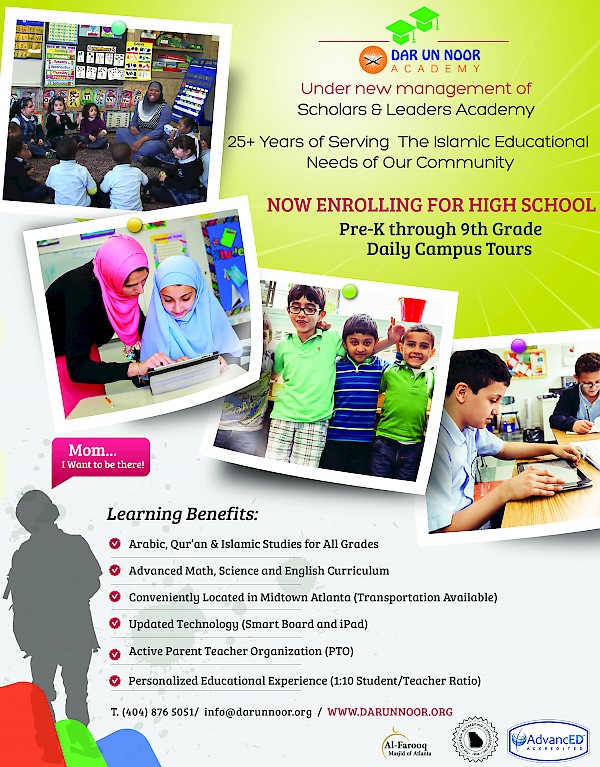 ---
Eid ul-Fitr Celebration at Dar-un-Noor Academy
Posted on Sunday, July 19, 2015 9:21 pm
---
Eid ul-Fitr Photos
Posted on Friday, July 17, 2015 10:26 pm
Masha'Allah (it is as God has pleased) all photos have been uploaded.
---
Eid ul-Fitr
Posted on Thursday, July 16, 2015 2:53 pm
Eid Mubarak! Insha'Allah (God willing) Eid is Friday, July 17. May Allah (swt) accept all your efforts during Ramadan.
Eid ul-Fitr: Friday
Bayan starts: 8:10am
First salah: 8:30am
Second salah: 9:15am
Parking
Come early
Do not block any cars, driveways, roads, etc.
Do not park illegally (e.g. handicap parking if you don't have the appropriate tag)
Photography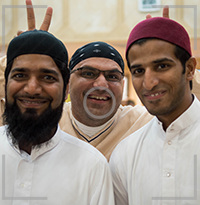 The Masjid policy does not allow photography inside the masjid except by permission. Insha'Allah if you would like a photo taken of you (family, group, etc.), we will be outside taking photos. This is free and insha'Allah the photos will be posted here (and Facebook).
---
"
And every human being's destiny have We tied to his neck; and on the Day of Resurrection We shall bring forth for him a record which he will find wide open;"