Monday, September 25, 2017
5 Muharram 1439
| | Starts | Iqamah |
| --- | --- | --- |
| Fajr1 | 6:06 | 6:45 |
| Zuhr2 | 1:30 | 2:00 |
| Asr | 4:55 | 6:15 |
| Maghrib | 7:34 | |
| Isha | 8:49 | 9:10 |
Tuesday, September 26, 2017
6 Muharram 1439
| | Starts | Iqamah |
| --- | --- | --- |
| Fajr1 | 6:06 | 6:45 |
| Zuhr2 | 1:29 | 2:00 |
| Asr | 4:54 | 6:15 |
| Maghrib | 7:33 | |
| Isha | 8:48 | 9:10 |
Al-Farooq Masjid
442 14th Street NW
Atlanta, GA 30318
(404) 874-7521
Dar-un-Noor Sunday School Advanced Arabic Program Graduation (Photos)
Posted on Sunday, May 7, 2017 7:58 pm
---
Dar-un-Noor Sunday School Advanced Arabic Program Graduation (Video)
Posted on Sunday, May 7, 2017 7:57 pm
---
The Muslim Legacy Project Fundraiser
Posted on Saturday, May 6, 2017 6:36 pm
---
Dar Un Noor is Hiring
Posted on Friday, May 5, 2017 4:30 pm
Dar-Un-Noor & Atlanta Science Academy is looking to hire Elementary Teachers for the 2017-2018 school year. Applicants must be certified or eligible to be certified and candidates with experience will be given higher priority.
Established in 1990, Dar-Un-Noor & Atlanta Science Academy is one of Atlanta's oldest Islamic schools. The school provides education in a variety of subjects including, math, science, social studies, language arts, Arabic, and Islamic studies. The school which also offers a highly competitive high school program has participated in various competitions including MathCounts & Science Olympiad. Additionally the school offers AP courses, SAT prep, and dual enrollment.
Apply at  https://www.indeed.com/cmp/Dar--Un--Noor-&-Atlanta-Science-Academy/jobs/Elementary-Teacher-593840eff9c8121e?q=dar+un+noor
---
Dar Un Noor Summer Camp 2017
Posted on Friday, May 5, 2017 1:27 pm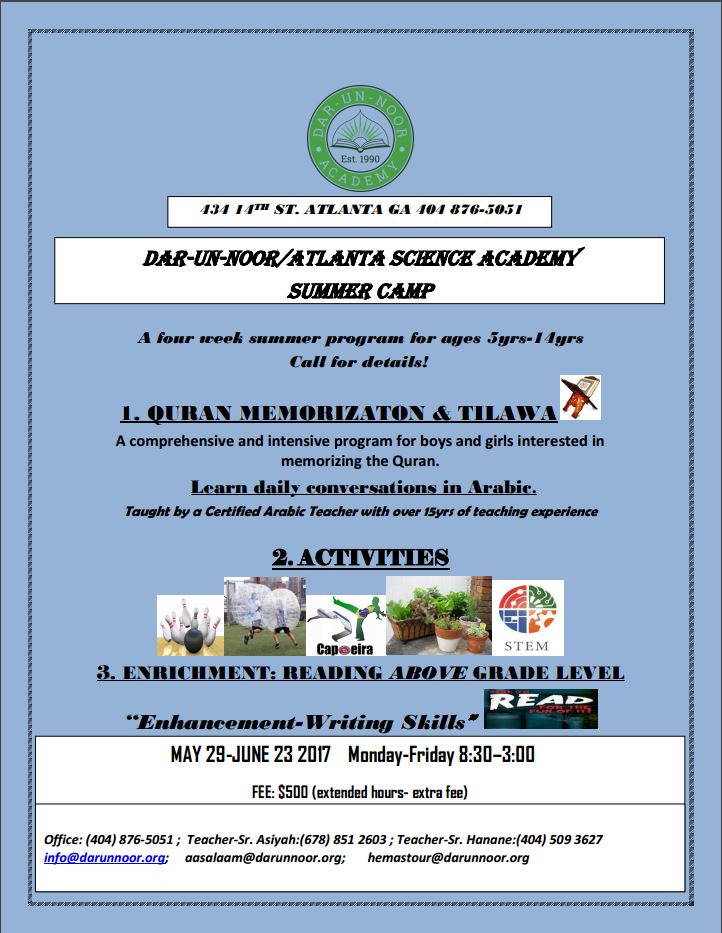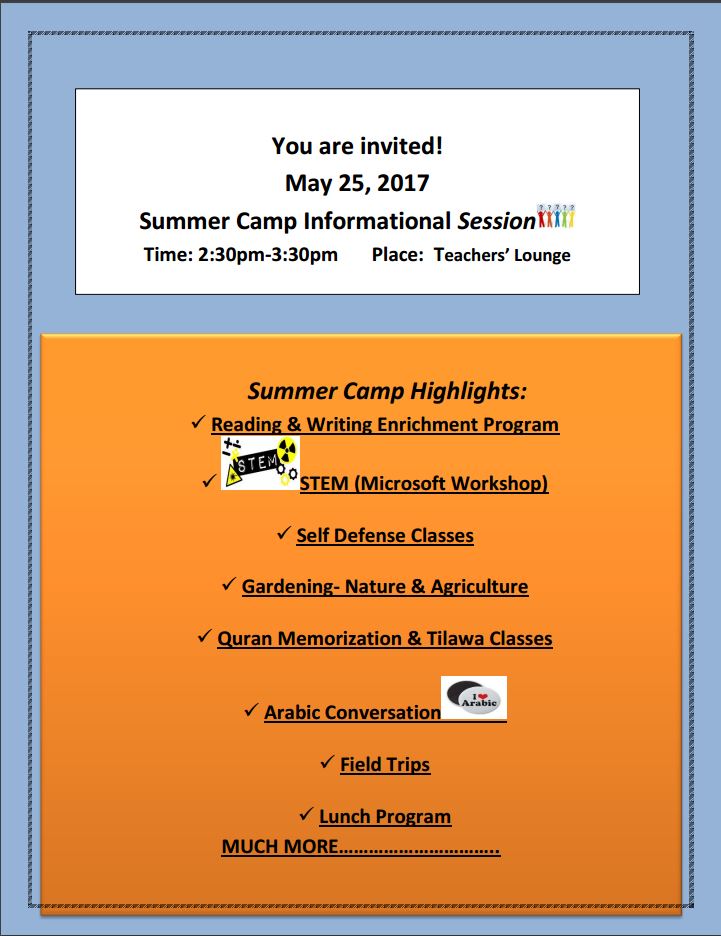 ---
MOHID is Al-Farooq Masjid's preferred method of accepting donations/payments.
Please write a check to "Al-Farooq Masjid" and either put it within a donation box at the masjid or mail it to:
Al-Farooq Masjid
442 14th Street NW
Atlanta, GA 30318
"
O ye who believe! Fear Allah as He should be feared, and die not except in a state of Islam."