Friday, December 14, 2018
7 Rabi Al-Akhar 1440
| | Starts | Iqamah |
| --- | --- | --- |
| Fajr1 | 6:06 | 6:45 |
| Zuhr2 | 12:33 | 2:05 |
| Asr | 3:12 | 4:15 |
| Maghrib | 5:34 | |
| Isha | 6:55 | 7:15 |
Saturday, December 15, 2018
8 Rabi Al-Akhar 1440
| | Starts | Iqamah |
| --- | --- | --- |
| Fajr1 | 6:06 | 6:45 |
| Zuhr2 | 12:33 | 2:05 |
| Asr | 3:13 | 4:15 |
| Maghrib | 5:34 | |
| Isha | 6:55 | 7:15 |
Al-Farooq Masjid
442 14th Street NW
Atlanta, GA 30318
(404) 874-7521

(404) 919-7521
Intensive Islamic Education Summer Camp 2018
Posted on Friday, May 25, 2018 9:49 pm
---
Ramadan 1439
Posted on Friday, May 25, 2018 8:36 pm
Download a PDF of the prayer schedule here.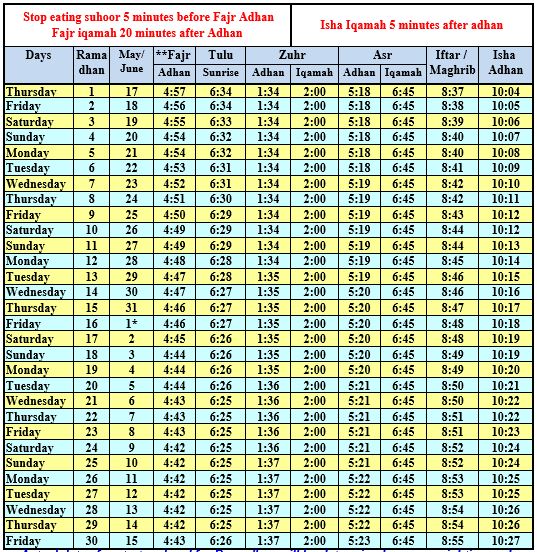 ---
Qiyam - The Power of Dua
Posted on Thursday, May 24, 2018 7:27 am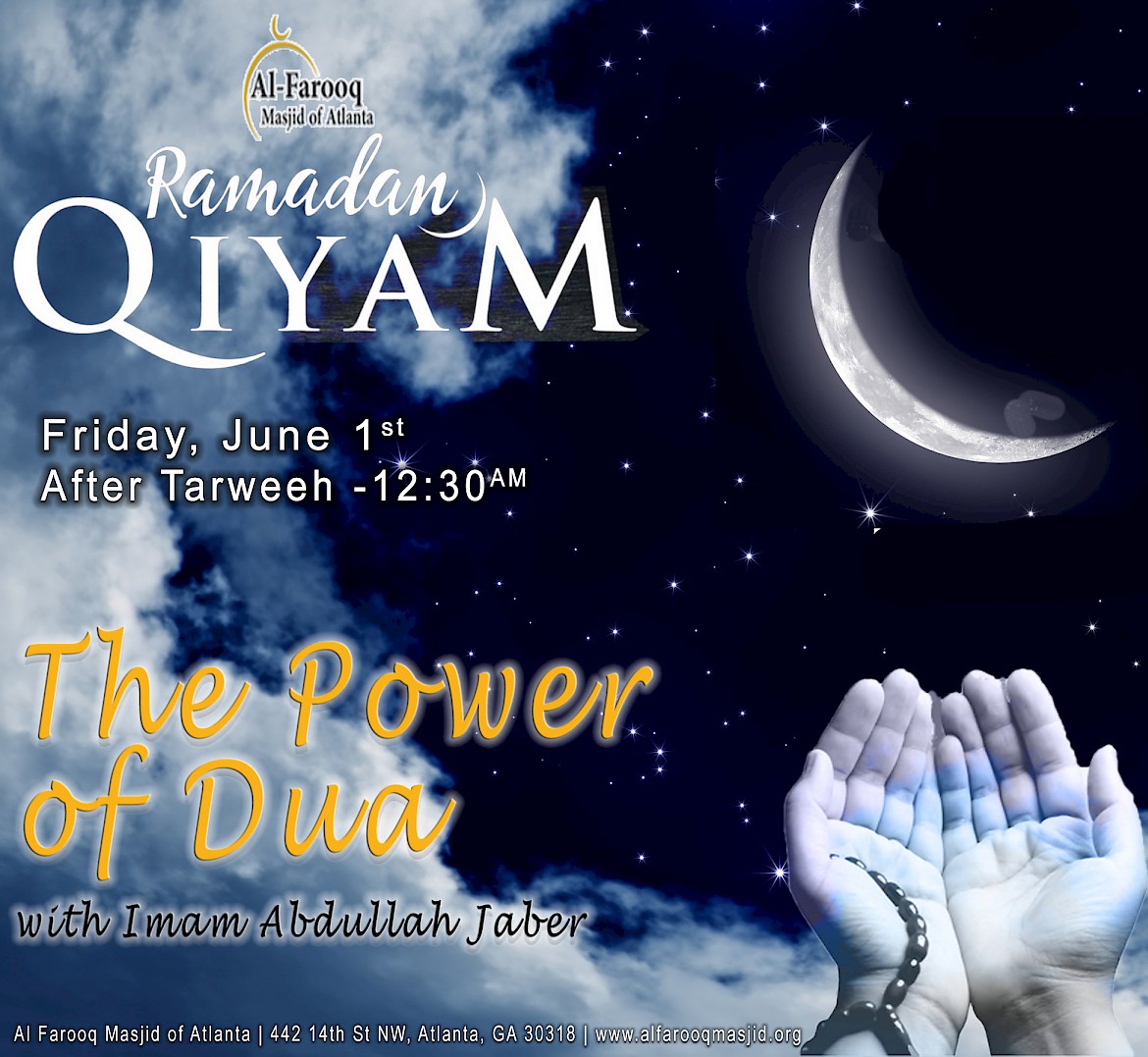 Shaykh Abdullah Jaber will be discussing the power of dua in detail after taraweeh on Friday night (June 1) starting 12:30am in the basement Abu Bakr Hall of Al-Farooq Masjid. All are welcome to join.
---
Al-Tibyaan Open House
Posted on Monday, May 21, 2018 8:24 pm
---
Ramadan Iftar Program 2018
Posted on Sunday, May 6, 2018 6:48 pm
Note: All further donations will go to Ramadan expenses
The Al-Farooq Masjid Ramadan Iftar Program is sponsored by the community every year. This includes the dates, dinner, supplies, cleaning etc. Please participate in this program by contributing in any way possible. Allah (SWT) offers great rewards for feeding the fasting persons. We schedule dinner donations to avoid overlapping and provide balance, so please contact us to book a date in advance.
ALL CHICKEN & MEAT MUST BE HAND-ZABIHA.
You can contribute to this program in several ways:
Donate funds to be used to cater the dinners.
Contribute funds to purchase supplies (plates, cups, spoons, napkins, or dates).
Bring dates, fruits, bottled water or ice.
Volunteer to assist in daily set up, clean up and generally provide service to others.
Donations can be made on this website (PayPal), in the masjid lobby terminal, or by check/cash in person. Mark donations 'For Iftar'.
May Allah SWT reward us all bountifully, as we seek His pleasure during this blessed month. To donate, schedule dinners, or contribute in any way, please contact: 
Br. Rafeek, Sis. Farida at 678-665-0657 or rafkg@yahoo.com
---
"
We have not sent thee but as a universal (Messenger) to men, giving them glad tidings, and warning them (against sin), but most men understand not."