Wednesday, July 26, 2017
3 Dhul Qadah 1438
| | Starts | Iqamah |
| --- | --- | --- |
| Fajr1 | 5:09 | 6:00 |
| Zuhr2 | 1:45 | 2:00 |
| Asr | 5:29 | 6:45 |
| Maghrib | 8:46 | |
| Isha | 10:14 | 10:30 |
Thursday, July 27, 2017
4 Dhul Qadah 1438
| | Starts | Iqamah |
| --- | --- | --- |
| Fajr1 | 5:10 | 6:00 |
| Zuhr2 | 1:45 | 2:00 |
| Asr | 5:29 | 6:45 |
| Maghrib | 8:45 | |
| Isha | 10:13 | 10:30 |
Al-Farooq Masjid
442 14th Street NW
Atlanta, GA 30318
(404) 874-7521
Janazah for Stanley Browne
Posted on Wednesday, January 18, 2017 8:35 pm
Please try to attend the janazah of Br. Saeed Muhammad Abu Bakr (Stanley M. Browne) on Thursday (1/19) after dhuhr salah at Al-Farooq Masjid at 2pm. He has no Muslim family members and has been attending classes at our masjid for several years. May Allah (swt) forgive him and grant him Jannatul Firdous. إِنَّا لِلّهِ وَإِنَّـا إِلَيْهِ رَاجِعون
---
Feed the Homeless 5 Year Anniversary
Posted on Wednesday, January 11, 2017 11:22 pm
To celebrate Al-Farooq Masjid's 5th year in feed the homeless program which takes place every other week - we are distributing winter care packages to the homeless on January 22. These packages includes a hat, socks, winter gloves and other necessities for homeless. You can volunteer to help in the distribution by meeting at Al-Farooq Masjid's elevator lobby at 10am to pack around 220-300 lunch boxes for homeless and then head to the parks in downtown Atlanta to distribute the food and winter care packages.
If you cannot participate, you can still donate to cover the costs of the winter care packages at this link: https://us.mohid.co/ga/atlanta/afm/masjid/online/donation and select the category as 'Feed the Homeless'. Please contact Sister Fatuma or Br. Khalid Rashied at 404-454-5500 for more details.
---
Sisters' Halaqah Postponed Due to Inclement Weather
Posted on Friday, January 6, 2017 8:49 pm
Sisters' Halaqah will be postponed to January 14th due to inclement weather. It will take plce at 3pm in the basement Abu Bakr Hall as usual. There will be no halaqah on January 7th. Sorry for the inconvenience.
---
Love & Mercy - A Blueprint For A Successful Family
Posted on Friday, January 6, 2017 8:40 pm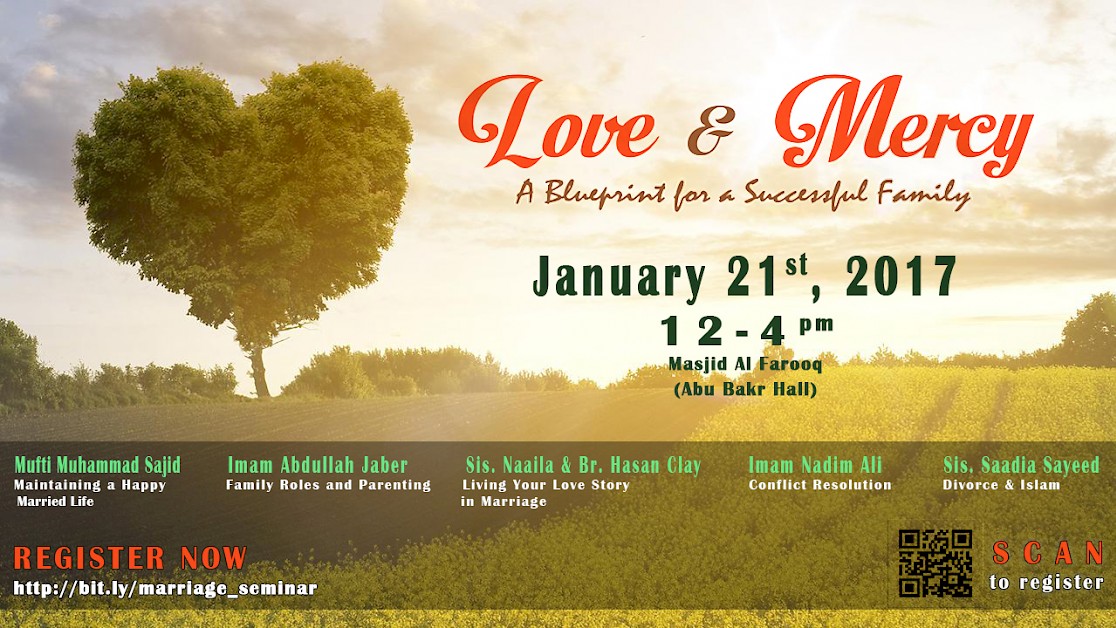 Register for Free Here: http://bit.ly/marriage_seminar

---
Important Notice - First Jummah Salah Moved To 1pm
Posted on Thursday, January 5, 2017 7:27 pm
Important Notice
Due to the possibility of inclement weather, the first Jummah salah has been moved to 1pm insha'Allah and the second Jummah salah is at 2:50pm insha'Allah. Please share this notice. Thank you and Jazak Allah Khair.
---
MOHID is Al-Farooq Masjid's preferred method of accepting donations/payments.
Please write a check to "Al-Farooq Masjid" and either put it within a donation box at the masjid or mail it to:
Al-Farooq Masjid
442 14th Street NW
Atlanta, GA 30318
"
Surely those who guard (against evil) are in a secure place, In gardens and springs;"