Thursday, July 18, 2019
15 Dhul Qadah 1440
| | Starts | Iqamah |
| --- | --- | --- |
| Fajr1 | 5:00 | 6:00 |
| Zuhr2 | 1:44 | 2:00 |
| Asr | 5:29 | 6:45 |
| Maghrib | 8:54 | |
| Isha | 10:22 | 10:35 |
Friday, July 19, 2019
16 Dhul Qadah 1440
| | Starts | Iqamah |
| --- | --- | --- |
| Fajr1 | 5:01 | 6:00 |
| Zuhr2 | 1:44 | 2:05 |
| Asr | 5:29 | 6:45 |
| Maghrib | 8:53 | |
| Isha | 10:21 | 10:35 |
Al-Farooq Masjid
442 14th Street NW
Atlanta, GA 30318
(404) 874-7521

(404) 919-7521
The Last Ten Days of Ramadan, Laylatul-Qadr and I'tikaf
Posted on Monday, June 20, 2016 1:37 pm
Imam Muhammad Sajid gives a lecture titled "The Last Ten Days of Ramadan, Laylatul-Qadr and I'tikaf" at Al-Farooq Masjid on Friday, August 19, 2011. The sign language interpretation is by Sister Sakeena Abdul Hakeem.
---
Itikaf Registration
Posted on Sunday, June 19, 2016 1:34 pm
Brothers interested in participating in Itikaf at Al-Farooq Masjid this year should download and submit the attached form and must be inside the Masjid before Maghrib on Saturday, June 25th.

Download Form
---
Fulton County Officials and Interfaith Community Press Conference at Al-Farooq Masjid
Posted on Thursday, June 16, 2016 8:31 pm
In response to this week's tragedy in Orlando, the Fulton County Board of Commissioners on June 15 unanimously adopted a resolution calling for an end to hate crimes and greater interfaith/multicultural dialogue to increase understanding.
The Press Conference was held Thursday, June 16, 2016 at 1:30pm at Al-Farooq Masjid.
Speakers:
Chairman John H. Eaves, Fulton County
Commissioner Joan P. Garner, Fulton County
John A. Horne, U.S. Attorney General, Northern District of Georgia
Kent Alexander, The Temple / Social Justice Initiative
Joe Carn, Concerned Black Clergy of Atlanta
Sudhavna Char, Hindu Temple of Atlanta
Rev. Gerald Durley, Providence Baptist Church
Plemon T. El-Amin, Atlanta Masjid of Al-Islam
Melissa Firestone, Fulton County Commission on Disability Affairs
Jeff Graham, Georgia Equality
Imam Abdullah Jaber, Al-Farooq Masjid
Soumaya Khalifa, Islamic Speakers Bureau
Rev. Yvette Massey, Central Methodist Church (invited)
Lina Monsalve-Bonilla, Cristo del Rey Jesuit High School
Nicole Roebuck, AID Atlanta
---
Free Dinner and Lecture - June 18, 2016
Posted on Thursday, June 16, 2016 1:20 am
Please join us for a short lecture and dinner social at Al-Farooq Masjid for Converted Muslims, non-Muslims and Newly Practicing Muslims. Others are welcome as well.
Who: Converted Muslims, non-Muslims, Newly Practicing Muslims and their families.
Date: Saturday, 18 June 2016
Time: 7:30 pm
Venue: Al-Farooq Masjid Basement - Abu Bakr Hall [442 14th Street NW, Atlanta, GA 30318]
Register Here: http://bit.ly/21nkRuZ
Please sign up separately for each person attending so that we have an accurate count to make arrangements for food. Please contact (404) 923-0414 or musheer@alfarooqmasjid.org if you have any questions, suggestions or concerns.
---
8 Ramadan 1437 - Dr. Y. Khalid Siddiq gives a short talk before Iftar
Posted on Monday, June 13, 2016 9:00 pm
---
Darul Uloom of Atlanta now enrolling 2019-2020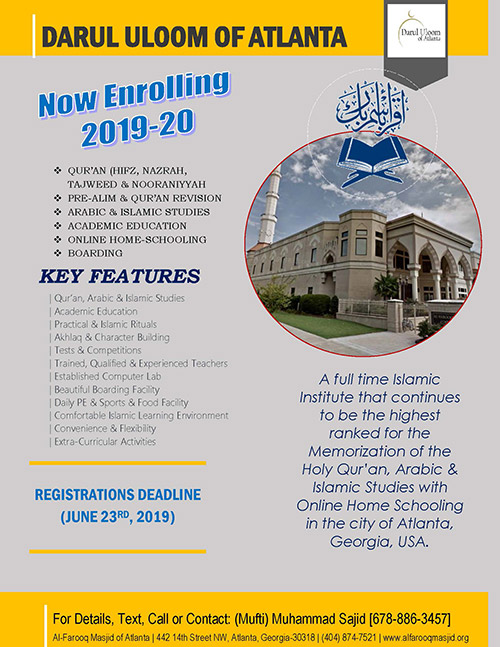 "
And the servants of (Allah) Most Gracious are those who walk on the earth in humility, and when the ignorant address them, they say, "Peace!";"