Thursday, July 18, 2019
15 Dhul Qadah 1440
| | Starts | Iqamah |
| --- | --- | --- |
| Fajr1 | 5:00 | 6:00 |
| Zuhr2 | 1:44 | 2:00 |
| Asr | 5:29 | 6:45 |
| Maghrib | 8:54 | |
| Isha | 10:22 | 10:35 |
Friday, July 19, 2019
16 Dhul Qadah 1440
| | Starts | Iqamah |
| --- | --- | --- |
| Fajr1 | 5:01 | 6:00 |
| Zuhr2 | 1:44 | 2:05 |
| Asr | 5:29 | 6:45 |
| Maghrib | 8:53 | |
| Isha | 10:21 | 10:35 |
Al-Farooq Masjid
442 14th Street NW
Atlanta, GA 30318
(404) 874-7521

(404) 919-7521
Youth Qiyaam Nights at Masjid Omar Bin Abdul Aziz
Posted on Tuesday, June 7, 2016 9:45 am
---
1 Ramadan 1437 - Dr. Y. Khalid Siddiq gives a short talk before Iftar
Posted on Monday, June 6, 2016 9:00 pm
Dr. Y. Khalid Siddiq gives a short talk before Iftar on Monday, June 6, 2016 at Al-Farooq Masjid.
---
Ramadan Mubarak
Posted on Sunday, June 5, 2016 5:31 pm
---
Karachi Broast & Grill (Roswell Location) Giving 10% to School or Charity During Ramadan
Posted on Saturday, June 4, 2016 11:28 pm
iA please mention either "Al-Farooq Masjid", "Masjid Omar bin Abdul Aziz" or "Dar-un-Noor Academy" if going to Karachi Broast & Grill (Roswell location) during Ramadan so iA we can get 10% of your total spending!
---
Dar-un-Noor Academy is Hiring
Posted on Friday, June 3, 2016 5:06 am
Dar-Un-Noor Academy, Atlanta's oldest Islamic school located in Midtown Atlanta, is now hiring for various positions, including but not limited to, qualifiedelementary, middle, and high school teachers in various subjects, assistant teachers, and secretaries. 
Dar-Un-Noor Academy is a Pre-K to 10th grade school, that offers both academic courses based on Common Core/GA Performance Standards and religious education. 
Please email resume to info@darunnoor.org and position you would be interested in teaching.
Our Hiring Process:
v Applicants' resumes are reviewed
The format of resume should be easy to follow. It should include education, work experience and references. Dates should be listed for your degrees and work history.
It must not have any gaps until present. In your cover letter ,your goals and the position(s) you would  like to apply for are supposed to be stated clearly. 
v Based on the resumes, we will contact some of the applicants to schedule the first interview
Applicants will bring their portfolios to the interview.
v Based on the first interviews, some applicants will be called for a second interview
During the second interview, the applicant will teach a sample lesson
v The school administration will make an offer to the applicants they decided to hire
Some key factors on decision:
Teaching credentials
Related experience
Performance at interviews
References
v We will not contact any applicant unless we decide to call them for a further step
---
Darul Uloom of Atlanta now enrolling 2019-2020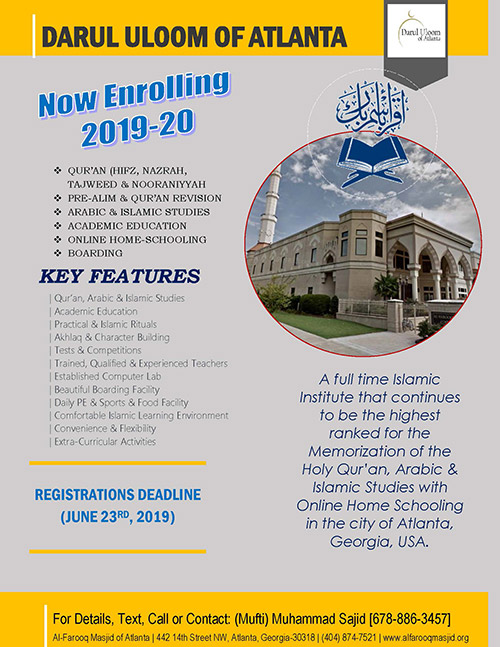 "
Surely those who guard (against evil) are in a secure place, In gardens and springs;"