Saturday, December 14, 2019
17 Rabi Al-Akhar 1441
| | Starts | Iqamah |
| --- | --- | --- |
| Fajr1 | 6:05 | 6:45 |
| Zuhr2 | 12:32 | 2:05 |
| Asr | 3:12 | 4:15 |
| Maghrib | 5:35 | |
| Isha | 6:54 | 7:15 |
Sunday, December 15, 2019
18 Rabi Al-Akhar 1441
| | Starts | Iqamah |
| --- | --- | --- |
| Fajr1 | 6:06 | 6:45 |
| Zuhr2 | 12:33 | 2:05 |
| Asr | 3:12 | 4:15 |
| Maghrib | 5:36 | |
| Isha | 6:54 | 7:15 |
Al-Farooq Masjid
442 14th Street NW
Atlanta, GA 30318
(404) 874-7521

(404) 919-7521
Free Dinner and Lecture - June 18, 2016
Posted on Thursday, June 16, 2016 1:20 am
Please join us for a short lecture and dinner social at Al-Farooq Masjid for Converted Muslims, non-Muslims and Newly Practicing Muslims. Others are welcome as well.
Who: Converted Muslims, non-Muslims, Newly Practicing Muslims and their families.
Date: Saturday, 18 June 2016
Time: 7:30 pm
Venue: Al-Farooq Masjid Basement - Abu Bakr Hall [442 14th Street NW, Atlanta, GA 30318]
Register Here: http://bit.ly/21nkRuZ
Please sign up separately for each person attending so that we have an accurate count to make arrangements for food. Please contact (404) 923-0414 or musheer@alfarooqmasjid.org if you have any questions, suggestions or concerns.
Darul Uloom of Atlanta now enrolling 2019-2020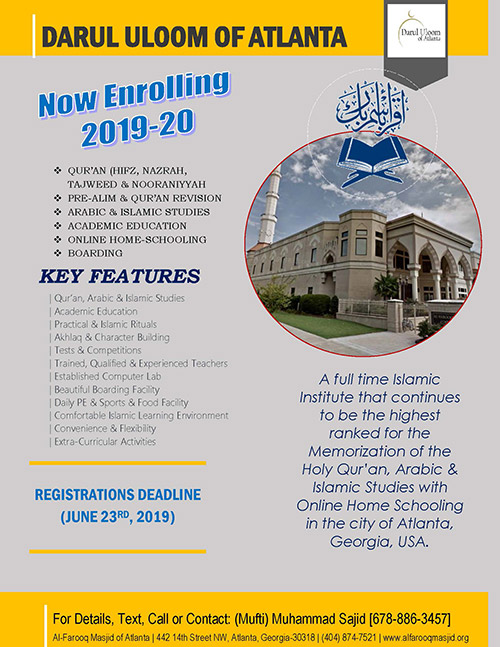 "
And every human being's destiny have We tied to his neck; and on the Day of Resurrection We shall bring forth for him a record which he will find wide open;"