Tuesday, October 25, 2016
24 Muharram 1438
| | Starts | Iqamah |
| --- | --- | --- |
| Fajr1 | 6:28 | 7:00 |
| Zuhr2 | 1:22 | 2:00 |
| Asr | 4:28 | 5:30 |
| Maghrib | 6:56 | |
| Isha | 8:12 | 8:30 |
Wednesday, October 26, 2016
25 Muharram 1438
| | Starts | Iqamah |
| --- | --- | --- |
| Fajr1 | 6:29 | 7:00 |
| Zuhr2 | 1:22 | 2:00 |
| Asr | 4:27 | 5:30 |
| Maghrib | 6:55 | |
| Isha | 8:11 | 8:30 |
Al-Farooq Masjid
442 14th Street NW
Atlanta, GA 30318
(404) 874-7521
Youth Event: Real Talk on Celebrations in Islam
Monday, October 24, 2016 8:04 pm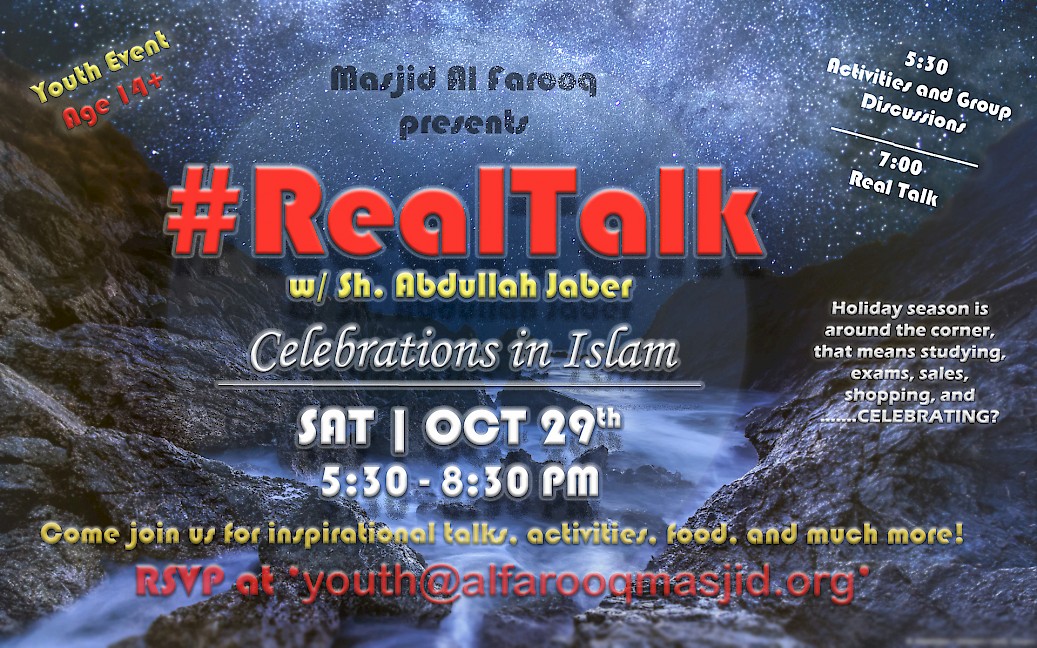 Free Registration Here: http://bit.ly/2dINVyk
Our last youth event had around 80 people. We hope you can join us this time. Food and refreshments will be served. Email youth@alfarooqmasjid.org if you have any questions. To learn about events catered to the youth, please signup for our separate youth mailing list here: 
http://bit.ly/2dDXsoG
---
Project Management Certification
Friday, October 21, 2016 11:10 pm
---
Free Classes on Islam
Monday, July 11, 2016 9:54 pm
Classes are open for registration and are completely free! These classes are meant to educate Muslims and non-Muslims about the basics of what you need to know to practice Islam. 
Free Beginners Class - Every Sunday (Library) - 10:30-12:00pm
Held at Second Floor Al-Farooq Masjid Library
Topics include Faith, Salah (prayer), Ablution, Fasting, Charity, Pilgrimage and Hadith
Register Here: http://bit.ly/frq_beg4
 
Free Intermediate Class - Every Sunday (Conference Room) - 10:30am-12:00pm
Held at Second Floor Al-Farooq Masjid Conference Room 
Topics include Stories of the Prophets, Ethics and Etiquettes of Islam, Seerah (Life of the Prophet) and explanation of select passages from the Qur'an. 
Register Here: http://bit.ly/frq_int2
---
Sisters' Halaqa
Friday, September 30, 2016 12:13 am
Sisters Halaqa will take place on Sat, October 1 at 3pm in the basement Abu Bakr Event Hall of Al-Farooq Masjid. For more info contact Sister Baherrah 404-454-5762
---
MOHID is Al-Farooq Masjid's preferred method of accepting donations/payments.
Please write a check to "Al-Farooq Masjid" and either put it within a donation box at the masjid or mail it to:
Al-Farooq Masjid
442 14th Street NW
Atlanta, GA 30318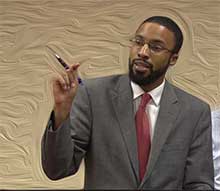 Islamic Will Seminar
Watch the Islamic Will Seminar and learn how to complete your Islamic Will. Download the latest Will/Testament document.
"
Surely those who guard (against evil) are in a secure place, In gardens and springs;"