Thursday, June 22, 2017
27 Ramadan 1438
| | Starts | Iqamah |
| --- | --- | --- |
| Fajr1 | 4:44 | 5:04 |
| Zuhr2 | 1:40 | 2:00 |
| Asr | 5:25 | 6:45 |
| Maghrib | 8:55 | |
| Isha | 10:29 | 10:34 |
Friday, June 23, 2017
28 Ramadan 1438
| | Starts | Iqamah |
| --- | --- | --- |
| Fajr1 | 4:44 | 5:04 |
| Zuhr2 | 1:40 | 2:00 |
| Asr | 5:25 | 6:45 |
| Maghrib | 8:55 | |
| Isha | 10:29 | 10:34 |
Al-Farooq Masjid
442 14th Street NW
Atlanta, GA 30318
(404) 874-7521
27th Night of Ramadan 2017 - Khatamul Quran at Al-Farooq Masjid
Posted on Thursday, June 22, 2017 7:37 pm
---
Mohammad Khalid Mohammad Calls the Adhan on the 27th Night of Ramadan at Al-Farooq Masjid
Posted on Thursday, June 22, 2017 7:36 pm
---
Youth Qiyaam Night
Posted on Thursday, June 22, 2017 4:22 pm
Please join us on Friday, June 23 after Taraweeh (around 12:30am) for an inspirational night filled with motivational short talks and qiyaam-ul-layl (night prayers). This is also the 29th night of Ramadan. Speakers include:
Shaykh Abdullah Jaber
Imam Nihal Khan
Omer Kamal
Suhoor will be served!
---
Ramadan Mubarak
Posted on Wednesday, June 21, 2017 7:16 am
Important Dates:
Khatmul Qur'an - 27th night of Ramadan (Wednesday, June 21)
Itikaf - Last 10 nights of Ramadan begining at Maghrib on Thursday, June 15th. InshaAllah (Brothers Only) are encouraged to spend the last 10 nights of Ramadan at Al-Farooq.  Participants are required to be inside the small Musullah before Maghrib on Thursday June 15.  Kindly complete the Itikaf Registration Form and submit to any Masjid Staff before the last 10 nights.  Please feel free to text (404-919-7521) or email varachhia@alfarooqmasjid.org if you have any questions.  Jazakullah Khair!

Ramadan Schedule: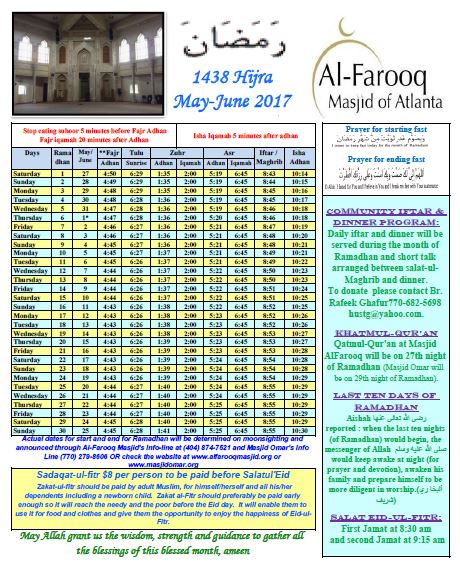 ---
Attaining Ihsan Lectures
Posted on Sunday, June 4, 2017 4:59 pm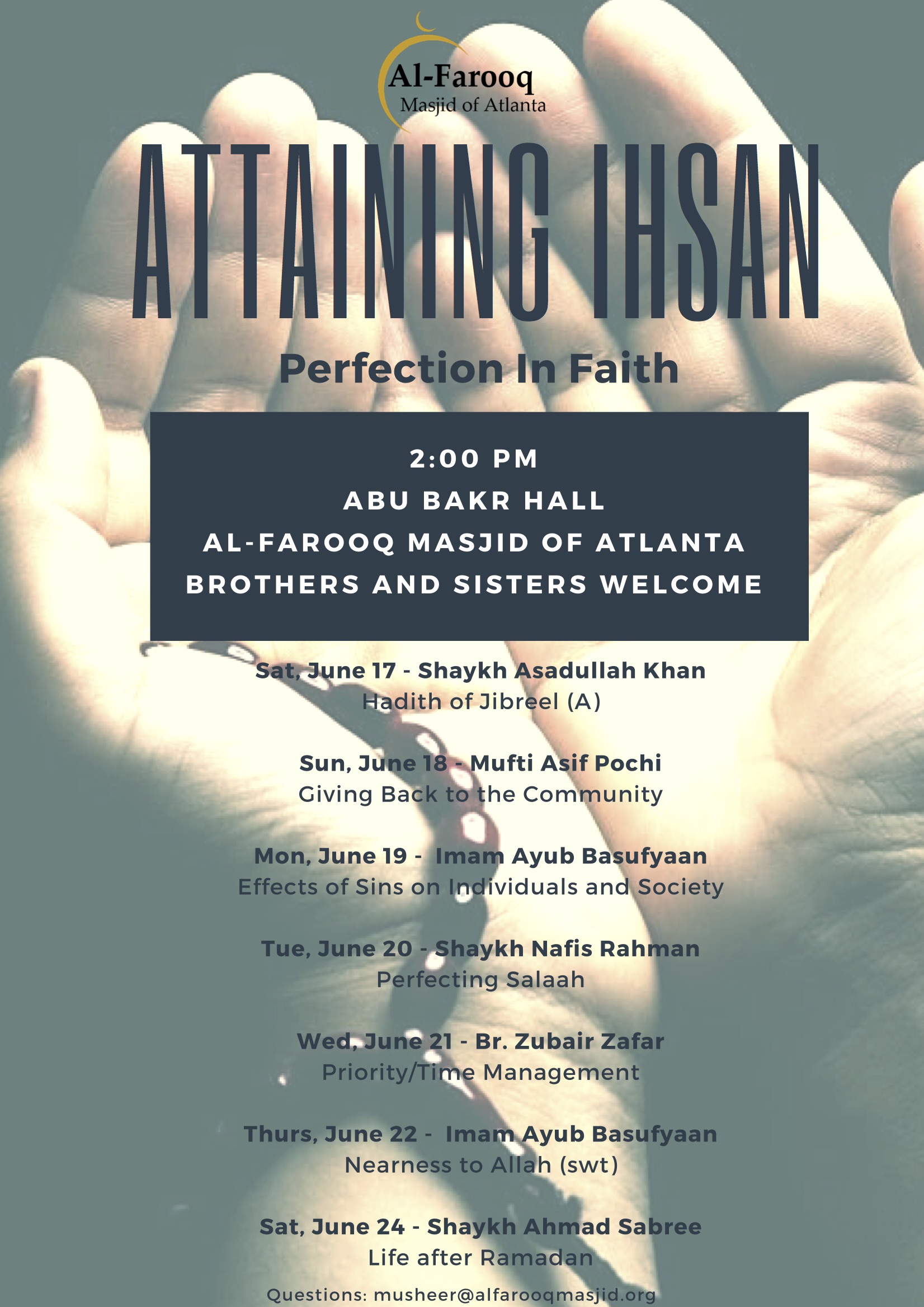 ---
Ramadan Iftar Program 2017
Posted on Sunday, May 14, 2017 6:48 pm
Note: Future donations will be spent on Ramadan expenses
The Al-Farooq Masjid Ramadan Iftar Program is sponsored by the community every year. This includes the dates, dinner, supplies, cleaning etc. Please participate in this program by contributing in any way possible. Allah (SWT) offers great rewards for feeding the fasting persons. We schedule dinner donations to avoid overlapping, and provide balance, so please contact us to book a date in advance.
ALL CHICKEN & MEAT MUST BE HAND-ZABIHA.
You can contribute to this program in several ways:
Provide cooked dinners. Please contact us to schedule these!
Donate cash to be used to cater the dinners (preferred).
Contribute cash to purchase supplies (plates, cups, spoons, napkins, or dates).
Bring dates, fruits, bottled water or ice.
Volunteer to assist in daily set up, clean up, & generally provide service to others.
Donations can be made on this website (PayPal), in the masjid lobby terminal, or by check/cash in person. 
May Allah SWT reward us all bountifully, as we seek His pleasure during this blessed month. To donate, schedule dinners, or contribute in any way, please contact: 
Br. Rafeek, Sis. Farida at 678-665-0657 or rafkg@yahoo.com
---
Free Classes on Islam
Posted on Saturday, May 13, 2017 6:54 am
Note: Class time changed during Ramadan to 12:15-1:45pm
Classes are open for registration and are completely free! These classes are meant to educate Muslims and non-Muslims about the basics of what you need to know to practice Islam. 
Free Beginners Class - Every Sunday (Library) - 12:15-1:45pm (Ramadan Timing)
Held at Second Floor Al-Farooq Masjid Library
Topics include Faith, Salah (prayer), Ablution, Fasting, Charity, Pilgrimage and Hadith
Register Here: http://bit.ly/frq_beg4
 
Free Intermediate Class - Every Sunday (Conference Room) - 12:15-1:45pm (Ramadan Timing)
Held at Second Floor Al-Farooq Masjid Conference Room 
Topics include Stories of the Prophets, Ethics and Etiquettes of Islam, Seerah (Life of the Prophet) and explanation of select passages from the Qur'an. 
Register Here: http://bit.ly/frq_int2
---
Donate to Feed the Homeless
Posted on Friday, May 12, 2017 2:30 pm
Al-Farooq Masjid's Feed the Homless Program feeds around 220 to 300 homeless people every other Sunday. Please help us sustain this effort by donating at this link: https://us.mohid.co/ga/atlanta/afm/masjid/online/donation and select the category as 'Feed the Homeless'.
You can also volunteer to help in the distribution by meeting at Al-Farooq Masjid's elevator lobby at 10am to pack around 220-300 lunch boxes for homeless and then head to the parks in downtown Atlanta to distribute the food. Please contact Sister Fatuma at 678-779-3880 for more details.
---
Registration Open For Darul Uloom Of Atlanta
Posted on Wednesday, May 3, 2017 5:28 am
Darul Uloom of Atlanta
[An Introduction]
Darul Uloom of Atlanta (a unit of Al-Farooq Masjid of Atlanta) was established in 1990 as a full time Tahfeez-ul-Qur'an school. As a full time Islamic Institute that continues to be the highest ranked for the Memorization of the Holy Qur'an, Arabic & Islamic Studies with Online Home Schooling in the city of Atlanta, State of Georgia.
In 2008, Darul Uloom of Atlanta was reorganized by the Al-Farooq Masjid of Atlanta Board of Trustees, and began efforts to restructure the educational experience, as well as, renovate the dormitory / residence building located on 1097 Center Street NW, Atlanta, Georgia 30318.
Since 2008, Darul Uloom of Atlanta has had the highest success rate in producing young Huffaz. With an astounding more than 100 graduates (Hafiz-ul Qur'an & other courses) in 10 years, this program has become a benchmark for other programs in the southeast United States, with students attending from 13 different states.
Darul Uloom of Atlanta is currently offering the following Full/Part Time Programs/Courses with & without boarding choices:
Qaidah Nooraniyah (Qur'an Tutor)
Tajweed & Qira'ah
Nazrah (Qur'an Reading)
Hifz(Memorization of the Qur'an)
Revision of the Qur'an
Arabic Language
Pre-Alim (Intro Alim)
Alim (Arabic & Islamic studies)
Online home schooling
Visit us at:
Al-Farooq Masjid of Atlanta
442 14th Street NW, Atlanta, Georgia 30318
(404) 874-7521
Contact Info:
Muhammad Sajid
Imam/Administrator: (678) 886-3457 | Email: info@alfarooqmasjid.org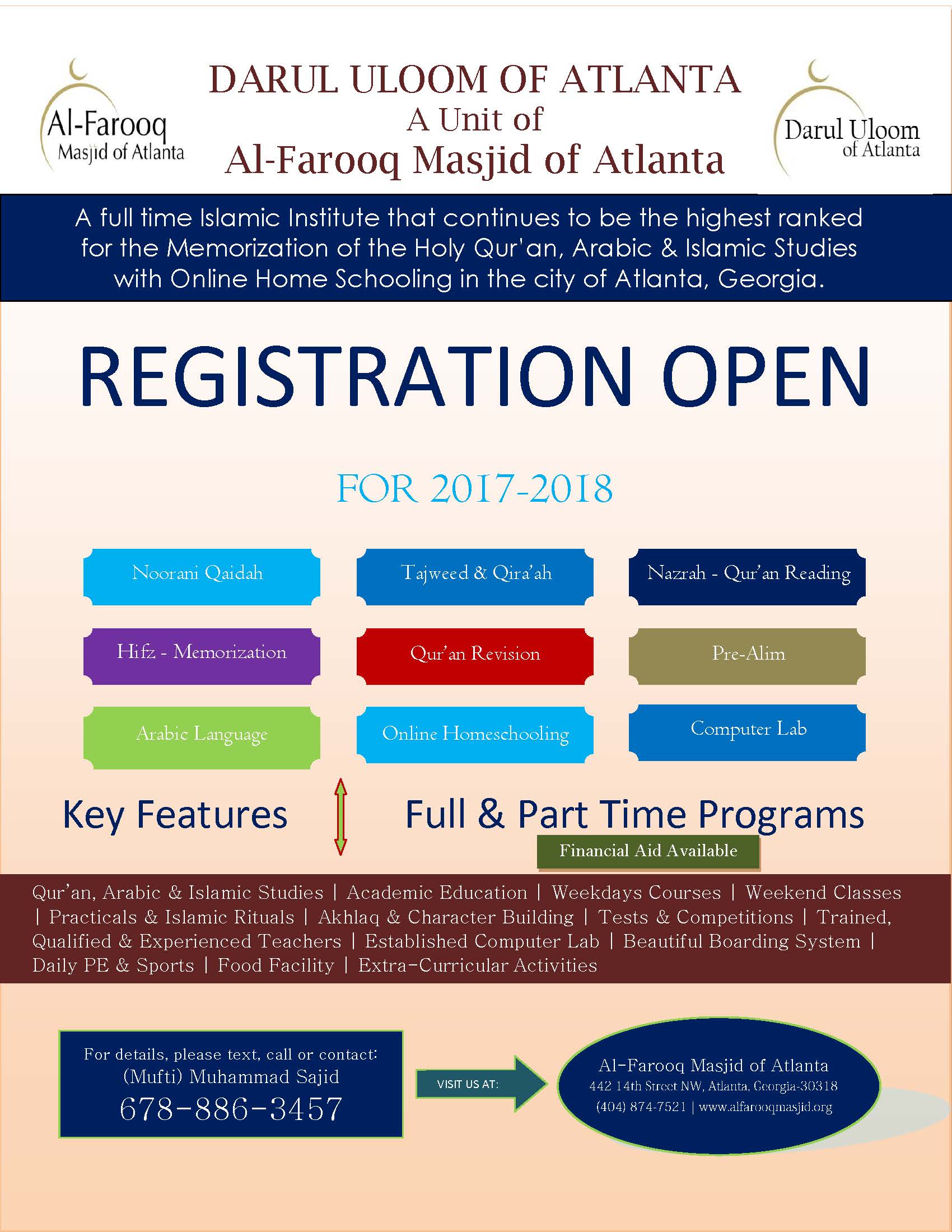 ---
Volunteer At Al-Farooq Masjid
Posted on Thursday, March 9, 2017 9:25 pm
Alhamdulilah, all the programs and initiatives that take place at Al-Farooq Masjid are run by a dedicated team of volunteers that take time out of their busy lives for the sake of Allah. We are always in need of additional volunteers to launch new initiatives and expand on our existing programs. If you would like to get involved in your masjid and earn some reward in the process as well insha'Allah, please signup here: http://bit.ly/afm_volunteer
---
MOHID is Al-Farooq Masjid's preferred method of accepting donations/payments.
Please write a check to "Al-Farooq Masjid" and either put it within a donation box at the masjid or mail it to:
Al-Farooq Masjid
442 14th Street NW
Atlanta, GA 30318
"
Say: He is Allah, the One and Only; Allah, the Eternal, Absolute; He begetteth not, nor is He begotten; And there is none like unto Him."