Thursday, December 7, 2023
23 Jumada Al-Awwal 1445
| | Starts | Iqamah |
| --- | --- | --- |
| Fajr1 | 6:00 | 6:45 |
| Zuhr | 12:29 | 2:00 |
| Asr | 3:10 | 4:15 |
| Maghrib | 5:34 | |
| Isha | 6:52 | 7:15 |
Friday, December 8, 2023
24 Jumada Al-Awwal 1445
| | Starts | Iqamah |
| --- | --- | --- |
| Fajr1 | 6:01 | 6:45 |
| Zuhr | 12:29 | 2:00 |
| Asr | 3:11 | 4:15 |
| Maghrib | 5:34 | |
| Isha | 6:53 | 7:15 |
Al-Farooq Masjid
442 14th Street NW
Atlanta, GA 30318
(404) 874-7521

(404) 919-7521
Darul Uloom of Atlanta
[An Introduction]
Darul Uloom of Atlanta (a unit of Al-Farooq Masjid of Atlanta) was established in 1990 as a full time Tahfeez-ul-Qur'an school. As a full time Islamic Institute that continues to be the highest ranked for the Memorization of the Holy Qur'an, Arabic & Islamic Studies with Online Home Schooling in the city of Atlanta, State of Georgia.
In 2008, Darul Uloom of Atlanta was reorganized by the Al-Farooq Masjid of Atlanta Board of Trustees, and began efforts to restructure the educational experience, as well as, renovate the dormitory / residence building located on 1097 Center Street NW, Atlanta, Georgia 30318.
Since 2008, Darul Uloom of Atlanta has had the highest success rate in producing young Huffaz. With an astounding more than 100 graduates (Hafiz-ul Qur'an & other courses) in 10 years, this program has become a benchmark for other programs in the southeast United States, with students attending from 13 different states.
Darul Uloom of Atlanta is currently offering the following Full/Part Time Programs/Courses with & without boarding choices:
Qaidah Nooraniyah (Qur'an Tutor)
Tajweed & Qira'ah
Nazrah (Qur'an Reading)
Hifz(Memorization of the Qur'an)
Revision of the Qur'an
Arabic Language
Pre-Alim (Intro Alim)
Alim (Arabic & Islamic studies)
Online home schooling
Visit us at:
Al-Farooq Masjid of Atlanta
442 14th Street NW, Atlanta, Georgia 30318
(404) 874-7521
Contact Info:
Muhammad Sajid
Imam/Administrator: (678) 886-3457 | Email: info@alfarooqmasjid.org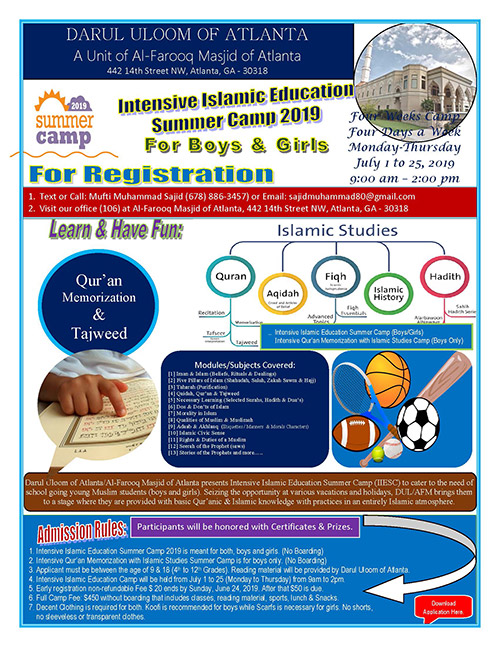 "
And every human being's destiny have We tied to his neck; and on the Day of Resurrection We shall bring forth for him a record which he will find wide open;"