Thursday, December 7, 2023
23 Jumada Al-Awwal 1445
| | Starts | Iqamah |
| --- | --- | --- |
| Fajr1 | 6:00 | 6:45 |
| Zuhr | 12:29 | 2:00 |
| Asr | 3:10 | 4:15 |
| Maghrib | 5:34 | |
| Isha | 6:52 | 7:15 |
Friday, December 8, 2023
24 Jumada Al-Awwal 1445
| | Starts | Iqamah |
| --- | --- | --- |
| Fajr1 | 6:01 | 6:45 |
| Zuhr | 12:29 | 2:00 |
| Asr | 3:11 | 4:15 |
| Maghrib | 5:34 | |
| Isha | 6:53 | 7:15 |
Al-Farooq Masjid
442 14th Street NW
Atlanta, GA 30318
(404) 874-7521

(404) 919-7521
Please Support Our Improvements
Posted on Wednesday, August 9, 2023 11:36 am
Asalaamu Alaikum!
Alhamdulilah the Masjid facility opened its doors over a decade ago and is in need of maintenance and repairs to carry the community into the next decade.  The project list for 2023 includes:
Replacing carpets in both prayer areas (Brother's and Sister's side) - $100k ($75k collected as of 7/21)
Replacing aged Audio/Visual systems - $60k
Repairing/upgrading the lighting in the main Musullah - $20k
Repairing/replacing the roof - $90k
Other items should funds permit include:
Pressure washing the entire outside (focusing on stained areas) - $9-$15k
Repairing the 2 fiberglass domes - $35k - $45k
Front parking lot repaving - $25k
Fence and railing repairs - $10k
School wheelchair/handicap ramp - $9k
Landscaping (tree trimming & removal) - $9k
In total, the Masjid would require between $350,000 to $400,000 to complete all of these pending projects.  Alhamdulilah with the help of the community, the Masjid has approximately $60,000 in savings that is dedicated to these repairs.  Your contribution and volunteerism are greatly appreciated!
If you know of contractors or vendors able to provide a discount for the above projects, please contact our Project Management team:
Br. Junaid Warsi, 404-543-8693 (Text or call) or jwarsi@gmail.com
Br. Zafar Khan, 404-931-7707 (Text or call) or zafar@deltacomputers.com
---
Dar Un Nor Sunday School Registration
Posted on Tuesday, August 8, 2023 12:02 pm
Dar Un Noor Sunday School classes will start on August 13, 2023.  On-site registration will be on August 6, 2023, in the school lobby.  Online registration and additional information are available at: https://dunsundayschool.wordpress.com/ 
If you have not registered your child or if you have questions, please contact Khalid Rashied at 404-454-5500 (call or text). 
---
Dr. M. Hisham Hawasli's Eulogy For Principal Nabila
Posted on Monday, July 31, 2023 7:22 am
---
Dr. Omar Kashlan's Eulogy For Principal Nabila
Posted on Monday, July 31, 2023 7:20 am
---
Sister Nabila Hawasli Janazah
Posted on Saturday, July 29, 2023 6:38 pm
UPDATE: Dr. M. Hisham Hawasli and family will insha'Allah be at Al-Farooq Masjid on Monday (7/31) from 5:15pm to Maghrib to meet with the community.
Inna lillahi wa inna ilayhi raji'un. We belong to Allah, and to Him we return.
Sister Nabila Hawasli passed away at Asr today (Saturday, July 29). Insha'Allah her janazah is tomorrow 2pm at Al-Farooq Masjid followed by the burial at the ECIC Cemetery (2376 John Petree Rd, Powder Springs, GA 30127).
Sister Nabila served our community for many decades. Please make lots of sincere du'a for her and her family and please attend her janazah tomorrow.
---
Feed One Meal Program (2023-2024)
Posted on Wednesday, July 26, 2023 11:59 am
---
Volunteer Opportunities
Posted on Thursday, July 20, 2023 11:05 am
Asalaamu Alaikum!
Our Masjid is seeking dedicated individuals to join our team and make a positive impact in the community as we value your skills and passion.  This submission is for consideration to become a viable volunteer or hold a temporary Director position for a 1-year term. 
All appointments will be approved by the Board of Trustees. 
For questions, please email muhammad.varachhia@alfarooqmasjid.org.
---
Eid ul Adha Announcement
Posted on Monday, June 19, 2023 10:10 am
Eid Mubarak!  Eid ul Adha important dates:
1st of Dhul Hijjah is Monday, June 19th
Arafah Day is Tuesday, June 27th**
Eid ul Adha is Wednesday, June 28th
Eid ul Adha Salah Timings at Al-Farooq:
1st Salah: 8:00am
2nd Salah: 8:45am
3rd Salah: 9:15am
4th Salah: 9:45am
Eid Salah Excuse Letter: Download PDF
**Abu Qatadah Al-Ansari (ra) narrated, 'The Messenger of Allah (ﷺ) was asked about fasting on the day of Arafah (the 9th of the month of Dhul Hijjah). He replied, "Fasting on the day of Arafah is an expiation for the preceding year and the following year." He was also asked about fasting on the day of Ashura (the 10th of the month of Muharram). He replied, "Fasting on the day of Ashura is an expiation for the preceding year." The Messenger of Allah (ﷺ) was also asked about fasting on Monday, and he replied, "This is the day on which I was born and the day on which I was sent (with the Message of Islam) and the day on which I received revelation." Related by Muslim.
---
(Photos) Class of 2023 - Annual Hifz Graduation
Posted on Saturday, May 27, 2023 9:57 pm
---
(Video) Class of 2023 - Annual Hifz Graduation
Posted on Saturday, May 27, 2023 9:53 pm
---
Annual Hifz Graduation Ceremony - Class of 2023
Posted on Monday, May 22, 2023 4:58 am
---
History of Masjid Al Farooq Masjid of Atlanta, Ga. 1977 or 1978-2023
Posted on Monday, May 22, 2023 4:55 am
This article is in place to make clear some of the misinformation surrounding the establishment of one of if not the largest Masjid in the Atlanta, Ga. area. Depending on who you ask there will be different renditions to this story. As one of the original founders of the project I feel I would be remiss if I didn't contribute to the conversation or narrative.
The original core group of founders consisted of the following , Sheikh Syed Nooraddin, Nazir Warsi, Tuaqir Warsi, Amanullah Khan, Farooq El-Tatouty, Muhammad Koug, Bilal Mahmud, Jabriel Zakayii, Khalil Abdur Rashid, Amin Best, Sheikh Munir Kashlan, and my beloved teacher and Sheikh Ibrahim ONour. along with Dr. Khalid Siddiq
WOW! I almost forgot our Sheik 2X4= Akil Ahmad of Griffin Ga.
These workers would not have been able to do their jobs without the backing of the Jamaat. Many of the students at that time would sacrifice their tuition for a semester or so to donate that money to make sure that this project was a success. During that time the organization didn't have a bank account, the monies that were collected were kept in a shoe box by one of our members.
Things don't just happen, things are made to happen...let us back for a few years to bring more clarity to the subject. During the early 70"s there was a resurgence of Islam happening in America. After the Shahid of our beloved brother Abdul Malik Shabazz there was an awakening in the Orthodox Muslim community. From that awakening there emerged two organizations that had to be noticed and recognized. The first being the Darul Islam movement and other the Islamic Party in North America. These two organizations were very different, but very similar in many respects. The one common thread of both groups was their love for Islam, and the holding fast to the Quran and Sunnah of our Beloved Prophet Muhammad. Methodology became a stumbling block, but never a point of division. Along with these two primarily African American groups there was a contingency of South Asian Muslim who worked closely with both organizations in the establishment of Islam in America.
During the 70's 1972-1973 to be more precise, it was noticed that Atlanta was a very fertile ground to the establishment of Islam in America. Traditionally, Islam in America was found in the larger northern cities such as New York, Chicago, Philadelphia , Washington, D.C., Detroit, and Cleveland. just to name a few. As Allah willed Atlanta was chosen as a point of entry for the Dawah work in the South of America.
A Cadre was sent down from Cleveland to work in Atlanta. In doing so it worked in conjunction with the local South Asian community to open up an Islamic Center in Atlanta. There was a center established in the West End off of Ashby St. S.W. and the local Imam or Amir was a young brother by the name of Abdul Wajid (Sheikh Ihsan Bagby).
Account by Dr. Ihsan Bagby: "The year is probably 1974. The brother with me is--I think--a brother from NYC who was one of the three founders of Yasin Masjid and the Darul Islam movement. I can't remember his name now. He played the sax. I think that's his child. The Islamic Center got started after the breakup of Masjid al-Talib which was the first masjid in Atlanta and as my Imam, Imam Mutawaf, said it was composed of mostly brothers from Cleveland. Masjid al-Talib broke up when Imam Antar's brother was assassinated by the NOI in 1973. After the breakup I left Atlanta for a few months, and when I came back later in 1973, the Islamic Center was started. Unlike Masjid al-Talib which was a Dar masjid, the Islamic Center was more so a coalition of African American Muslims and immigrants. I was elected Amir soon after returning. I remember Ben Benu came down from Dar headquarters and told me that I was instructed to leave the Islamic Center and start a Dar masjid. I thought that after Muslim unity had been achieved, it was un-Islamic to cause a division."
This operated for a while and soon another center was opened about a mile away on Culberson St. S.W. Atlanta to be headed by brother Yazid a young Muslim out of New York. As time went on and people moved about the country these two centers dissolved into local landscape.
In 1976-1977 again in the West End, another Mosque was opened to become known as the West End Mosque. This was an effort establish by Imam Jamil Al Amin Abdullah, but the first Imam there was Sheikh Muhammad Mamaduk Cissi of Gambia, West Africa. This West End Masjid is still operating today.
On the other side of town just north of Georgia Tech. there was the establishment of Masjid Al Arafat on 4th Street NW. Atlanta, Ga with Imam Ibrahim Bin Benu of the Darul Islam Movement. Arafat later moved to Simpson Road N.W. Atlanta. During that time there were some administrative changes and the Arafat as we know it was dissolved. As Allah would have it this opened the door for the establishment of The Atlanta Mosque Inc. to be located at 442 14th Street N.W. Atlanta, Ga.
The Atlanta Mosque officially opened in 1980, it's first Imam being Sheikh Munir Kashlan and Sheikh Ibrahim ONour. From it's inception the organization saw the necessity for leadership and transparency in it's governance. There was the immediately establishment of the Executive committed and the Board of Trustees. These two bodies helped to insure the smooth operation of the organization until today.
The Masjid was established in 1980 as The Atlanta Mosque, a nonprofit, non-political, religious organization. Later due to a name conflict with another organization, its name was changed to Al-Farooq Masjid of Atlanta.
In 1990 the Masjid decided to expand the scope of its service activities by establishing an academic religious-parochial school (Dar-un-Noor School). This school now has 200 students in grades pre-K through 8 learning all academic subjects such as math, science, social studies, in addition to Islamic Studies and Arabic.
The growing population of Muslims prompted the Masjid to address the need for a formal Quranic teaching/hifz (memorizing/learning the Holy Quran) facility. This necessitated the establishment of The Atlanta Dar-ul-Uloom (in 1994) with a hostel facility for full-time resident students. This institution now has 27 students, two qualified full-time instructors, and a dorm warden.
Realizing the importance of Muslim burial facilities in a predominantly non-Muslim country, the Masjid Board in 1982 acquired 5 acres of land to establish a Muslim cemetery. This facility (burial capacity of 2,000) is one of the very few Muslim cemeteries available in this country. To date, approximately 300 Muslims from various parts of the country have been buried in this cemetery.
In the mid nineties, the Muslim population not only increased to an unprecedented level but it also spread extensively to the suburbs of Atlanta. To meet the worship and educational needs of Muslims and their children, Al-Farooq Masjid was prompted to establish Masjid Omar Bin 'Abdul-'Aziz in the Norcross area of Atlanta. This neighborhood community mosque not only attracts a large number of Muslims for daily five-time Salahs but also over 400 Muslims for Friday Salah. Also, over 100 Muslim children attend daily afternoon Quranic and Islamic classes.
Alhamdu-lillah, the Al-Farooq Organization has made tremendous strides toward establishing a number of important Islamic institutions. All the past achievements are the results of Allah's grace exhibited through active participation and monetary help of local Muslims.
---
Photos from Eid al-Fitr (2023)
Posted on Saturday, April 22, 2023 7:43 pm
Update: All photos have been uploaded (4/22/2023)
Note: Click image or button below to view photos.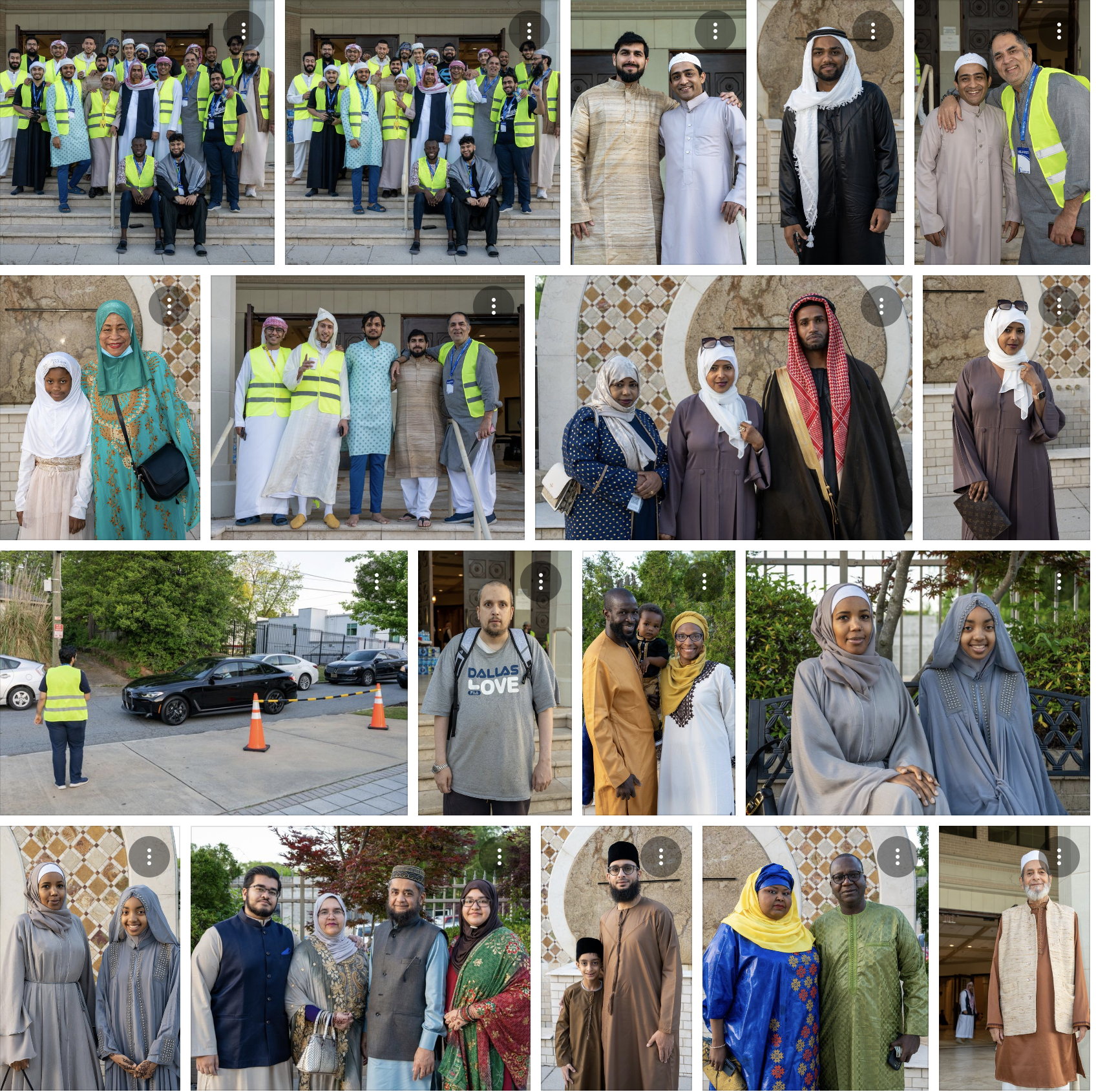 Brother Tawsif Kamal also took some photos during Eid and here are his photos:
---
Eid al-Fitr (2023)
Posted on Saturday, April 22, 2023 7:40 pm
---
Eid al-Fitr is Friday
Posted on Thursday, April 20, 2023 7:32 pm
Eid Mubarak!
Tomorrow (Friday, April 21, 2023) is 1 Shawwal 1444 and Eid al-Fitr.
Eid Salah Timings:
1st Salah: 8:00am
2nd Salah: 8:45am
3rd Salah: 9:15am
4th Salah: 9:45am
Eid Salah will be at Al-Farooq Masjid, 442 14th Street NW, Atlanta, Georgia 30318
Download Eid Excuse Letter: Click here
Zakat ul Fitr:
Zakat ul Fitr is $10/person and should be paid during Ramadan prior to Eid ul Fitr Salah.  Click here to pay online.
Photos:
Insha'Allah we'll take photos and post to our website like was done at Masjid Omar Bin Abdul Aziz for the Khatmul Quran. View Photos from Masjid Omar Bin Abdul Aziz
---
"
And the servants of (Allah) Most Gracious are those who walk on the earth in humility, and when the ignorant address them, they say, "Peace!";"