Thursday, December 7, 2023
23 Jumada Al-Awwal 1445
| | Starts | Iqamah |
| --- | --- | --- |
| Fajr1 | 6:00 | 6:45 |
| Zuhr | 12:29 | 2:00 |
| Asr | 3:10 | 4:15 |
| Maghrib | 5:34 | |
| Isha | 6:52 | 7:15 |
Friday, December 8, 2023
24 Jumada Al-Awwal 1445
| | Starts | Iqamah |
| --- | --- | --- |
| Fajr1 | 6:01 | 6:45 |
| Zuhr | 12:29 | 2:00 |
| Asr | 3:11 | 4:15 |
| Maghrib | 5:34 | |
| Isha | 6:53 | 7:15 |
Al-Farooq Masjid
442 14th Street NW
Atlanta, GA 30318
(404) 874-7521

(404) 919-7521
Hajj on 9/23 and Eid al-Adha on 9/24
Posted on Tuesday, September 15, 2015 6:25 am
Insha'Allah (God willing) Hajj is Wednesday, September 23 and Eid al-Adha is Thursday, September 24. The first Eid Salat starts at 8:30am and the second starts at 9:15am. If you're going to Hajj, congratulations, may Allah accept your Hajj and please make du'a for the rest of us. 
---
List of Places to Perform Udhiya
Posted on Friday, September 11, 2015 7:11 pm
Al-Farooq Masjid has no affiliation to any of these companies/services. Insha'Allah (God willing) we are just providing this information to make it easy for you to find a place to perform Udhiya.
If you're offering services related to Udhiya, please email us with the appropriate information so we can post it here.
---

Call us: (864) 202-3713
We have secured a slaughter house for 3 days.
The slaughter house is located here (Click for Google Map): 
5675 S Apple Valley Rd
Jefferson, GA 30549
Located near Commerce, GA on I-85, 45 mins from Atlanta and 1 hour from Greenville, South Carolina.
Slaughter will be done according to the Sunnah.  You can choose your animal and perform your own Udhiya.
For your convenience, we have streamlined the slaughtering process to within an hour.  This means that from the time of slaughtering the animal to getting cut pieces in a box will be an hour or less.
The processing fee (slaughtering, skinning, cleaning, and cutting into small pieces) for goats and sheep is $60 per animal.  If you don't want us to process it and just pick-up a live animal and go, there is no processing fee but you must take the animal you choose immediately.  No slaughtering or processing will be allowed on the property.
There is no additional processing fee for cow parts.  It's already included in the price.
Cow parts will be delivered after the 3rd day.
---
My Dear Brothers & Sisters, InshA-Allah, We are offering Udhiya(sacrifice) for the 3 Eid  days​. Ma-shA-Allah, we have, COW, SHEEP-LAMB, & GOAT. InshA-Allah, everything is done one the site; i.e.
Choose your animal
we slaughter, clean, cut and package it for you (you can watch if you like
Contact Info:
Balady Farm
449 Almon Rd.
Covington, Ga., 30014
TEL 678-665 1115
Directions
From Atlanta Interstate 20east exit 88, turn left
From Augusta Interstate 20 west exit 88, turn right
Email: aminasedyame@hotmail.com
---
Eid ul-Fitr
Posted on Thursday, July 16, 2015 2:53 pm
Eid Mubarak! Insha'Allah (God willing) Eid is Friday, July 17. May Allah (swt) accept all your efforts during Ramadan.
Eid ul-Fitr: Friday
Bayan starts: 8:10am
First salah: 8:30am
Second salah: 9:15am
Parking
Come early
Do not block any cars, driveways, roads, etc.
Do not park illegally (e.g. handicap parking if you don't have the appropriate tag)
Photography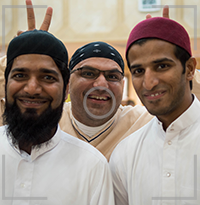 The Masjid policy does not allow photography inside the masjid except by permission. Insha'Allah if you would like a photo taken of you (family, group, etc.), we will be outside taking photos. This is free and insha'Allah the photos will be posted here (and Facebook).
---
"
We have not sent thee but as a universal (Messenger) to men, giving them glad tidings, and warning them (against sin), but most men understand not."