Monday, July 6, 2020
15 Dhul Qadah 1441
| | Starts | Iqamah |
| --- | --- | --- |
| Fajr1 | 4:51 | 6:00 |
| Zuhr2 | 1:42 | 2:00 |
| Asr | 5:27 | 6:45 |
| Maghrib | 8:57 | |
| Isha | 10:27 | 10:35 |
Tuesday, July 7, 2020
16 Dhul Qadah 1441
| | Starts | Iqamah |
| --- | --- | --- |
| Fajr1 | 4:52 | 6:00 |
| Zuhr2 | 1:43 | 2:00 |
| Asr | 5:27 | 6:45 |
| Maghrib | 8:57 | |
| Isha | 10:27 | 10:35 |
Al-Farooq Masjid
442 14th Street NW
Atlanta, GA 30318
(404) 874-7521

(404) 919-7521
A Message from the Masjid Management
Posted on Monday, February 10, 2020 7:26 pm
The meeting being advertised as occurring on February 15, 2020, at noon, at Murray's In a Hurry is not a meeting called by The Atlanta Mosque, Inc.  If anyone has any questions concerns about the governance of The Atlanta Mosque, Inc. they should send written correspondence to Masjid Management at the address of 442 14th Street NW, Atlanta, Georgia 30318 or send an email to our management at the email address of info@alfarooqmasjid.org.
---
Tackling Addictions Within Our Communities
Posted on Friday, January 31, 2020 10:46 pm
DUE TO WEATHER CONDITIONS WE ARE RESCHEDULING THIS EVENT TO A LATER DATE. PLEASE SIGN UP BELOW TO BE INFORMED OF THE FUTURE DATE
Free Registration - Click Here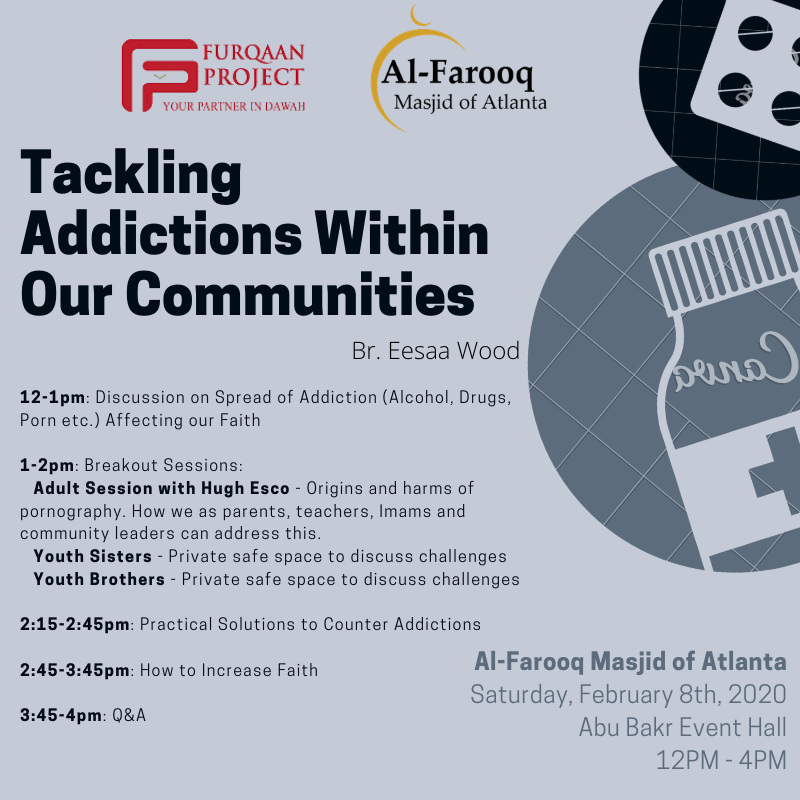 ---
The Divine Currency and Algebra
Posted on Sunday, January 26, 2020 3:56 pm
---
A Message from the Founding Members of The Atlanta Mosque, Inc.
Posted on Friday, January 24, 2020 3:39 pm
A message from the founding members of The Atlanta Mosque, Inc.
---
Calligraphy
Posted on Wednesday, January 22, 2020 11:41 am
Shaikh Abdul Rahman Auon Al Sood, scholar from Homs, specialist in Arabic Calligraphy, and recitation of the Quran, talk to the students at the Dar-un-Noor Sunday School, Advanced Arabic program. It was recorded January 19, 2020.
---
Birds of Feather
Posted on Sunday, January 12, 2020 3:28 pm
---
The Passing of the Days of Life
Posted on Sunday, January 12, 2020 3:26 pm
---
DNA Elementary Awards Ceremony (Photos)
Posted on Thursday, January 9, 2020 4:42 pm
---
Family Night - Friday, February 7, 2020
Posted on Tuesday, January 7, 2020 10:15 am
---
Read / Iqraa
Posted on Sunday, January 5, 2020 5:49 pm
---
High Objectives of the Tarbiya of the Qur'an
Posted on Wednesday, December 25, 2019 7:34 pm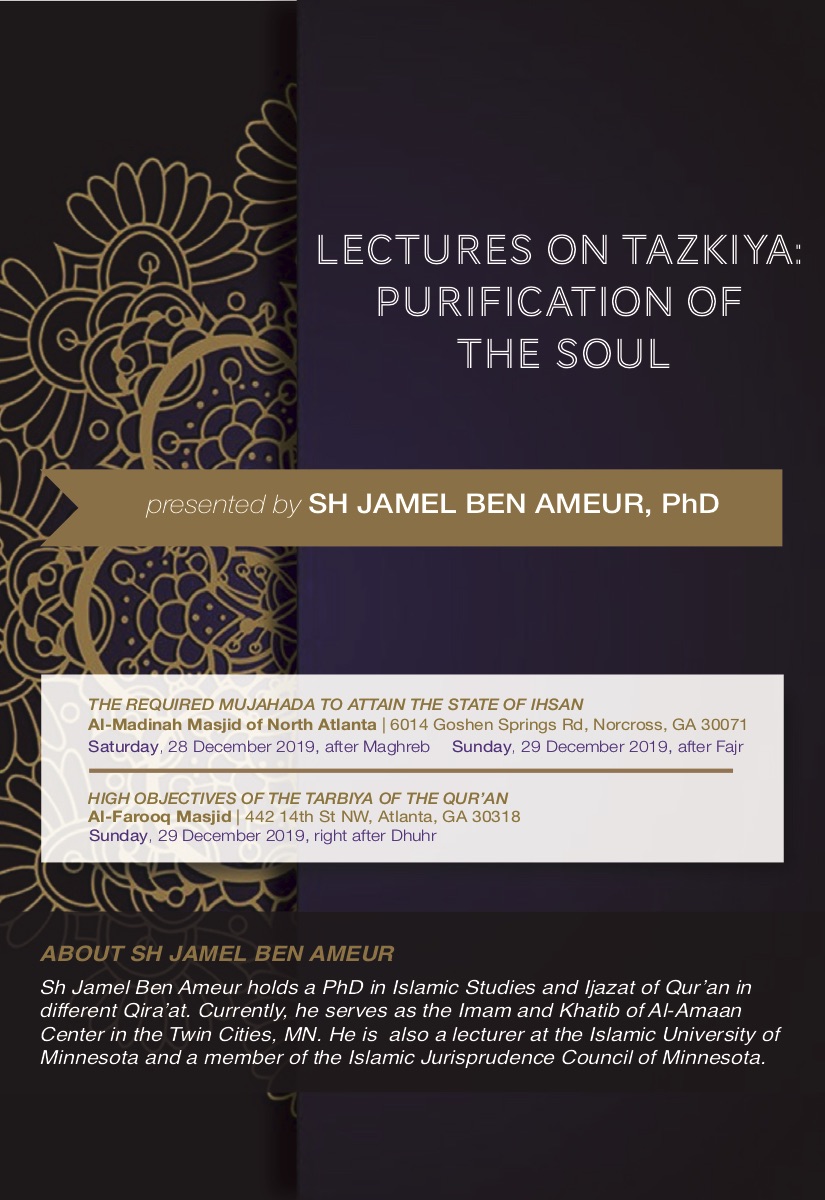 ---
Lectures on Tazkiya: Purification of the Soul - Sunday, December 29, 2019 after Dhuhr
Posted on Wednesday, December 18, 2019 2:33 pm
---
7th Family Night With the Glorious Qur'an
Posted on Monday, December 9, 2019 3:10 pm
---
A Message from The Board of Trustees
Posted on Wednesday, November 27, 2019 7:04 am
The Atlanta Mosque, Inc. has not sanctioned any meeting designated or intended to change the composition of the Board of Trustees or the corporate governance structure of the organization.  Furthermore, the Board of Trustees has not designated any group or individual to negotiate agreements on our behalf.  Any attempt to usurp the authority of the Board of Trustees to manage the affairs and the assets of the organization is prohibited.
---
Message To The Community
Posted on Saturday, November 23, 2019 9:52 pm
NOVEMBER 23, 2019
Over the past several years, the Atlanta Mosque, Inc. has been examining ways that the organization can improve its operations in order to better serve the interests of Islam and the needs of the metro Atlanta Muslim community.
Over the coming months, we will be conducting an extensive search for the most talented individuals in our community to be added to our management team. The existing Board of Trustees is looking for diverse candidates from the next generation of community leaders to assist us in the process of long-term strategic planning and in developing dynamic programs that our elders, brothers, sisters and youth can be proud of. Such programs would include, but not be limited to: (1) Youth development and leadership training; (2) Sister's programs and activities; (3) Inter-faith dialogue; and (4) Educational programs that prepare our community for success.    
If you would like more information, please contact Bukhari Nuriddin at bukhari@alfarooqmasjid.org.
The Atlanta Mosque, Inc. is a 501(c)(3) nonprofit, non-political, Islamic religious organization that was established in 1977. It is not affiliated with or subordinate to any organization either inside or outside the U.S. The purpose of the organization is to provide the Muslims of metro Atlanta with worship facilities and services such as Islamic education and performance of rituals of marriage, funeral, etc. The entire organization is designed to devote its resources and energies to fulfill these selected goals. Thus, the facilities, resources and goodwill of the Atlanta Mosque, Inc. shall not be used for promoting goals and missions of any other economic, social, political, religious or religious-political organizations or groups.
Contact:
Bukhari Nuriddin
bukhari@alfarooqmasjid.org
---
"
And the servants of (Allah) Most Gracious are those who walk on the earth in humility, and when the ignorant address them, they say, "Peace!";"