Friday, June 9, 2023
20 Dhul Qadah 1444
| | Starts | Iqamah |
| --- | --- | --- |
| Fajr1 | 4:43 | 5:50 |
| Zuhr | 1:37 | 2:00 |
| Asr | 5:21 | 6:45 |
| Maghrib | 8:52 | |
| Isha | 10:23 | 10:35 |
Saturday, June 10, 2023
21 Dhul Qadah 1444
| | Starts | Iqamah |
| --- | --- | --- |
| Fajr1 | 4:43 | 5:50 |
| Zuhr | 1:37 | 2:00 |
| Asr | 5:22 | 6:45 |
| Maghrib | 8:53 | |
| Isha | 10:24 | 10:35 |
Al-Farooq Masjid
442 14th Street NW
Atlanta, GA 30318
(404) 874-7521

(404) 919-7521
Anger - 10 Ramadan 1444
Posted on Sunday, April 2, 2023 4:28 pm
---
Basic Principles of Cognitive Models - 9 Ramadan 1444
Posted on Sunday, April 2, 2023 4:27 pm
---
Theodicy - 8 Ramadan 1444
Posted on Sunday, April 2, 2023 4:26 pm
---
Their Father Was Righteous - 7 Ramadan 1444
Posted on Wednesday, March 29, 2023 7:25 pm
---
Build Your Character - 6 Ramadan 1444
Posted on Wednesday, March 29, 2023 7:24 pm
---
By Their Opposites Are Things Made Manifest - 5 Ramadan 1444
Posted on Wednesday, March 29, 2023 7:23 pm
---
The Meaning of Life - 4 Ramadan 1444
Posted on Sunday, March 26, 2023 4:53 pm
---
On His Footsteps (PBUH) - 3 Ramadan 1444
Posted on Saturday, March 25, 2023 11:26 am
---
Fitrah - 2 Ramadan 1444
Posted on Friday, March 24, 2023 6:54 pm
---
Welcoming Ramadan - 1 Ramadan 1444
Posted on Wednesday, March 22, 2023 8:46 pm
---
Ramadan 2023 Updates
Posted on Friday, March 17, 2023 1:00 pm
UPDATE: The moon was not sighted today (Tuesday), therefore, tomorrow (Wednesday) will be the 30th day of Shaban. Insha'Allah the first night of Tarawih prayers is Wednesday night right after Isha prayer (9:09pm) and the first day of fasting is Thursday.
1. Depending on the sighting of the moon, the Month of Ramadhan will start either on Wednesday or Thursday, March 22 or 23, 2023. Please follow Al-Farooq Masjid website for updates.
2. Masjid will remain open at full capacity for all activities, including five times daily prayers, open Iftar Dinner, Taraweeh, and Itikaf during the last ten days of Ramadhan.
3. Dates and water bottles will be provided to all for Iftar (breaking fast) before Maghrib at the lobby of the Masjid.
4. Open dinner will be served to the community immediately after Maghrib Salah at the lowest parking level of the Masjid.
Appeal for Donations for the month of Ramadhan
The Messenger Muhammad

said, "Every deed of the son of Adam will be multiplied for him, between ten and seven hundred times for each merit. Allah said: 'Except for fasting, for it is for Me and I shall reward for it." (Ibn Majah). All the community members are requested to send their donations to Al-Farooq Masjid and to its various units and programs. For online donation, please follow the links bellow:
Ramadhan Iftar:
Feeding Fasting people (Iftar Dinner):
1. $80 for 10 people, $160 for 20 people
2. $320 for 40 people, $400 for 50 people,
3. $800 for 100 people, $1600 for 200 people
4. $3200 for the entire Iftar day).
For details or questions, please text or call to: Mufti Muhammad Sajid at 678-886-3457
Zakah for the poor and needy
2.5% from the savings including cash, gold, and silver
Sadaqatul Fitr $10 per every individual in the family
Darul Uloom Hifz Program:
Sponsor a Hifz student for $6000 per year (Zakah eligible)
Darun Noor Academy
Sponsor a student for $6000 per year (Zakah eligible)
---
Ramadan Calendar
Posted on Friday, March 17, 2023 9:39 am
---
Turkey Earthquake Victims Relief Supplies Donations
Posted on Friday, February 24, 2023 7:34 am
---
Dar Un Nor Sunday School
Posted on Wednesday, September 21, 2022 12:02 pm
Alhamdulilah in-person Sunday school returned on August 14th and is still accepting students.  If you have not registered your child or if you have questions, please contact Khalid Rashied at 404-454-5500 (call or text).  Additional information can be found at https://dunsundayschool.wordpress.com/. 
---
Marriage in Islam Symposium Sun. Sept 11 @ 10am
Posted on Friday, September 9, 2022 4:01 pm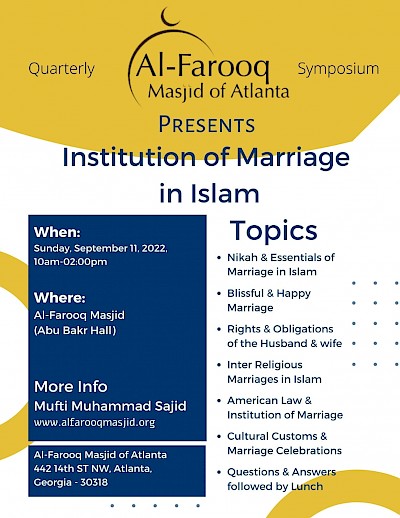 ---
"
Narrated 'Umar bin Al-Khattab: I heard Allah's Messenger

saying, "The reward of deeds depends upon the intentions and every person will get the reward according to what he has intended. So whoever emigrated for worldly benefits or for a woman to marry, his emigration was for what he emigrated for.""