Thursday, December 7, 2023
23 Jumada Al-Awwal 1445
| | Starts | Iqamah |
| --- | --- | --- |
| Fajr1 | 6:00 | 6:45 |
| Zuhr | 12:29 | 2:00 |
| Asr | 3:10 | 4:15 |
| Maghrib | 5:34 | |
| Isha | 6:52 | 7:15 |
Friday, December 8, 2023
24 Jumada Al-Awwal 1445
| | Starts | Iqamah |
| --- | --- | --- |
| Fajr1 | 6:01 | 6:45 |
| Zuhr | 12:29 | 2:00 |
| Asr | 3:11 | 4:15 |
| Maghrib | 5:34 | |
| Isha | 6:53 | 7:15 |
Al-Farooq Masjid
442 14th Street NW
Atlanta, GA 30318
(404) 874-7521

(404) 919-7521
Al-Farooq Masjid's Feed the Homless Program feeds around 220 to 300 homeless people every other Sunday. Please help us sustain this effort by donating at this link: https://us.mohid.co/ga/atlanta/afm/masjid/online/donation and select the category as 'Feed the Homeless'.
You can also volunteer to help in the distribution by meeting at Al-Farooq Masjid's elevator lobby at 10am to pack around 220-300 lunch boxes for homeless and then head to the parks in downtown Atlanta to distribute the food. 
2018 Statistics
23 sessions in 2018 yielded 6,326 hot plates & 6,804 sandwich bags distributed AlhamdulilLah.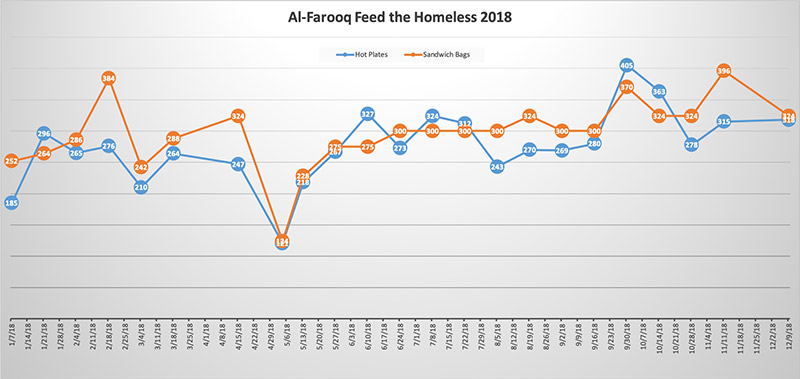 Donate  (select the category as "Feed the Homeless")
"
Narrated 'Umar bin Al-Khattab: I heard Allah's Messenger

saying, "The reward of deeds depends upon the intentions and every person will get the reward according to what he has intended. So whoever emigrated for worldly benefits or for a woman to marry, his emigration was for what he emigrated for.""