Tuesday, June 18, 2019
15 Shawwal 1440
| | Starts | Iqamah |
| --- | --- | --- |
| Fajr1 | 4:43 | 5:50 |
| Zuhr2 | 1:39 | 2:00 |
| Asr | 5:23 | 6:45 |
| Maghrib | 8:54 | |
| Isha | 10:28 | 10:35 |
Wednesday, June 19, 2019
16 Shawwal 1440
| | Starts | Iqamah |
| --- | --- | --- |
| Fajr1 | 4:43 | 5:50 |
| Zuhr2 | 1:39 | 2:00 |
| Asr | 5:23 | 6:45 |
| Maghrib | 8:54 | |
| Isha | 10:28 | 10:35 |
Al-Farooq Masjid
442 14th Street NW
Atlanta, GA 30318
(404) 874-7521

(404) 919-7521
Interfaith Community Supports Al-Farooq Masjid (Photos)
Posted on Saturday, October 10, 2015 6:44 pm
---
Community Announcement
Posted on Wednesday, October 7, 2015 1:23 pm
Al-Farooq Masjid wishes to thank everyone for the overwhelming support being shown by Muslims, as well as the inter-faith community, with regard to the planned rally against Islam this weekend.  We are in close contact with law enforcement agencies and participated in national calls on the subject.  The Masjid has designated a spokesperson to talk to the media and authorities if needed.  We feel there is no need for a counter demonstration or special assembly near the Masjid.  We must remain dignified and honorable by respecting the law and allowing our conduct speak on our behalf.  We must not engage with demonstrators or involve ourselves in slogan mongering, shouting or interaction of any sort.  MashaAllah there is a huge body of support for us in the community at large. In the end, remember we are all servants of Allah and He is our Helper and Protector. 
---
Sisters' Halaqa - Oct 3rd, 2015
Posted on Monday, September 28, 2015 12:19 am
Sisters' Halaqa will take place on Saturday, October 3rd at 3:00pm in the Basement Abu Bakr Hall of Al-Farooq Masjid of Atlanta. Don't miss out!
Contact Sister Baherrah at 404-454-5762 with any questions.
---
2015 Eid ul-Adha Photos
Posted on Thursday, September 24, 2015 6:53 pm
---
2015 Eid ul-Adha (Time Lapse)
Posted on Thursday, September 24, 2015 7:00 am
A two minute time lapse of Eid ul-Adha at Al-Farooq Masjid, recorded on Thursday, September 24, 2015. There were two salats, the first at 8:30am and the second at 9:15am.
---
Darul Uloom of Atlanta now enrolling 2019-2020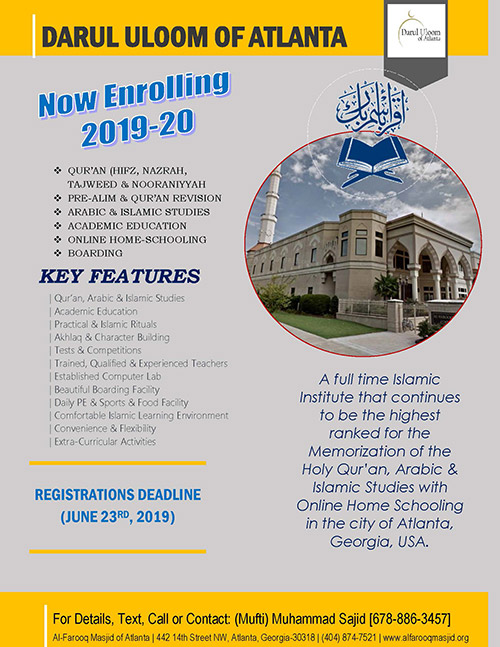 "
And every human being's destiny have We tied to his neck; and on the Day of Resurrection We shall bring forth for him a record which he will find wide open;"