Thursday, April 2, 2020
9 Shaban 1441
| | Starts | Iqamah |
| --- | --- | --- |
| Fajr1 | 5:58 | 6:30 |
| Zuhr2 | 1:41 | 2:00 |
| Asr | 5:15 | 6:30 |
| Maghrib | 8:04 | |
| Isha | 9:19 | 9:40 |
Friday, April 3, 2020
10 Shaban 1441
| | Starts | Iqamah |
| --- | --- | --- |
| Fajr1 | 5:57 | 6:30 |
| Zuhr2 | 1:41 | 2:05 |
| Asr | 5:15 | 6:30 |
| Maghrib | 8:04 | |
| Isha | 9:20 | 9:40 |
Al-Farooq Masjid
442 14th Street NW
Atlanta, GA 30318
(404) 874-7521

(404) 919-7521
All Activities Suspended Until Further Notice
Posted on Tuesday, March 24, 2020 12:51 pm
On March 23, 2020 Georgia's Governor announced a ban on gatherings above 10 people.  With the rapid growth of Coronavirus infections, Management has decided to suspend all activities including:
- Jama'at (congregational) five daily prayers
- Jama'at (congregational) Friday Jummah prayers
- All daily, weekly or monthly activities including Hifz Graduation
Both Al-Farooq Masjid and Masjid Omar bin Abdul Aziz (Gwinnett) will remain closed until further notice.  We will continue to monitor the situation daily and will provide updates on our website inshaAllah and WhatsApp group.  Please continue to follow the guidelines as stated by the Center for Disease Control and keep our Ummah in your prayers.  
---
Message to Our Community
Posted on Monday, March 23, 2020 5:04 am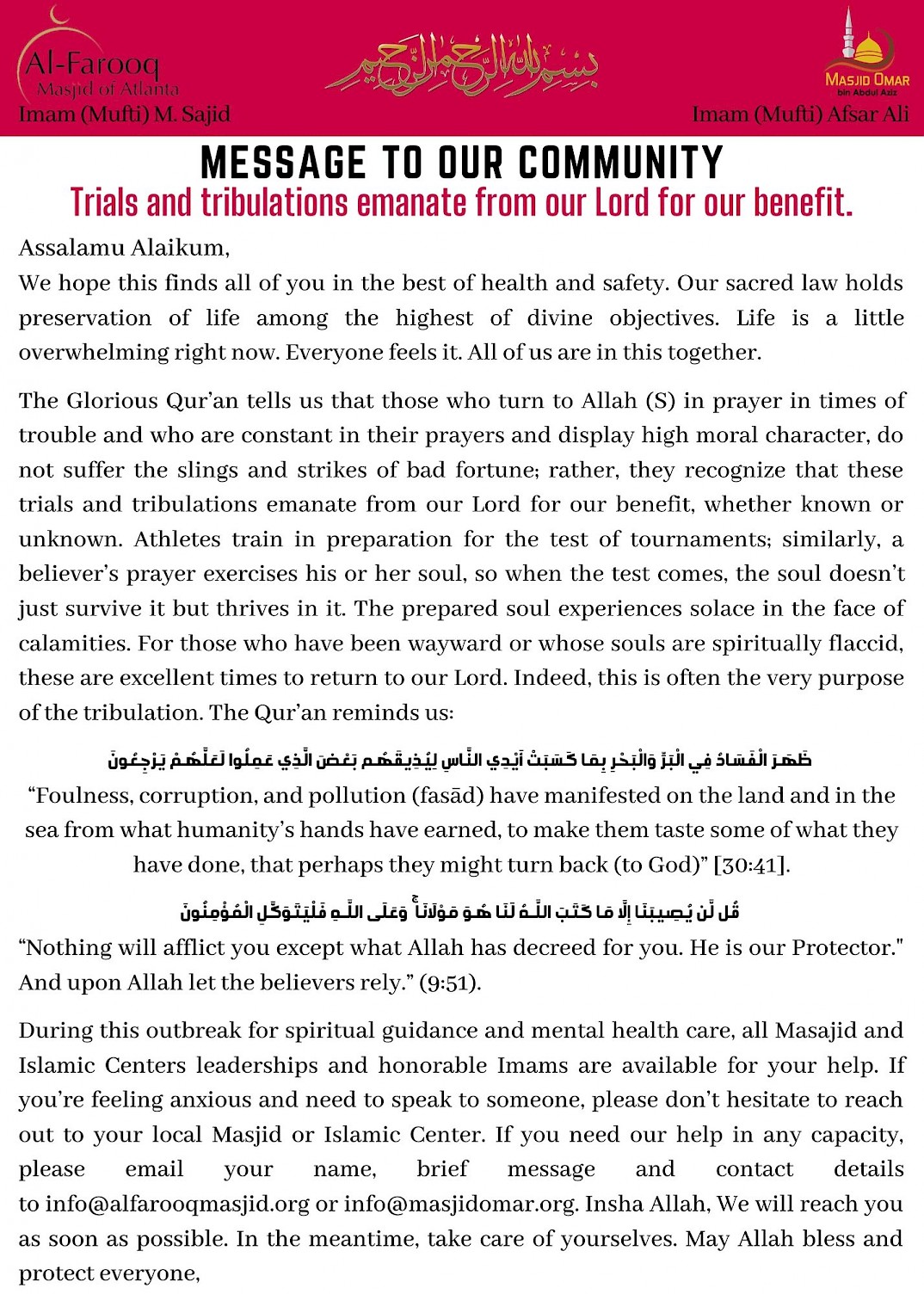 ---
Jummah Announcement for Fri., March 20
Posted on Tuesday, March 17, 2020 10:11 am
Please do not attempt to visit/attend the Masjid during the time of Jummah.  Please use the this guidance to perform Jummah at home or in private groups: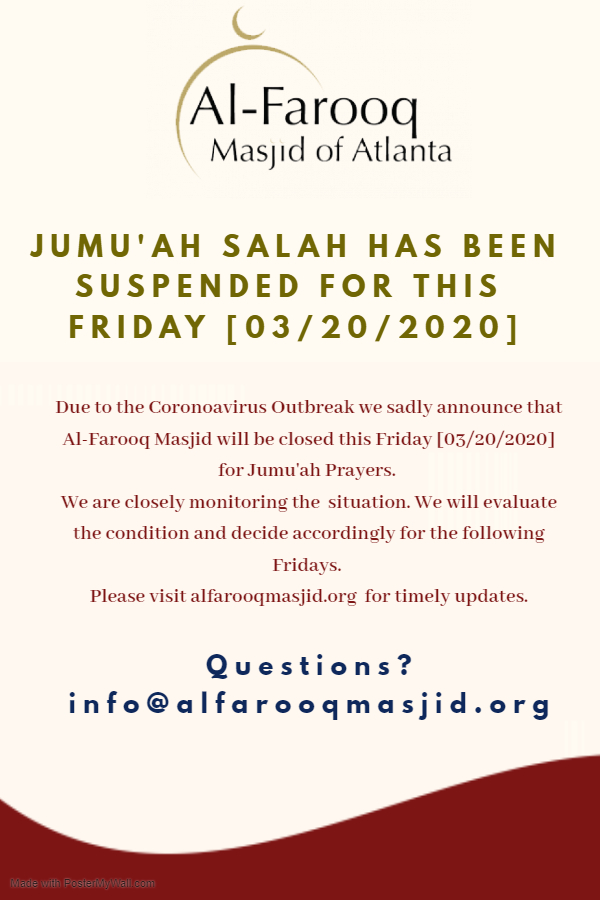 ---
Duas for Recitation
Posted on Sunday, March 15, 2020 3:32 pm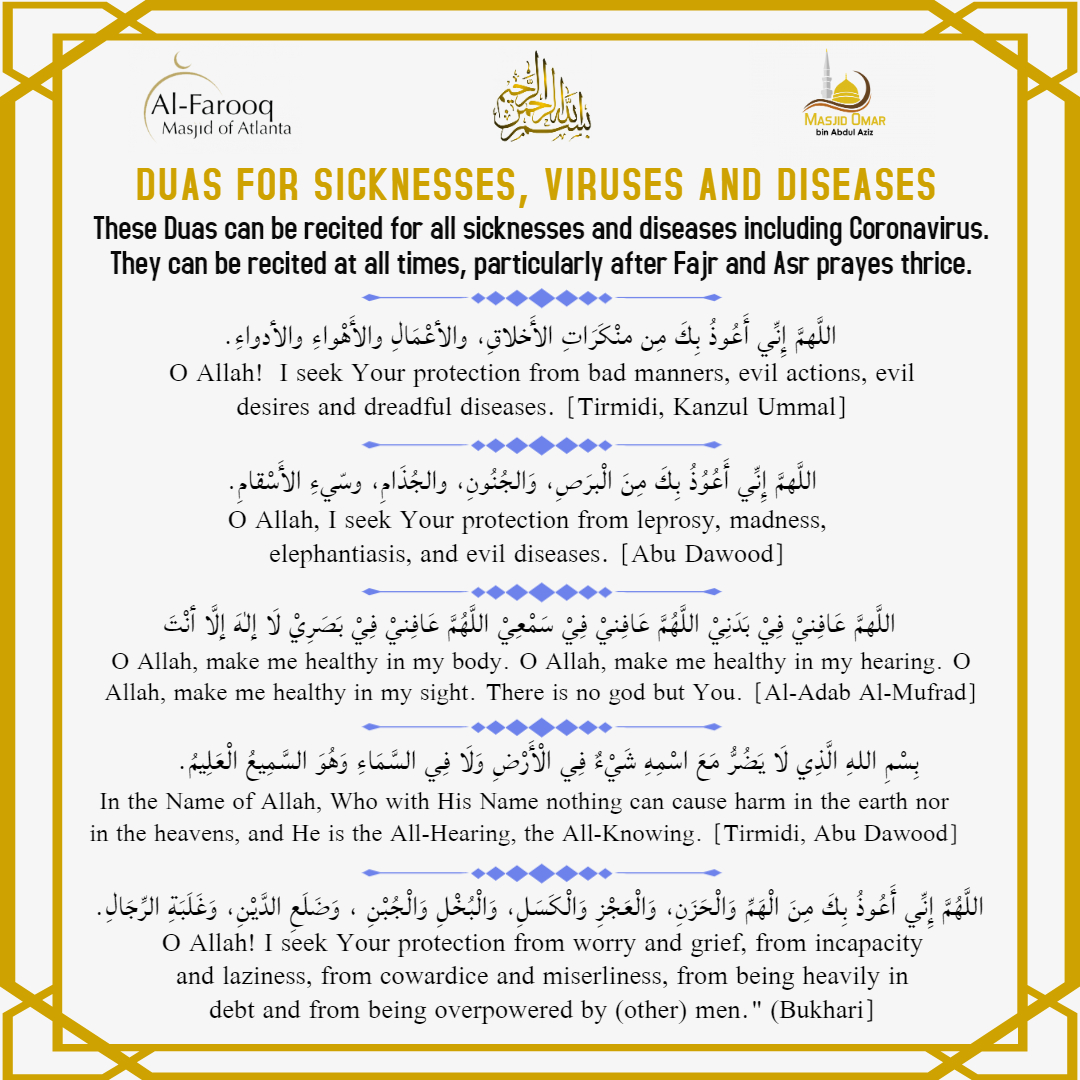 ---
Al-Farooq Masjid COVID-19 Guidance
Posted on Monday, March 9, 2020 5:01 am
With the ongoing spread of COVID-19 your health and safety are our priority.  Masjid management is actively monitoring the situation and is taking the appropriate steps to maintain a safe environment for our community.  The Center for Disease Control has issued guidance on what is currently known about the Coronavirus Disease.
There are many steps each for us can take to minimize the risk of spreading germs.  Our management is strongly urging community members to follow the below guidance:
Stay home if you are sick.  
To help prevent further spread, please try to stay home if you are sick, avoid public areas and public transportation.  Also, try to limit contact with others.  Symptoms include fever, cough, and shortness of breath.
Seek medical attention as necessary.
If you develop symptoms, have been in close contact with a person known to have COVID-19 or have traveled from an area with widespread or ongoing community spread, contact your doctor immediately.
Limit non-essential travel or unnecessary mass gatherings.
Please try to limit non-essential travel.  This would include visiting public spaces that could aid in the further spread of the disease.
Wash your hands frequently.
Washing your hands frequently is key to preventing infection or the spread of COVID-19.  We encourage you to sanitize your home, workspace, and other common areas.
Cover your cough or sneeze.
If you are sick and are unable to stay home, please consider using a face mask to prevent further spread. 
Educate yourself.
Visit https://www.cdc.gov/coronavirus/2019-ncov/about/index.html for updated information regarding the COVID-19 disease.
---
Free Classes on Islam
Posted on Saturday, March 7, 2020 8:01 am
NOTE: Due to the Coronavirus situation, classes are canceled until further notice
Classes are open for registration and are completely free! These classes are meant to educate Muslims and non-Muslims about the basics of what you need to know to practice Islam. 
Free Beginners Class - Every Sunday (Library)
Timing - 10:30am until 12pm 
Held at Second Floor Al-Farooq Masjid Library
Topics include Faith, Salah (prayer), Ablution, Fasting, Charity, Pilgrimage and Hadith
Register Here: http://bit.ly/frq_beg4
 
Free Intermediate Class - Every Sunday (Conference Room)
Timing - 10:30am until 12pm 
Held at Second Floor Al-Farooq Masjid Conference Room 
Topics include Stories of the Prophets, Ethics and Etiquettes of Islam, Seerah (Life of the Prophet) and explanation of select passages from the Qur'an. 
Register Here: http://bit.ly/frq_int2
---
Sponsor a Child - Scholarship Fund
Posted on Friday, August 9, 2019 1:29 pm
As the new school year begins, Dar Un Noor Academy is seeking funds to distribute scholarships to families in need.  We encourage you to give any amount!  100% of these funds will be given to eligible students to help fund their tuition.  If you have detailed questions, please do not hesitate to reach out to us at 404-919-7521.  Jazakullah Khair!
Donate by visting this link here: https://us.mohid.co/ga/atlanta/afm/masjid/online/donation
Please select Dar Un Noor Scholarship Fund.
---
Donate to Feed the Homeless
Posted on Friday, October 12, 2018 3:20 pm
Al-Farooq Masjid's Feed the Homless Program feeds around 220 to 300 homeless people every other Sunday. Please help us sustain this effort by donating at this link: https://us.mohid.co/ga/atlanta/afm/masjid/online/donation and select the category as 'Feed the Homeless'.
You can also volunteer to help in the distribution by meeting at Al-Farooq Masjid's elevator lobby at 10am to pack around 220-300 lunch boxes for homeless and then head to the parks in downtown Atlanta to distribute the food. Please contact Sister Fatuma at 678-779-3880 for more details.
---
Volunteer At Al-Farooq Masjid
Posted on Wednesday, September 6, 2017 9:25 am
Alhamdulilah, all the programs and initiatives that take place at Al-Farooq Masjid are run by a dedicated team of volunteers that take time out of their busy lives for the sake of Allah. We are always in need of additional volunteers to launch new initiatives and expand on our existing programs. If you would like to get involved in your masjid and earn some reward in the process as well insha'Allah, please signup here: http://bit.ly/afm_volunteer
---
"
And every human being's destiny have We tied to his neck; and on the Day of Resurrection We shall bring forth for him a record which he will find wide open;"