Friday, January 28, 2022
25 Jumada Al-Akhirah 1443
| | Starts | Iqamah |
| --- | --- | --- |
| Fajr1 | 6:11 | 6:45 |
| Zuhr | 12:50 | 2:00 |
| Asr | 3:44 | 4:45 |
| Maghrib | 6:10 | |
| Isha | 7:25 | 7:50 |
Saturday, January 29, 2022
26 Jumada Al-Akhirah 1443
| | Starts | Iqamah |
| --- | --- | --- |
| Fajr1 | 6:10 | 6:45 |
| Zuhr | 12:51 | 2:00 |
| Asr | 3:44 | 4:45 |
| Maghrib | 6:11 | |
| Isha | 7:26 | 7:50 |
Al-Farooq Masjid
442 14th Street NW
Atlanta, GA 30318
(404) 874-7521

(404) 919-7521
Updated Covid-19 Guidance
Posted on Friday, January 7, 2022 12:39 pm
Due to the increased rate of infection of COVID-19 and in order to keep our facility open for prayer services, everyone is being asked to wear a mask, social distance at least 4 feet, and bring your personal prayer rug as a requirement to visit the Masjid.  Limited masks are available on site but cannot be guaranteed. 
Please make an effort to monitor your symptoms.  If you have any signs of fever, sore throat, or sickness (regardless of vaccination status), please do not attend.  
---
2022 Masjid Calendar Now Available
Posted on Saturday, January 1, 2022 8:56 am
We are happy to again offer our custom 2022 calendars with Atlanta prayer times.  They can be purchased at Al-Farooq Masjid or Masjid Omar bin Abdul Aziz most Friday's after Jummah for $8 each.
Shipping is available for $12 each.  Click the below link and provide your information and we will send a calendar directly to your home.
Ship my 2022 calendar.
**Calendars cost approximately $5.35 each to produce.  The proceeds of each sale is used to support the operating expenses of the Masjid.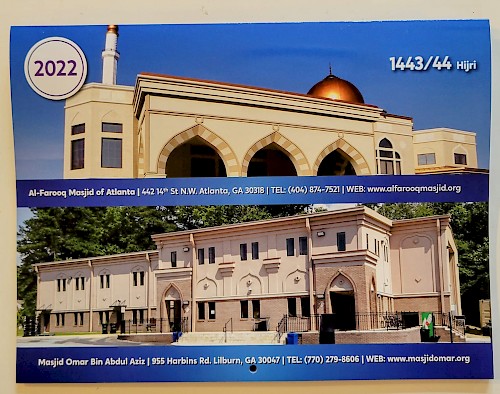 ---
Sisters' Classes Resume
Posted on Sunday, October 24, 2021 2:25 pm
Sisters' classes are resuming soon at the masjid. Here are the classes that are active:
Qur'an Reading and Recitation Class - Every Saturday at 1:00pm in the basement classrooms starting November 6, 2021 (Sisters only).
Halaqah - Every third Saturday at 1:00pm (Sisters only) in the basement Abu Bakr Hall starting November 20, 2021 (Sisters only).
Please contact Sr. Baherrah Music at akbarmusic@aol.com with any questions.
---
Free Online Classes on Islam
Posted on Sunday, October 17, 2021 7:01 pm
Classes are open for registration and are completely free! These classes are meant to educate Muslims and non-Muslims about the basics of what you need to know to practice Islam. 
Free Beginners Class - Every Sunday 
Timing - 2:00pm until 3:00pm ET
Topics include Faith, Salah (prayer), Ablution, Fasting, Charity, Pilgrimage and Hadith
Register Here: https://us04web.zoom.us/meeting/register/v5Uodu-hpjkpK1W36kj4F5U2T7AGTNTvuw 
Free Intermediate Class - Every Sunday
Timing - 11:00am until 12:00pm ET
Topics include Stories of the Prophets, Ethics and Etiquettes of Islam, Seerah (Life of the Prophet) and explanation of select passages from the Qur'an. 
Register Here: https://us04web.zoom.us/meeting/register/uZMsdOyorDgjApWG9u3loGVFnc2LvtBmrg


If you are a new Muslim and would like to join our support group, please email musheer@alfarooqmasjid.org
---
Masjid Open
Posted on Monday, November 2, 2020 10:59 am
---
Donate to Feed the Homeless
Posted on Friday, October 12, 2018 3:20 pm
Al-Farooq Masjid's Feed the Homless Program feeds around 220 to 300 homeless people every other Sunday. Please help us sustain this effort by donating at this link: https://us.mohid.co/ga/atlanta/afm/masjid/online/donation and select the category as 'Feed the Homeless'.
You can also volunteer to help in the distribution by meeting at Al-Farooq Masjid's elevator lobby at 10am to pack around 220-300 lunch boxes for homeless and then head to the parks in downtown Atlanta to distribute the food. Please contact Sister Fatuma at 678-779-3880 for more details.
---
Volunteer At Al-Farooq Masjid
Posted on Wednesday, September 6, 2017 9:25 am
Alhamdulilah, all the programs and initiatives that take place at Al-Farooq Masjid are run by a dedicated team of volunteers that take time out of their busy lives for the sake of Allah. We are always in need of additional volunteers to launch new initiatives and expand on our existing programs. If you would like to get involved in your masjid and earn some reward in the process as well insha'Allah, please signup here: http://bit.ly/afm_volunteer
---
"
We have not sent thee but as a universal (Messenger) to men, giving them glad tidings, and warning them (against sin), but most men understand not."