Monday, June 27, 2022
28 Dhul Qadah 1443
| | Starts | Iqamah |
| --- | --- | --- |
| Fajr1 | 4:45 | 5:50 |
| Zuhr | 1:41 | 2:00 |
| Asr | 5:25 | 6:45 |
| Maghrib | 8:58 | |
| Isha | 10:29 | 10:35 |
Tuesday, June 28, 2022
29 Dhul Qadah 1443
| | Starts | Iqamah |
| --- | --- | --- |
| Fajr1 | 4:46 | 5:50 |
| Zuhr | 1:41 | 2:00 |
| Asr | 5:26 | 6:45 |
| Maghrib | 8:58 | |
| Isha | 10:29 | 10:35 |
Al-Farooq Masjid
442 14th Street NW
Atlanta, GA 30318
(404) 874-7521

(404) 919-7521
2022 Masjid Calendar Now Available
Posted on Saturday, January 1, 2022 8:56 am
We are happy to again offer our custom 2022 calendars with Atlanta prayer times.  They can be purchased at Al-Farooq Masjid or Masjid Omar bin Abdul Aziz most Friday's after Jummah for $8 each.
Shipping is available for $12 each.  Click the below link and provide your information and we will send a calendar directly to your home.
Ship my 2022 calendar.
**Calendars cost approximately $5.35 each to produce.  The proceeds of each sale is used to support the operating expenses of the Masjid.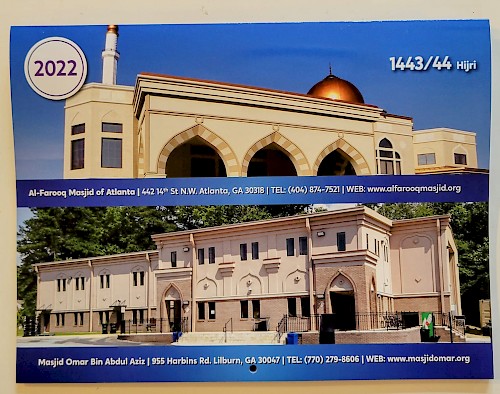 "
And every human being's destiny have We tied to his neck; and on the Day of Resurrection We shall bring forth for him a record which he will find wide open;"