Saturday, March 25, 2023
3 Ramadan 1444
| | Starts | Iqamah |
| --- | --- | --- |
| Fajr1 | 6:11 | 6:31 |
| Zuhr | 1:44 | 2:00 |
| Asr | 5:13 | 6:30 |
| Maghrib | 7:58 | |
| Isha | 9:11 | 9:16 |
Sunday, March 26, 2023
4 Ramadan 1444
| | Starts | Iqamah |
| --- | --- | --- |
| Fajr1 | 6:10 | 6:30 |
| Zuhr | 1:43 | 2:00 |
| Asr | 5:13 | 6:30 |
| Maghrib | 7:58 | |
| Isha | 9:12 | 9:17 |
Al-Farooq Masjid
442 14th Street NW
Atlanta, GA 30318
(404) 874-7521

(404) 919-7521
Ramadan Announcement
Posted on Monday, April 12, 2021 8:15 pm
Ramadan Mubarak!
The first day of fasting is Tuesday, April 13. Taraweeh starts tonight right after Isha salat (9:30pm). The masjid has limited capacity. If the masjid is full inside, you may pray outside.
You must bring a prayer rug, wear a mask, and maintain social distancing (at least 6 feet). If you're sick or feeling any symptoms of illness, please stay home. No children under 11 years old are allowed in the masjid and no babysitting is provided.
Dates and water will be provided at Maghrib (to break your fast). Besides this, there is no food or drinks allowed inside the masjid. A take out box for iftar/dinner is distributed daily at 6pm.
This is the month where your good deeds are multiplied manyfold so please donate generously. Visit our site to make a donation: https://alfarooqmasjid.org
Ramadan goes by very quickly. Please make the best of it. May Allah SWT bless you and your family tremendously and grant you all Jannatul Firdaus.
Please download the attached PDF for use during this month. Jazakullah Khair!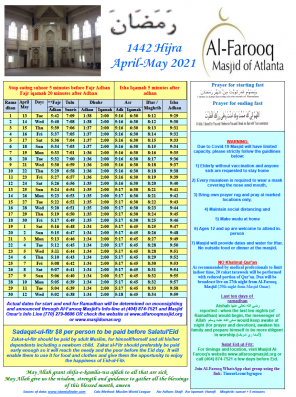 "
O ye who believe! Fear Allah as He should be feared, and die not except in a state of Islam."