Saturday, August 13, 2022
15 Muharram 1444
| | Starts | Iqamah |
| --- | --- | --- |
| Fajr1 | 5:27 | 6:15 |
| Zuhr | 1:42 | 2:00 |
| Asr | 5:24 | 6:30 |
| Maghrib | 8:33 | |
| Isha | 9:52 | 10:05 |
Sunday, August 14, 2022
16 Muharram 1444
| | Starts | Iqamah |
| --- | --- | --- |
| Fajr1 | 5:28 | 6:15 |
| Zuhr | 1:42 | 2:00 |
| Asr | 5:24 | 6:30 |
| Maghrib | 8:32 | |
| Isha | 9:51 | 10:05 |
Al-Farooq Masjid
442 14th Street NW
Atlanta, GA 30318
(404) 874-7521

(404) 919-7521
Khatmul Quran
Posted on Saturday, June 9, 2018 9:23 am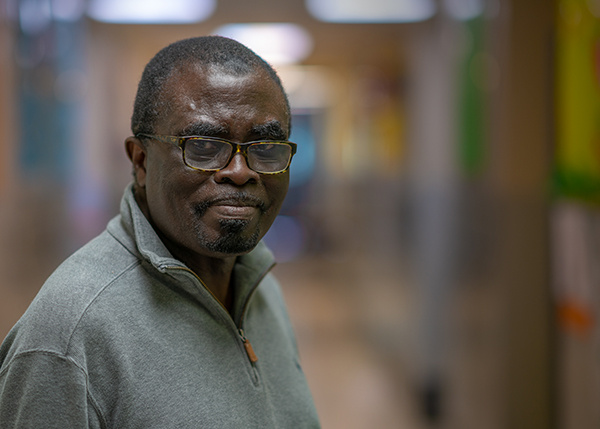 Masha'Allah 5 Darul Uloom of Atlanta students have been leading tarawih downstairs in Abu Bakr Hall of Al-Farooq Masjid. Tonight (Sat 6/9) insha'Allah they finish (Khatmul Quran). Please join us for du'a.
Insha'Allah we complete the Quran in the main hall at Al-Farooq Masjid on the 27th night of Ramadan (Monday 6/11). Please join us for this very special occasion.
Insha'Allah we complete the Quran at Masjid Omar Bin Abdul Aziz on the 29th night of Ramadan (Wednesday 6/13). Please join us there too.
Don't forget to keep all our hardworking volunteers, including Brother Abdul Rahim, in your du'a!
---
Faith Unlocked: A Study of Surah Al-Fatiha
Posted on Wednesday, June 6, 2018 7:12 pm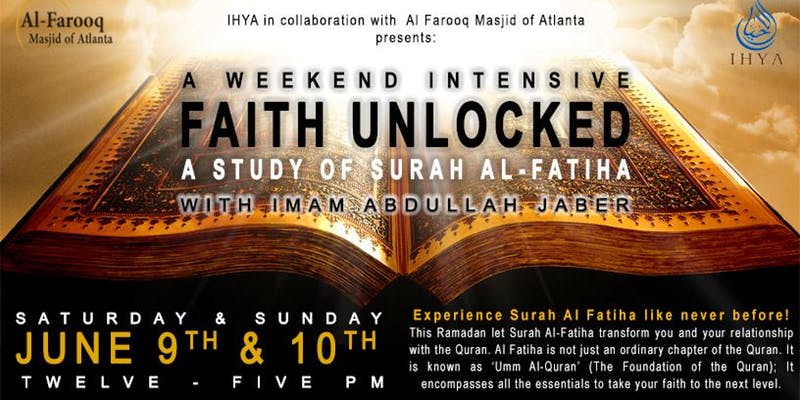 STOP! Take a moment to reflect upon the role the Qur'an plays in your daily life. What are your priorities? What place does the Qur'an occupy in your life and heart? What would happen if you took ownership of your actions and sought to understand the Qur'an?
So, what's holding you back? The only thing holding you back from better understanding the Qur'an the way it was meant to be understood is....yourself. The time has come to stop wishing…and start living.
Weekend Intensive
Sat, June 9: 12 PM - 5 PM
Sun, June 10: 12 PM - 5 PM
Register Here: https://www.eventbrite.com/e/faith-unlocked-a-study-of-surah-al-fatiha-tickets-46430625250
---
Khatmul Qur'an & I'tikaf
Posted on Friday, June 1, 2018 12:47 pm
Khatmul Qur'an at Al-Farooq Masjid will be on Monday, June 11th inshaAllah.
I'tikaf will begin on Tuesday, June 5th.  Participants (Brothers only) are required to be inside the Masjid before Maghrib on June 5th.  An I'tikaf registration form is required.
---
Intensive Islamic Education Summer Camp 2018
Posted on Friday, May 25, 2018 9:49 pm
---
Ramadan 1439
Posted on Friday, May 25, 2018 8:36 pm
Download a PDF of the prayer schedule here.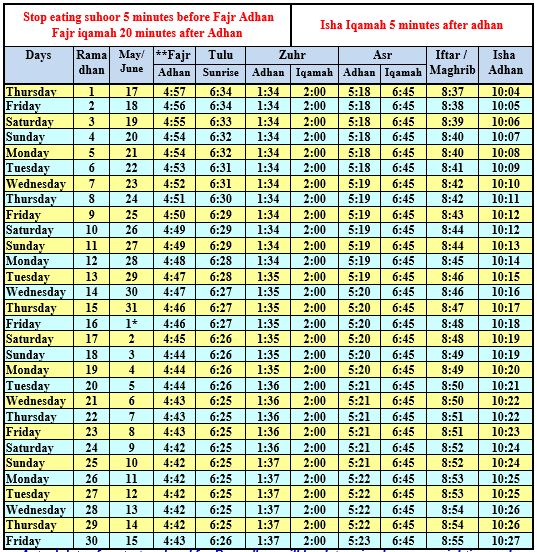 ---
Qiyam - The Power of Dua
Posted on Thursday, May 24, 2018 7:27 am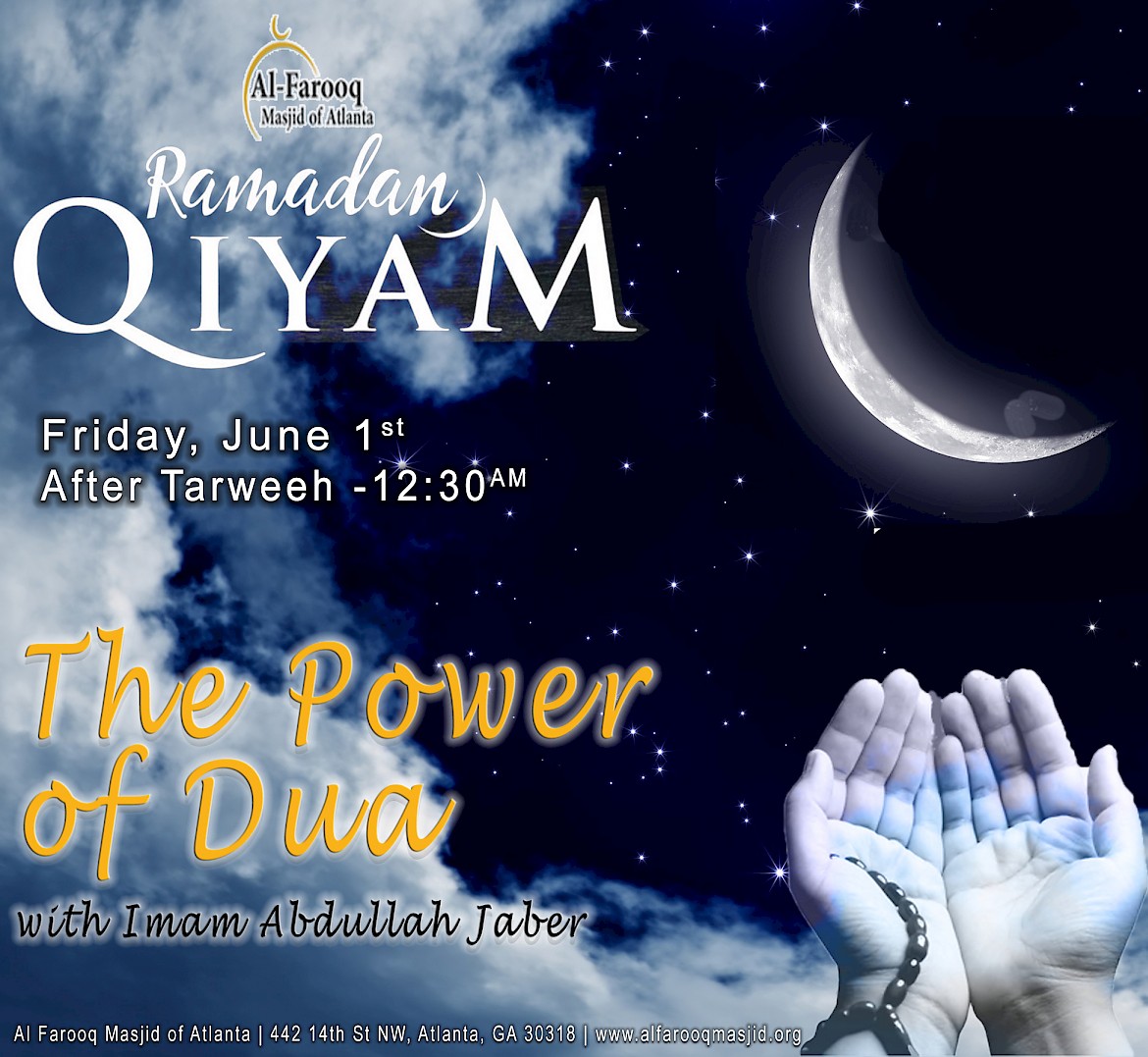 Shaykh Abdullah Jaber will be discussing the power of dua in detail after taraweeh on Friday night (June 1) starting 12:30am in the basement Abu Bakr Hall of Al-Farooq Masjid. All are welcome to join.
---
Al-Tibyaan Open House
Posted on Monday, May 21, 2018 8:24 pm
---
The Search for Inspiration
Posted on Saturday, May 5, 2018 2:22 pm
Get your tickets here: http://bit.ly/yasmin_m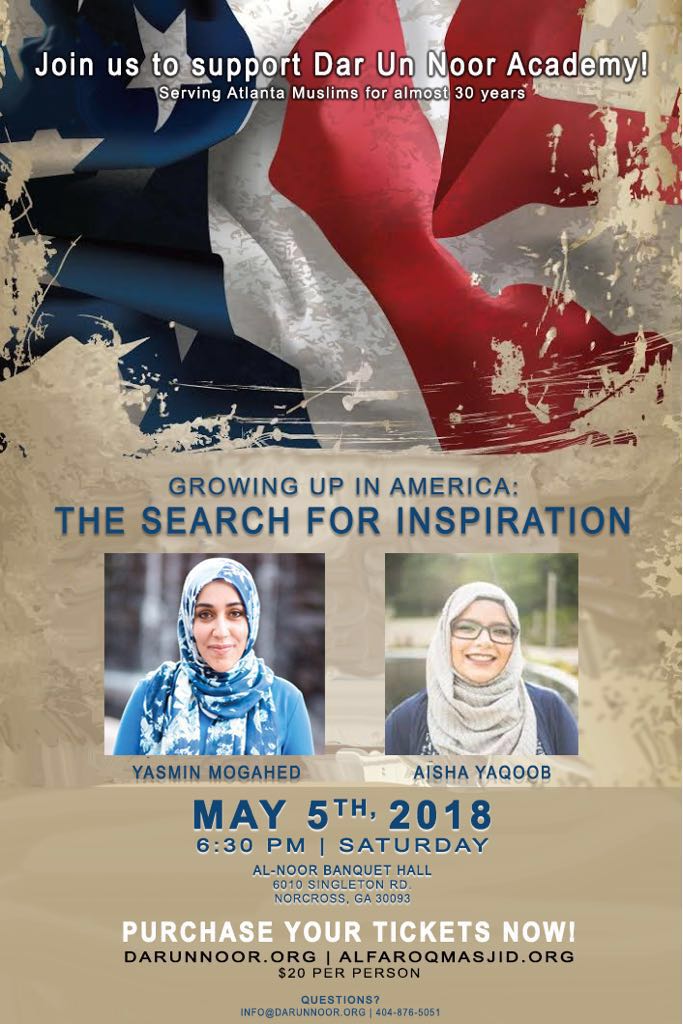 ---
Join us for ALFA Bike Ride #2
Posted on Friday, May 4, 2018 1:22 pm
Signup Here: http://bit.ly/2HQe3XK
Bike Ride #2 on Saturday, May 12 at 8:30am. We will meet on Snyder Street next to the entrance of Al-Farooq Masjid's parking deck (442 14th Street NW, Atlanta, GA 30318).
Distance: 5 miles (30-40 minutes)
Ages: 15 and up
Brothers and sisters welcome
What to bring: Helmet and Bike. Bike rentals are available nearby at relaybikeshare.com
---
12th Annual Hifz Graduation Ceremony
Posted on Thursday, May 3, 2018 12:24 pm
---
Darul Uloom of Atlanta Students at the 2018 United Benefit Dinner
Posted on Monday, April 30, 2018 7:09 pm
---
Imam Abdullah Jaber at the 2018 United Benefit Dinner
Posted on Monday, April 30, 2018 6:22 pm
---
Youth Activities Suggestion
Posted on Sunday, March 25, 2018 5:32 pm
Do you have suggestions for youth activities/programs at Al-Farooq Masjid, send us an email at youth@alfarooqmasjid.org
---
Darul Uloom of Atlanta Now Enrolling 2018-2019
Posted on Tuesday, March 20, 2018 5:54 am
---
Darul Uloom of Atlanta Registration Open
Posted on Monday, March 12, 2018 1:08 pm
---
"
And the servants of (Allah) Most Gracious are those who walk on the earth in humility, and when the ignorant address them, they say, "Peace!";"