Friday, December 2, 2022
8 Jumada Al-Awwal 1444
| | Starts | Iqamah |
| --- | --- | --- |
| Fajr1 | 5:57 | 6:45 |
| Zuhr | 12:27 | 2:00 |
| Asr | 3:10 | 4:15 |
| Maghrib | 5:34 | |
| Isha | 6:52 | 7:15 |
Saturday, December 3, 2022
9 Jumada Al-Awwal 1444
| | Starts | Iqamah |
| --- | --- | --- |
| Fajr1 | 5:58 | 6:45 |
| Zuhr | 12:27 | 2:00 |
| Asr | 3:10 | 4:15 |
| Maghrib | 5:34 | |
| Isha | 6:52 | 7:15 |
Al-Farooq Masjid
442 14th Street NW
Atlanta, GA 30318
(404) 874-7521

(404) 919-7521
Darul Uloom of Atlanta Now Enrolling 2018-2019
Posted on Tuesday, March 20, 2018 5:54 am
---
Darul Uloom of Atlanta Registration Open
Posted on Monday, March 12, 2018 1:08 pm
---
Second Jummah Time Change
Posted on Sunday, March 11, 2018 1:30 pm
InshaAllah second Jummah in the basement will now begin at 3:15pm. This time change is in effect from March 16, 2018 until November 2, 2018.  Jazakullah Khair!
---
The Diabetes Awareness Fair
Posted on Tuesday, March 6, 2018 9:02 am
---
Girls Soccer Team Try Outs
Posted on Tuesday, February 13, 2018 6:10 pm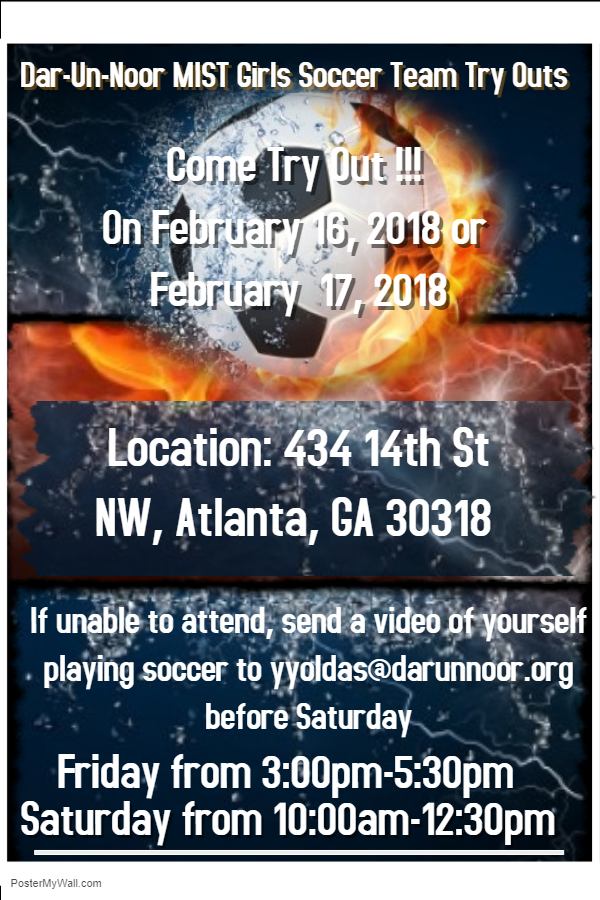 ---
No Beginner and Intermediate Class Tomorrow
Posted on Saturday, December 9, 2017 7:57 pm
Due to weather conditions, we will not have the Beginner and Intermediate Class on Islam at 10:30am Sunday (12/10) morning. Please stay safe and warm.
Feel free to join these free classes from the following Sunday onwards. 
Beginner Class: http://bit.ly/frq_beg4 
Intermediate Class: http://bit.ly/frq_int2
---
Support Dar Un Noor Academy
Posted on Thursday, November 30, 2017 3:02 pm
---
AFM Feed the Homeless - 5th Anniversary (B&W Photos)
Posted on Thursday, October 12, 2017 2:21 pm
---
Sisters' Halaqa
Posted on Sunday, October 1, 2017 11:11 am
Sisters Halaqa will take place on first Saturday of every month at 3pm in the basement Abu Bakr Event Hall of Al-Farooq Masjid. The next one is this Sat, October 7. For more info contact Sister Baherrah 404-454-5762.
---
Significance of Fasting on 10th of Muharram
Posted on Wednesday, September 27, 2017 3:12 pm
Abu Qatadah Al-Ansari (ra) narrated, 'The Messenger of Allah (ﷺ) was asked about fasting on the day of Arafah (the 9th of the month of Dhul Hijjah). He replied, "Fasting on the day of Arafah is an expiation for the preceding year and the following year." He was also asked about fasting on the day of Ashura (the 10th of the month of Muharram). He replied, "Fasting on the day of Ashura is an expiation for the preceding year." The Messenger of Allah (ﷺ) was also asked about fasting on Monday, and he replied, "This is the day on which I was born and the day on which I was sent (with the Message of Islam) and the day on which I received revelation." (Sahih Muslim)
InshaAllah the 10th of Muharram is on Saturday, September 30, 2017.
---
Atlanta Masajid to Host Hurricane Irma Evacuees
Posted on Wednesday, September 6, 2017 12:50 pm
Al-Farooq Masjid, along with several other Masajid's in Atlanta are opening its doors to host Hurricane Irma evacuees travelling from Florida inshaAllah.  Majority are beginning the registration process after Jummah (2:45pm) Friday afternoon.  
General Hotline for Evacuees: 470-222-3067  (Available to Text)
Atlanta (Metro Area): 
Al-Farooq Masjid of Atlanta (Full/At Capacity)
442 14th Street NW
Atlanta, Georgia 30318
varachhia@alfarooqmasjid.org
404-919-7521 (text preferred)
Marietta (North/NW):
Masjid Al Furqan
3861 Ernest Barrett Pkwy, Bld # 100
Marietta, GA 30064
aht.059@gmail.com
678-800-9851 , 404-988-1300

Masjid Al-Hedaya
Marietta, Georgia
h.qureshi@icnarelief.org
404-940-4430
East Cobb Islamic Center
1111 Braswell Rd
Marietta, GA 30062
aamer@areng.com
404-610-1431

Masjid Al Iman
1820 Spring Rd SE
Smyrna, GA 30080
kazi.naved@gmail.com
682-225-7773

Masjid Al Athar
1148 Franklin Gateway Suite F
Marietta, GA 30067
www.masjidalathar.org
678-886-5175
732-318-7255
404-944-1715
Gwinnett (NE):
Darul Huda Masjid
2755 Centerville HWY
Snellville, GA 30078
678-938-0736
Masjid Maryam
3650 Savannah Place Dr.
Duluth, Georgia
Community of Bosniaks
950 Grayson Hwy
Lawrenceville, GA 30046
Masjid Omar Bin Abdul Aziz
955 Harbins Rd.
Lilburn, Georgia
770-279-8606
Alpharetta (North):
Hamza Islamic Center
665 Tidwell Rd
Alpharetta, GA 30004
mnadeem92@yahoo.com
770-558-3519
Cumming (NE):
Masjid Al-Rahman
1235 Peachtree Parkway
Cumming, Georgia
amirzia@yahoo.com
678-978-6051
Fayetteville (South Atlanta):
Islamic Community Center of Atlanta
288 East Lanier Ave
Fayetteville, GA 30214
stmsof@bellsouth.net
770-719-4447
Macon/Warner Robins (South of Atlanta):
Islamic Center of Macon
2131 Vineville Ave
Macon, Georgia
Islamic.center.of.macon@gmail.com
478-319-2033
478-461-6054
Islamic Center of Warner Robins
2501 Elberta Road
Centerville, Georgia
aniqas02@yahoo.com
770-558-3519

Distribution Site for Food and Clothing ONLY:
Baitul Salaam
3300 Memorial Dr.
Suite D5
Decatur, Georgia 30032
haleem1@aol.com
770-255-8500

Atlanta Masjid of Al-Islam
560 Fayetteville Rd SE
Atlanta, GA 30316
770-905-2102

Decatur Ismaili Center
685 Dekalb Industrial Way
Decatur, GA 30033

Madina Institute
3580 Sweetwater Rd.
Duluth, GA 30096
Hamzah Islamic Center
665 Tidwell Rd.
Alpharetta, GA
mnadeem92@yahoo.com
770-558-3519

Alatoona Masjid
103 Victoria N Ct.
Woodstock, GA 30189
678-770-9488
If you are a local Atlanta resident and would like to volunteer, sign up HERE.  If you are unable to volunteer and would like to make a monetary donation, please visit HERE and select option Sadaqa to Support All Masjid in Atlanta Hosting Hurricane Victims.  InshaAllah all of the organizations listed above will share the funds to help anyone that arrives from Florida.
Jazakullah Khair!
---
Volunteer At Al-Farooq Masjid
Posted on Wednesday, September 6, 2017 9:25 am
Alhamdulilah, all the programs and initiatives that take place at Al-Farooq Masjid are run by a dedicated team of volunteers that take time out of their busy lives for the sake of Allah. We are always in need of additional volunteers to launch new initiatives and expand on our existing programs. If you would like to get involved in your masjid and earn some reward in the process as well insha'Allah, please signup here: http://bit.ly/afm_volunteer
---
Sunday Islamic Studies and Advanced Arabic Classes
Posted on Wednesday, September 6, 2017 8:02 am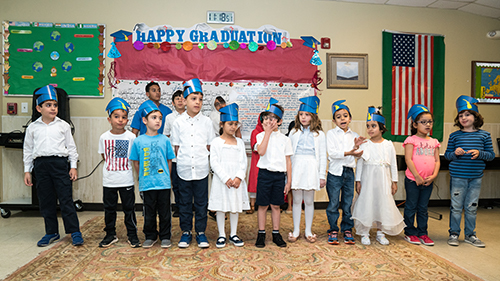 Open house this Sunday, September 10 from 1pm to 2pm.
The school hours are from 10:00am to 2:00pm. Students are provided an education in Quranic reading/memorization, Arabic language, seerah and Islamic studies. In general, the school targets Advanced Arabic speaking children in Kindergarten – 12th grades, however; all children in grades Kindergarten – 12th grade are encouraged to enroll. The language of instruction is a mixture of English and Arabic.
To register, please feel free to download the registration form, and then visit us at Dar-un-Noor Academy basement on 434 14th Street, Atlanta 30318 between 10:00am and 2:00pm on Sunday.
For more information, please contact:
Faye Kareem - fkareem01@yahoo.com
Nabila Hawasli (Principal) - nhawasli1@hotmail.com
---
Support Hurricane Victims / Dua for Calamities
Posted on Wednesday, September 6, 2017 7:11 am
InshaAllah, Al-Farooq Masjid will be collecting Sadaqa for those families affected after the massive hurricane in Houston and surrounding areas.  Our goal is to try to help families directly or contribute to a partnering organization on the ground in Houston. 
Please click here and select 'Support hurricane victims' as the category.  Jazakullah Khair!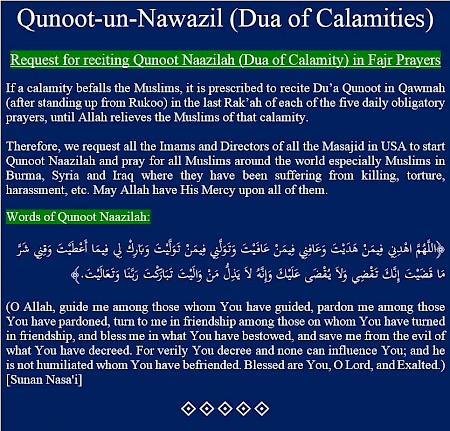 ---
Eid al-Adha Photos (2017)
Posted on Sunday, September 3, 2017 9:43 am
---
"
Surely those who guard (against evil) are in a secure place, In gardens and springs;"