Sunday, October 2, 2022
6 Rabi ul Awal 1444
| | Starts | Iqamah |
| --- | --- | --- |
| Fajr1 | 6:10 | 6:45 |
| Zuhr | 1:27 | 2:00 |
| Asr | 4:49 | 5:45 |
| Maghrib | 7:27 | |
| Isha | 8:39 | 8:55 |
Monday, October 3, 2022
7 Rabi ul Awal 1444
| | Starts | Iqamah |
| --- | --- | --- |
| Fajr1 | 6:11 | 6:45 |
| Zuhr | 1:27 | 2:00 |
| Asr | 4:48 | 5:45 |
| Maghrib | 7:26 | |
| Isha | 8:38 | 8:55 |
Al-Farooq Masjid
442 14th Street NW
Atlanta, GA 30318
(404) 874-7521

(404) 919-7521
New Zealand One Month Remembrance
Posted on Monday, April 15, 2019 5:50 am
---
New Zealand One Month Remembrance (Photos)
Posted on Sunday, April 14, 2019 7:16 pm
---
Positivity
Posted on Sunday, April 14, 2019 1:14 pm
---
Hunger Walk 2019
Posted on Sunday, April 14, 2019 11:44 am
On Sunday, April 28, 2019 thousands of people will come together to raise awareness and funds to help fight hunger in our community. Our team will be there – and we need your support!
Hunger Walk Run is one of the most important hunger relief efforts of the year. The money we raise will feed hope for the 1 in 7 people who face hunger in our community.

Please join us in supporting this important mission! You can help us reach our team fundraising goal by making a donation on behalf of the entire team or a specific team member. Or take the next step against hunger by walking/running with us on April 28.

Together, we can make sure that a child in our community doesn't go to bed hungry tonight. We can offer a glimmer of hope to struggling parents desperately trying to make ends meet for their family. We can ensure another senior citizen isn't forced to choose between paying for medicine or food.  

Thank you so much, and we hope to see you at the Hunger Walk Run! Click here to join the walk or make a donation: http://bit.ly/2GkCQkc
---
Ramadan Iftar Program 2019
Posted on Thursday, April 11, 2019 6:48 pm
Note: Further donations will go to Ramadan expenses
The Al-Farooq Masjid Ramadan Iftar Program is sponsored by the community every year. This includes the dates, dinner, supplies, cleaning etc. Please participate in this program by contributing in any way possible. Allah (SWT) offers great rewards for feeding the fasting persons. We schedule dinner donations to avoid overlapping and provide balance, so please contact us to book a date in advance.
ALL CHICKEN & MEAT MUST BE HAND-ZABIHA.
You can contribute to this program in several ways:
Donate funds to be used to cater the dinners.
Contribute funds to purchase supplies (plates, cups, spoons, napkins, or dates).
Bring dates, fruits, bottled water or ice.
Volunteer to assist in daily set up, clean up and generally provide service to others.
Donations can be made on this website (PayPal), in the masjid lobby terminal, or by check/cash in person. Mark donations 'For Iftar'.
May Allah SWT reward us all bountifully, as we seek His pleasure during this blessed month. To donate, schedule dinners, or contribute in any way, please contact: 
Br. Rafeek, Sis. Farida at 678-665-0657 or rafkg@yahoo.com
---
A Unity Gathering
Posted on Friday, April 5, 2019 9:22 am
---
Love, Dating & Marriage in Islam
Posted on Saturday, March 30, 2019 10:22 pm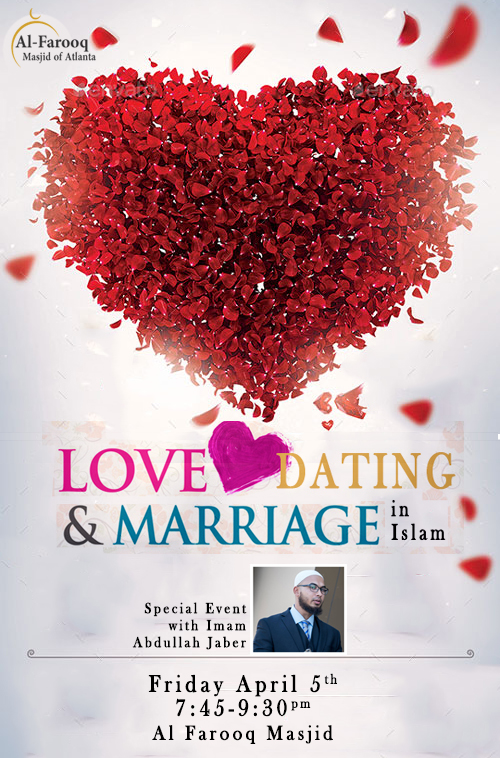 Free Registration Here: http://bit.ly/AFM_Love
---
First Annual Professional Muslim Conference
Posted on Friday, March 29, 2019 9:39 pm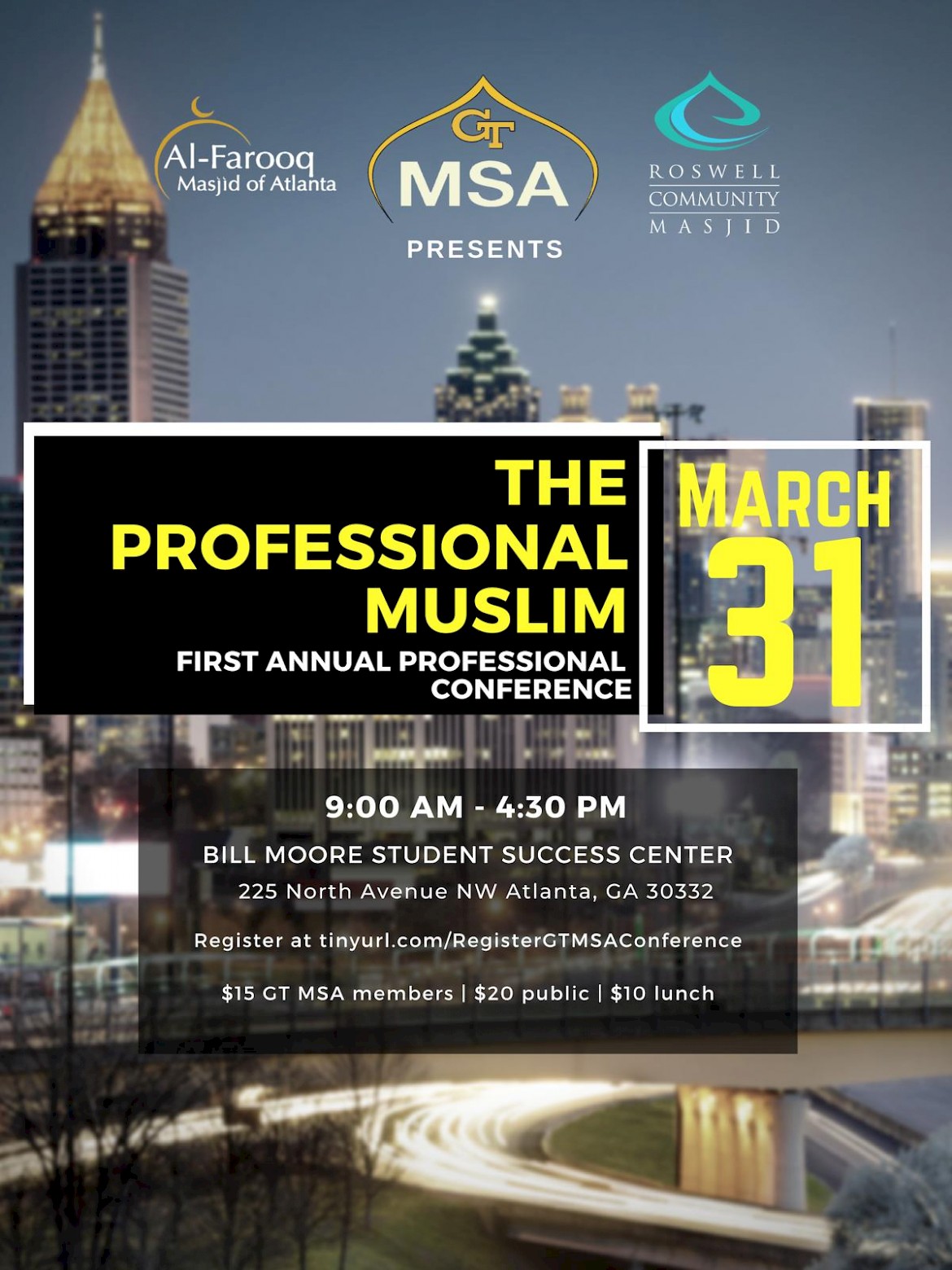 Georgia Tech's Muslim Student Association is excited to announce its first Professional Conference in partnership with Roswell Community Masjid and Al-Farooq Masjid!
The goal of the conference is to explore the integration of spirituality into our careers within our day to day lives. We aim to connect current students with Muslim professionals across different disciplines. The conference will encompass a variety of topics including the balance between religion and work life, representation of Muslims in the workplace, and challenging ethical issues we may face in our careers. The schedule will also include a networking fair designed to give interested students the opportunity to learn more about ongoing initiatives they can get involved in within their communities. The event will take place Sunday, March 31st from 9:00 AM-4:30 PM in the Bill Moore Student Success Center.
Hurry and sign up!
*Conference is designed for students and professionals between the ages of 18-30 years old*
---
DNA Campus Beautification Day
Posted on Thursday, March 28, 2019 10:05 pm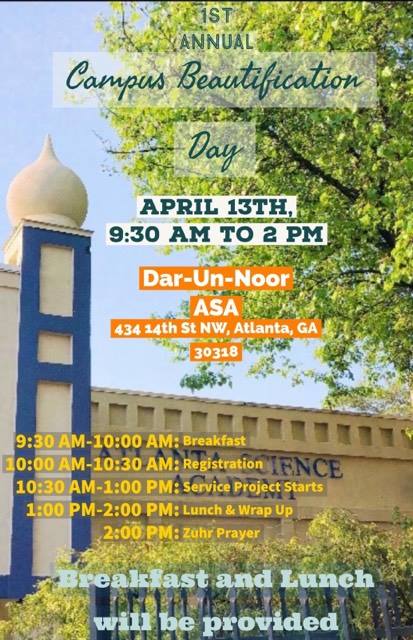 Let's unite to beautify our school! We are actively looking for volunteers. This event is for the whole family and is a fun way to give back to the community via creative projects such as planting flowers, painting murals, and more! Friends and Family welcome!
---
2019 Hifz Graduation Ceremony
Posted on Thursday, March 28, 2019 9:45 pm
---
Fairness / Justice
Posted on Monday, March 25, 2019 10:07 am
---
Peaceability
Posted on Sunday, March 17, 2019 12:12 pm
---
Obedience - An Apple In Her Hand
Posted on Sunday, March 10, 2019 7:41 pm
---
Empathy
Posted on Sunday, March 3, 2019 1:57 pm
---
Latest Aerial Photos of AFM and Gym
Posted on Sunday, March 3, 2019 12:08 pm
---
"
We have not sent thee but as a universal (Messenger) to men, giving them glad tidings, and warning them (against sin), but most men understand not."