Friday, December 2, 2022
8 Jumada Al-Awwal 1444
| | Starts | Iqamah |
| --- | --- | --- |
| Fajr1 | 5:57 | 6:45 |
| Zuhr | 12:27 | 2:00 |
| Asr | 3:10 | 4:15 |
| Maghrib | 5:34 | |
| Isha | 6:52 | 7:15 |
Saturday, December 3, 2022
9 Jumada Al-Awwal 1444
| | Starts | Iqamah |
| --- | --- | --- |
| Fajr1 | 5:58 | 6:45 |
| Zuhr | 12:27 | 2:00 |
| Asr | 3:10 | 4:15 |
| Maghrib | 5:34 | |
| Isha | 6:52 | 7:15 |
Al-Farooq Masjid
442 14th Street NW
Atlanta, GA 30318
(404) 874-7521

(404) 919-7521
2019 DUL of Atlanta Summer Camp
Posted on Wednesday, June 12, 2019 6:31 am
---
2019 Eid ul-Fitr at Al-Farooq Masjid (Video)
Posted on Sunday, June 9, 2019 3:24 pm
---
Eid Al Fitr (Photos)
Posted on Wednesday, June 5, 2019 8:40 pm
6/9/19 update: All photos have been uploaded.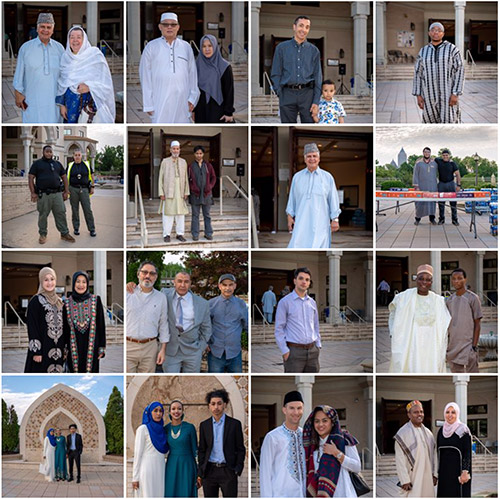 ---
Eid Al Fitr is Tuesday
Posted on Monday, June 3, 2019 9:00 pm
Eid Mubarak! Tuesday, June 4th is Eid. Insha'Allah (God willing) the first Salah is at 8:30am followed by a second Salah at 9:15am.
Please come early and park nicely. Insha'Allah do not block any driveways or cars. Don't forget to pay your Zakat al-Fitr (before the Eid Salat) which is $8/person.
May Allah SWT accept all your efforts during Ramadan, forgive you all your sins, and grant you Jannatul Firdaus.
---
Ramadan Announcement
Posted on Sunday, June 2, 2019 5:02 pm
Ramadan Mubarak!  
InshaAllah Eid ul Fitr Salah will be on either June 4th or June 5th with the first Salah at 8:30am followed by a second Salah at 9:15am.  An official announcement will be made this evening after Maghrib Salah.
(Tentative Excuse Letter)
Masjid Security: CLICK HERE (select Masjid Security from category list)
Alhamdulilah, we have been blessed to have a security guard on-site for the entire month of Ramadan.  Help keep your commuity safe by donating towards this expense.
$25 - 1/4 of the night
$50 - 1/2 the night
$100 - Full night of security
$3,000 - Entire Month of Ramadan Security
---
Annual Qiyam Night
Posted on Tuesday, May 28, 2019 5:38 pm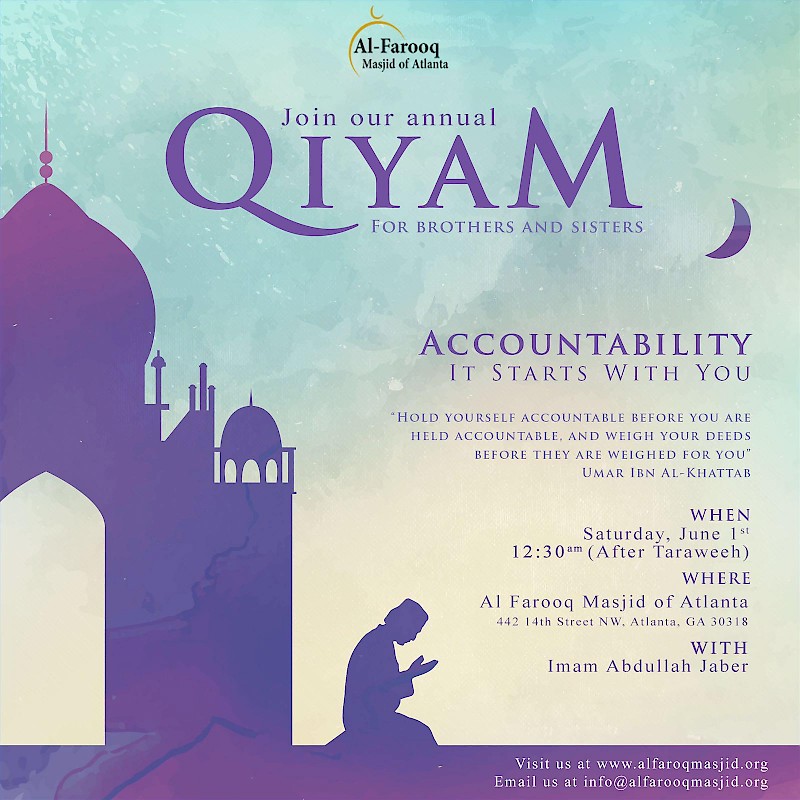 ---
Pride (16 Ramadan 1440)
Posted on Wednesday, May 22, 2019 5:40 am
---
Reconciliation (15 Ramadan 1440)
Posted on Tuesday, May 21, 2019 5:02 pm
---
Retribution (14 Ramadan 1440)
Posted on Monday, May 20, 2019 12:37 pm
---
Loathing (13 Ramadan 1440)
Posted on Sunday, May 19, 2019 4:14 pm
---
A Man From the People of Heaven (12 Ramadan 1440)
Posted on Saturday, May 18, 2019 4:28 pm
---
Millennial Muslim Iftar
Posted on Thursday, May 16, 2019 12:10 pm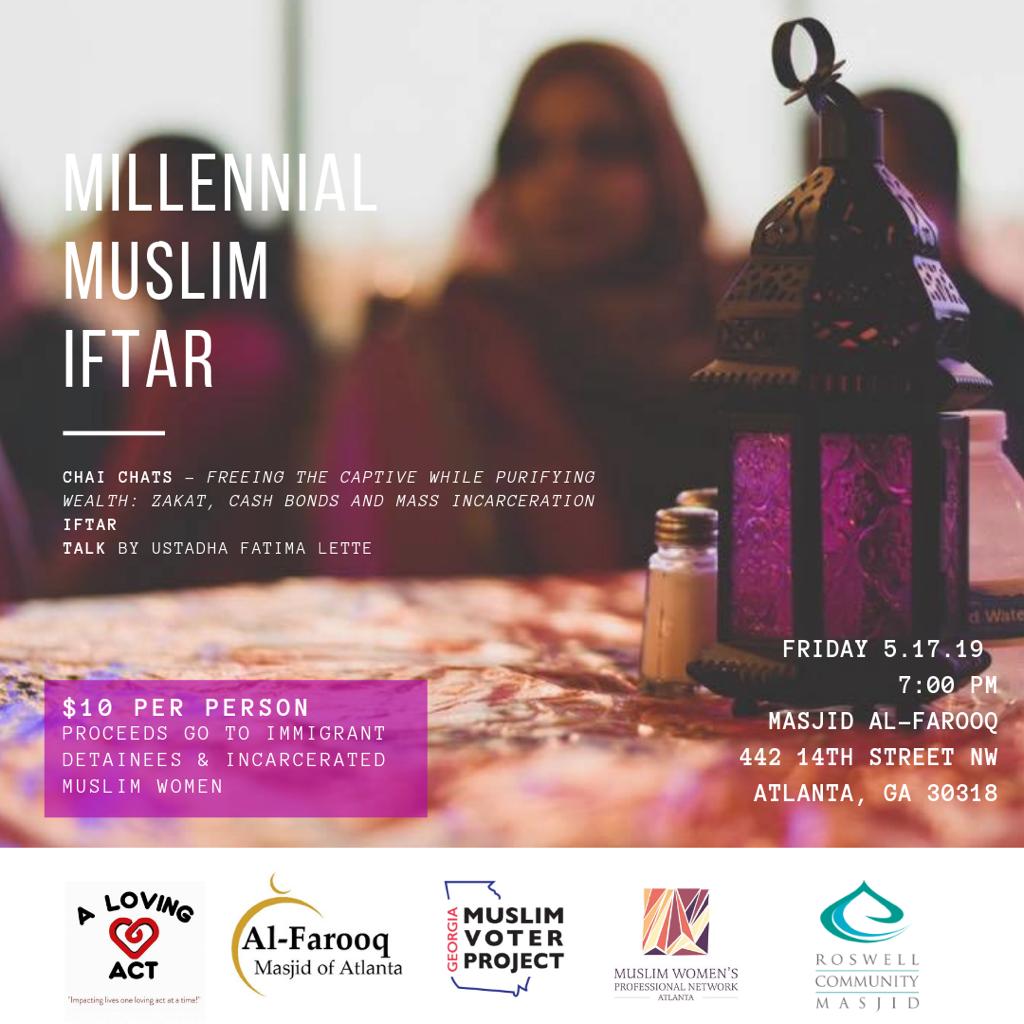 Register Here: https://roswellmasjid.wufoo.com/forms/millennial-iftar/
---
Lying, Breaking Promises, and Betraying Trust (10 Ramadan 1440)
Posted on Thursday, May 16, 2019 11:12 am
---
Lying Under Oath / Al-Zoor (9 Ramadan 1440)
Posted on Wednesday, May 15, 2019 11:35 am
---
The Bankrupt / Al-Muflis (8 Ramadan 1440)
Posted on Tuesday, May 14, 2019 6:48 am
---
"
Say: He is Allah, the One and Only; Allah, the Eternal, Absolute; He begetteth not, nor is He begotten; And there is none like unto Him."