Sunday, October 21, 2018
12 Safar 1440
| | Starts | Iqamah |
| --- | --- | --- |
| Fajr1 | 6:25 | 7:00 |
| Zuhr2 | 1:23 | 2:05 |
| Asr | 4:32 | 5:30 |
| Maghrib | 7:00 | |
| Isha | 8:16 | 8:45 |
Monday, October 22, 2018
13 Safar 1440
| | Starts | Iqamah |
| --- | --- | --- |
| Fajr1 | 6:26 | 7:00 |
| Zuhr2 | 1:23 | 2:05 |
| Asr | 4:31 | 5:30 |
| Maghrib | 6:59 | |
| Isha | 8:15 | 8:30 |
Al-Farooq Masjid
442 14th Street NW
Atlanta, GA 30318
(404) 874-7521

(404) 919-7521
The Diabetes Awareness Fair
Posted on Tuesday, March 6, 2018 9:02 am
---
Girls Soccer Team Try Outs
Posted on Tuesday, February 13, 2018 6:10 pm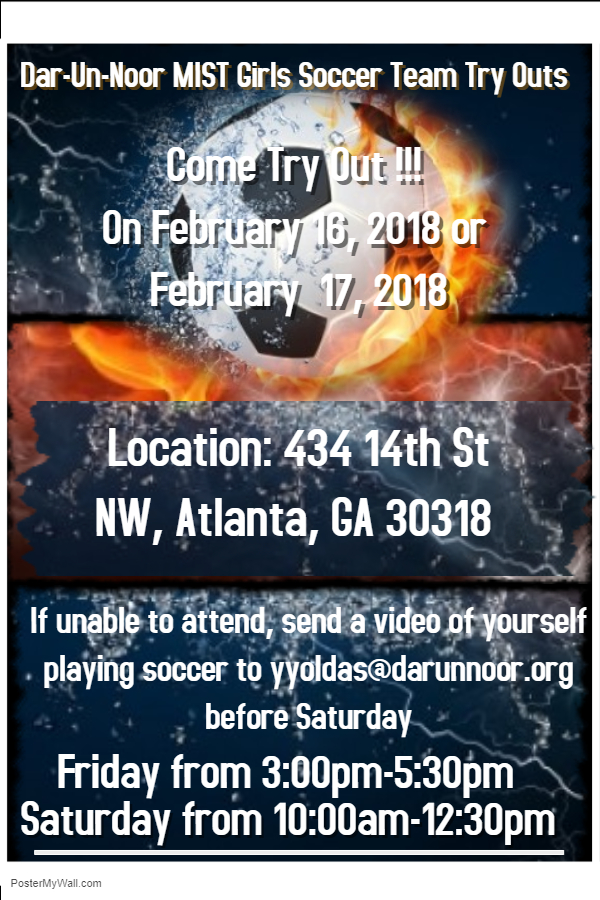 ---
No Beginner and Intermediate Class Tomorrow
Posted on Saturday, December 9, 2017 7:57 pm
Due to weather conditions, we will not have the Beginner and Intermediate Class on Islam at 10:30am Sunday (12/10) morning. Please stay safe and warm.
Feel free to join these free classes from the following Sunday onwards. 
Beginner Class: http://bit.ly/frq_beg4 
Intermediate Class: http://bit.ly/frq_int2
---
Support Dar Un Noor Academy
Posted on Thursday, November 30, 2017 3:02 pm
---
Georgia Bright - Where Taxes & Sadaqa Work Together!
Posted on Thursday, November 16, 2017 11:51 am
---
"
Say: He is Allah, the One and Only; Allah, the Eternal, Absolute; He begetteth not, nor is He begotten; And there is none like unto Him."