Saturday, May 27, 2017
1 Ramadan 1438
| | Starts | Iqamah |
| --- | --- | --- |
| Fajr1 | 4:50 | 5:10 |
| Zuhr2 | 1:35 | 2:00 |
| Asr | 5:19 | 6:45 |
| Maghrib | 8:43 | |
| Isha | 10:14 | 10:19 |
Sunday, May 28, 2017
2 Ramadan 1438
| | Starts | Iqamah |
| --- | --- | --- |
| Fajr1 | 4:49 | 5:09 |
| Zuhr2 | 1:35 | 2:00 |
| Asr | 5:19 | 6:45 |
| Maghrib | 8:44 | |
| Isha | 10:15 | 10:20 |
Al-Farooq Masjid
442 14th Street NW
Atlanta, GA 30318
(404) 874-7521
Marriage Seminar
Posted on Monday, November 7, 2016 9:03 am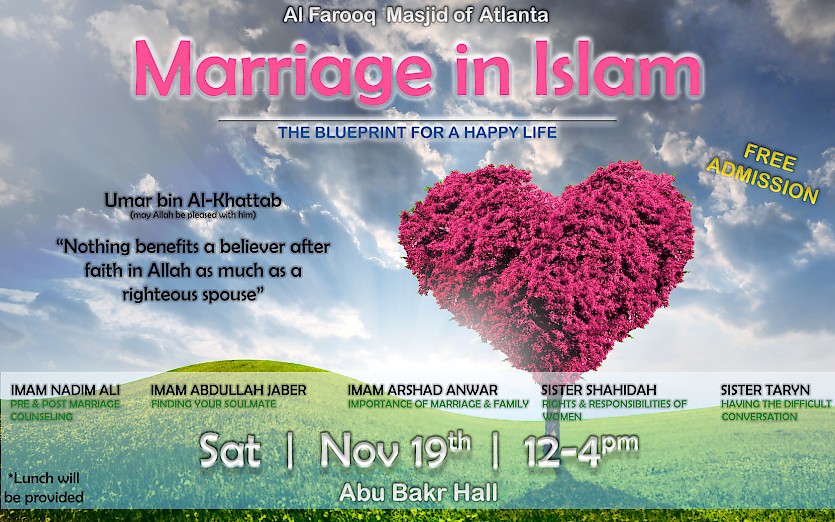 Register for Free Here: http://bit.ly/2eTZP6x
---
Student Scholarship - Georgia State Taxes
Posted on Tuesday, November 1, 2016 8:41 am
If you are a Georgia State tax payer and are required to pay State taxes, you are eligible to participate in a unique program offered by our State.  You, a State Taxpayer, are now allowed to tell the State to re-direct your taxes to Dar Un Noor Academy.  For program details or to sign up, please click the image below.  Hurry, this opportunity ends January 1, 2017!
Questions?  Text or call 404-400-9889

---
Youth Event: Real Talk on Celebrations in Islam
Posted on Thursday, October 27, 2016 8:04 pm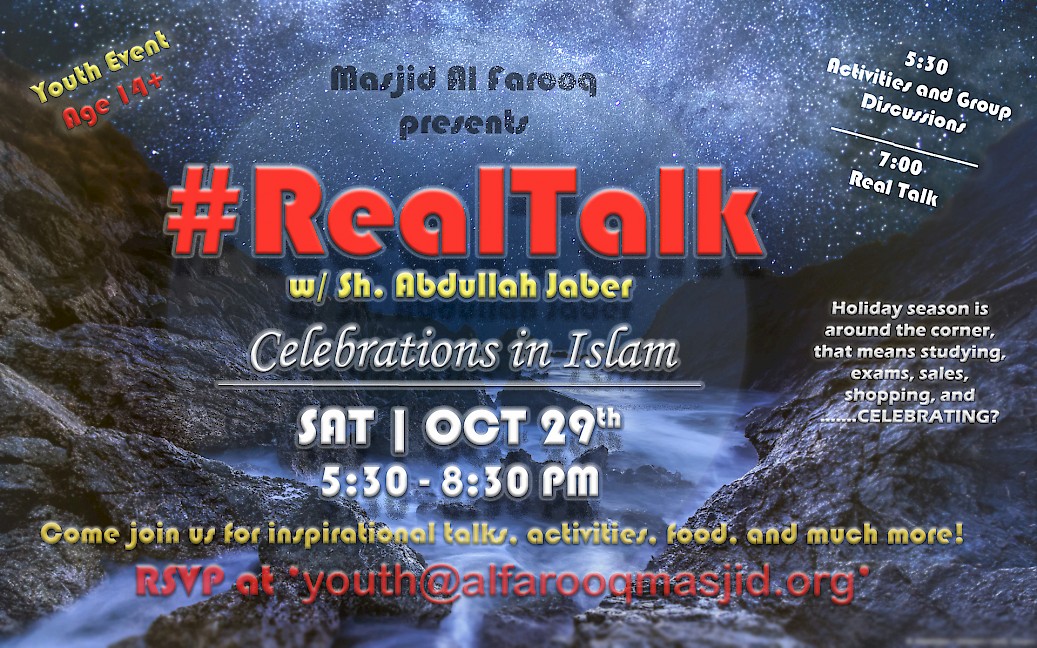 Free Registration Here: http://bit.ly/2dINVyk
Our last youth event had around 80 people. We hope you can join us this time. Food and refreshments will be served. Email youth@alfarooqmasjid.org if you have any questions. To learn about events catered to the youth, please signup for our separate youth mailing list here: 
http://bit.ly/2dDXsoG
---
Sisters' Halaqa
Posted on Friday, September 30, 2016 12:13 am
Sisters Halaqa will take place on Sat, October 1 at 3pm in the basement Abu Bakr Event Hall of Al-Farooq Masjid. For more info contact Sister Baherrah 404-454-5762
---
2016 Dar-un-Noor Eid ul-Adha Festival Photos
Posted on Saturday, September 24, 2016 5:00 pm
---
MOHID is Al-Farooq Masjid's preferred method of accepting donations/payments.
Please write a check to "Al-Farooq Masjid" and either put it within a donation box at the masjid or mail it to:
Al-Farooq Masjid
442 14th Street NW
Atlanta, GA 30318
"
O ye who believe! Fear Allah as He should be feared, and die not except in a state of Islam."