Thursday, June 22, 2017
27 Ramadan 1438
| | Starts | Iqamah |
| --- | --- | --- |
| Fajr1 | 4:44 | 5:04 |
| Zuhr2 | 1:40 | 2:00 |
| Asr | 5:25 | 6:45 |
| Maghrib | 8:55 | |
| Isha | 10:29 | 10:34 |
Friday, June 23, 2017
28 Ramadan 1438
| | Starts | Iqamah |
| --- | --- | --- |
| Fajr1 | 4:44 | 5:04 |
| Zuhr2 | 1:40 | 2:00 |
| Asr | 5:25 | 6:45 |
| Maghrib | 8:55 | |
| Isha | 10:29 | 10:34 |
Al-Farooq Masjid
442 14th Street NW
Atlanta, GA 30318
(404) 874-7521
27th Night of Ramadan 2017 - Khatamul Quran at Al-Farooq Masjid
Posted on Thursday, June 22, 2017 7:37 pm
---
Mohammad Khalid Mohammad Calls the Adhan on the 27th Night of Ramadan at Al-Farooq Masjid
Posted on Thursday, June 22, 2017 7:36 pm
---
Youth Qiyaam Night
Posted on Thursday, June 22, 2017 4:22 pm
Please join us on Friday, June 23 after Taraweeh (around 12:30am) for an inspirational night filled with motivational short talks and qiyaam-ul-layl (night prayers). This is also the 29th night of Ramadan. Speakers include:
Shaykh Abdullah Jaber
Imam Nihal Khan
Omer Kamal
Suhoor will be served!
---
Ramadan Mubarak
Posted on Wednesday, June 21, 2017 7:16 am
Important Dates:
Khatmul Qur'an - 27th night of Ramadan (Wednesday, June 21)
Itikaf - Last 10 nights of Ramadan begining at Maghrib on Thursday, June 15th. InshaAllah (Brothers Only) are encouraged to spend the last 10 nights of Ramadan at Al-Farooq.  Participants are required to be inside the small Musullah before Maghrib on Thursday June 15.  Kindly complete the Itikaf Registration Form and submit to any Masjid Staff before the last 10 nights.  Please feel free to text (404-919-7521) or email varachhia@alfarooqmasjid.org if you have any questions.  Jazakullah Khair!

Ramadan Schedule: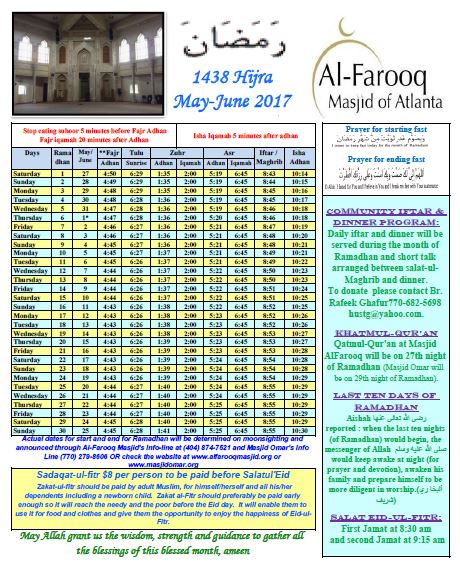 ---
New Muslim Social
Posted on Monday, June 5, 2017 5:52 am
Signup Here: http://bit.ly/2sv4u52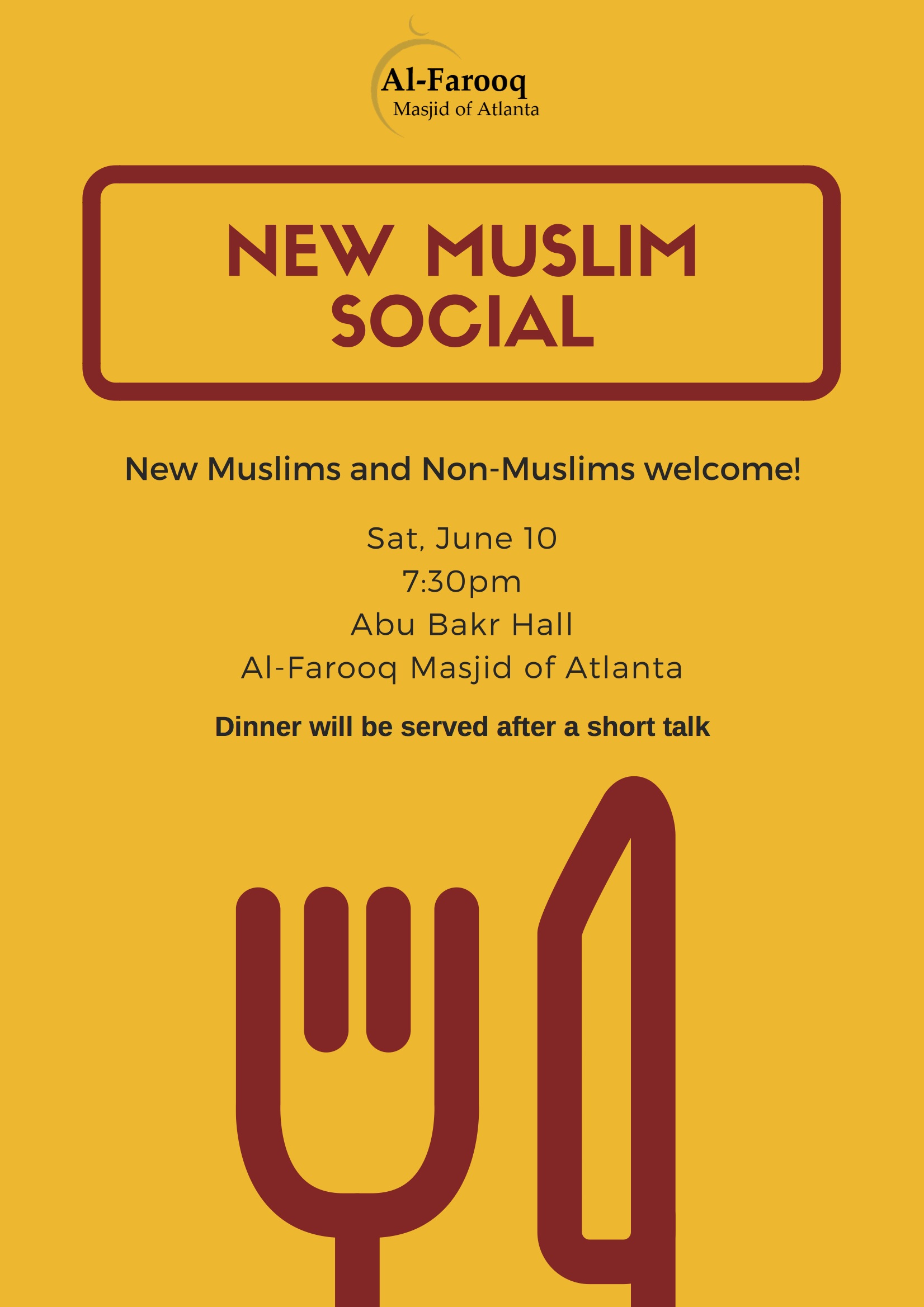 ---
MOHID is Al-Farooq Masjid's preferred method of accepting donations/payments.
Please write a check to "Al-Farooq Masjid" and either put it within a donation box at the masjid or mail it to:
Al-Farooq Masjid
442 14th Street NW
Atlanta, GA 30318
"
Surely those who guard (against evil) are in a secure place, In gardens and springs;"