Monday, May 20, 2019
15 Ramadan 1440
| | Starts | Iqamah |
| --- | --- | --- |
| Fajr1 | 4:56 | 5:16 |
| Zuhr2 | 1:34 | 2:00 |
| Asr | 5:19 | 6:45 |
| Maghrib | 8:40 | |
| Isha | 10:07 | 10:12 |
Tuesday, May 21, 2019
16 Ramadan 1440
| | Starts | Iqamah |
| --- | --- | --- |
| Fajr1 | 4:55 | 5:15 |
| Zuhr2 | 1:35 | 2:00 |
| Asr | 5:19 | 6:45 |
| Maghrib | 8:41 | |
| Isha | 10:08 | 10:13 |
Al-Farooq Masjid
442 14th Street NW
Atlanta, GA 30318
(404) 874-7521

(404) 919-7521
Ramadan Announcement
Posted on Monday, May 20, 2019 3:05 pm
Ramadan Mubarak!  
Important Dates:
Saturday, May 25:  Brothers participating in Itikaf (last 10 days of Ramadan) should at the Masjid prior to Maghrib. An I'tikaf registration form is required.
Friday, May 31:  27th night of Ramadan and Khatmul Qur'an

June 4th or June 5th:  Eid ul Fitr (please check back the evening of June 3rd for an official announcement)
(Tentative Excuse Letter)
Feed a Fasting Muslim in Ramadan! CLICK HERE (select Ramadan Iftar from category list)
$150 - Feeds 30 Brothers/Sisters
$250 - Feeds 50 Brothers/Sisters
$500 - Feeds 100 Brothers/Sisters
$2,000 - Provides Iftar for an entire night!
Iftar Scheduling, Food Donations & Volunteering:
Rafeek Ghafur | rafkg@yahoo.com |  678-665-0657
Masjid Security: CLICK HERE (select Masjid Security from category list)
Alhamdulilah, we have been blessed to have a security guard on-site for the entire month of Ramadan.  Help keep your commuity safe by donationg towards this expense.
$25 - 1/4 of the night
$50 - 1/2 the night
$100 - Full night of security
$3,000 - Entire Month of Ramadan Security
---
Retribution (14 Ramadan 1440)
Posted on Monday, May 20, 2019 12:37 pm
---
Loathing (13 Ramadan 1440)
Posted on Sunday, May 19, 2019 4:14 pm
---
A Man From the People of Heaven (12 Ramadan 1440)
Posted on Saturday, May 18, 2019 4:28 pm
---
Millennial Muslim Iftar
Posted on Thursday, May 16, 2019 12:10 pm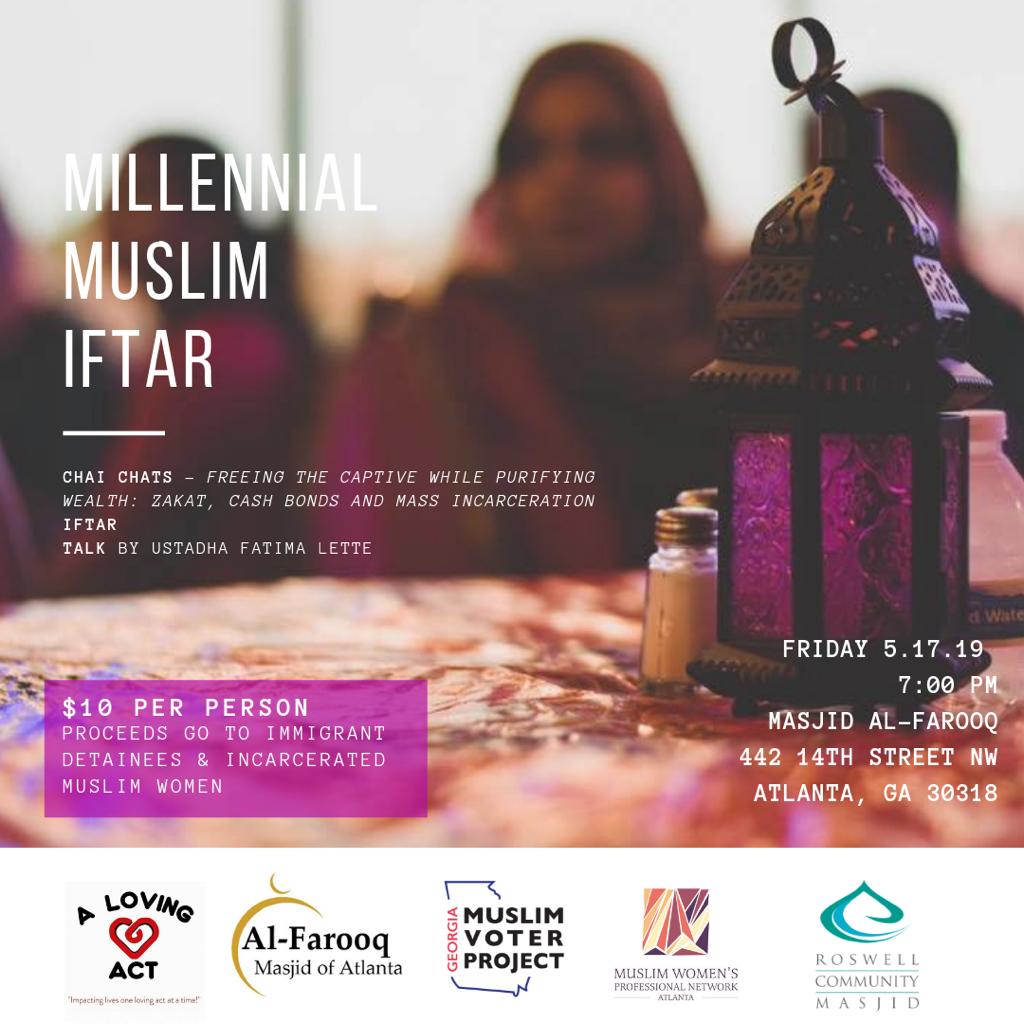 Register Here: https://roswellmasjid.wufoo.com/forms/millennial-iftar/
---
Darul Uloom of Atlanta now enrolling 2019-2020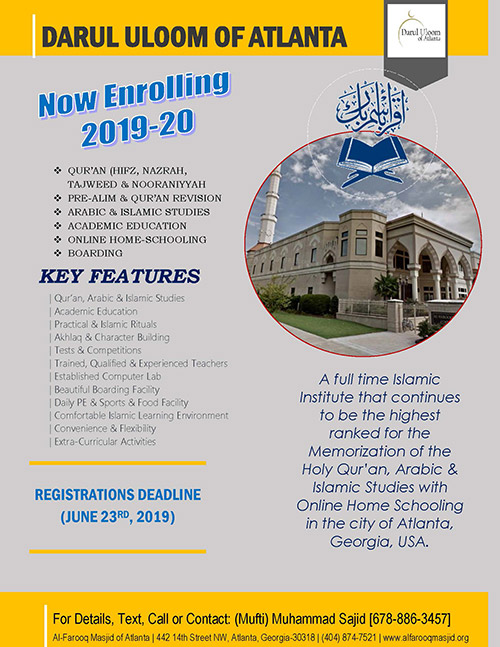 "
Narrated 'Umar bin Al-Khattab: I heard Allah's Messenger

saying, "The reward of deeds depends upon the intentions and every person will get the reward according to what he has intended. So whoever emigrated for worldly benefits or for a woman to marry, his emigration was for what he emigrated for.""