Tuesday, February 20, 2018
3 Jumada Al-Akhirah 1439
| | Starts | Iqamah |
| --- | --- | --- |
| Fajr1 | 5:53 | 6:45 |
| Zuhr2 | 12:52 | 2:05 |
| Asr | 4:01 | 5:15 |
| Maghrib | 6:30 | |
| Isha | 7:45 | 8:00 |
Wednesday, February 21, 2018
4 Jumada Al-Akhirah 1439
| | Starts | Iqamah |
| --- | --- | --- |
| Fajr1 | 5:52 | 6:30 |
| Zuhr2 | 12:52 | 2:05 |
| Asr | 4:02 | 5:15 |
| Maghrib | 6:31 | |
| Isha | 7:46 | 8:15 |
Al-Farooq Masjid
442 14th Street NW
Atlanta, GA 30318
(404) 874-7521

(404) 919-7521
Dar Un Noor is Hiring
Posted on Friday, May 5, 2017 4:30 pm
Dar-Un-Noor & Atlanta Science Academy is looking to hire Elementary Teachers for the 2017-2018 school year. Applicants must be certified or eligible to be certified and candidates with experience will be given higher priority.
Established in 1990, Dar-Un-Noor & Atlanta Science Academy is one of Atlanta's oldest Islamic schools. The school provides education in a variety of subjects including, math, science, social studies, language arts, Arabic, and Islamic studies. The school which also offers a highly competitive high school program has participated in various competitions including MathCounts & Science Olympiad. Additionally the school offers AP courses, SAT prep, and dual enrollment.
Apply at  https://www.indeed.com/cmp/Dar--Un--Noor-&-Atlanta-Science-Academy/jobs/Elementary-Teacher-593840eff9c8121e?q=dar+un+noor
---
Dar Un Noor Summer Camp 2017
Posted on Friday, May 5, 2017 1:27 pm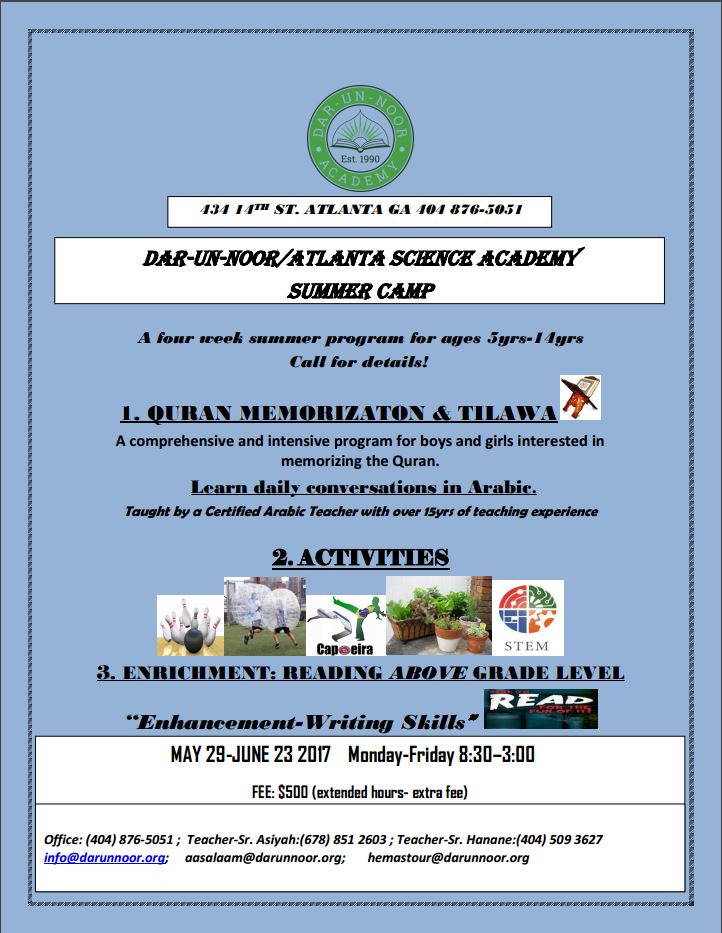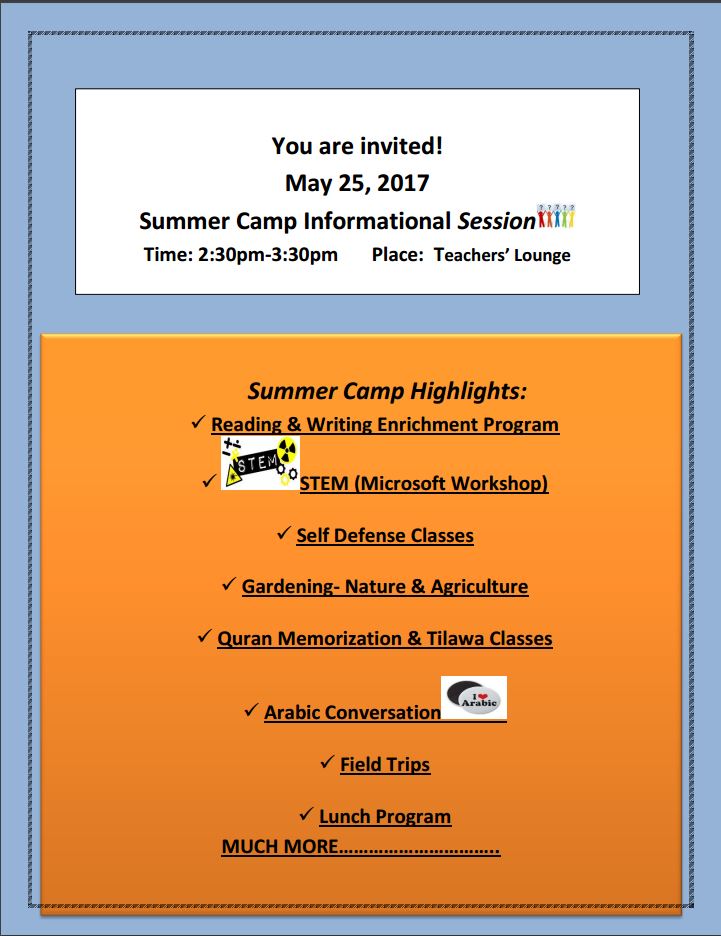 ---
Registration Open For Darul Uloom Of Atlanta
Posted on Wednesday, May 3, 2017 5:28 am
Darul Uloom of Atlanta
[An Introduction]
Darul Uloom of Atlanta (a unit of Al-Farooq Masjid of Atlanta) was established in 1990 as a full time Tahfeez-ul-Qur'an school. As a full time Islamic Institute that continues to be the highest ranked for the Memorization of the Holy Qur'an, Arabic & Islamic Studies with Online Home Schooling in the city of Atlanta, State of Georgia.
In 2008, Darul Uloom of Atlanta was reorganized by the Al-Farooq Masjid of Atlanta Board of Trustees, and began efforts to restructure the educational experience, as well as, renovate the dormitory / residence building located on 1097 Center Street NW, Atlanta, Georgia 30318.
Since 2008, Darul Uloom of Atlanta has had the highest success rate in producing young Huffaz. With an astounding more than 100 graduates (Hafiz-ul Qur'an & other courses) in 10 years, this program has become a benchmark for other programs in the southeast United States, with students attending from 13 different states.
Darul Uloom of Atlanta is currently offering the following Full/Part Time Programs/Courses with & without boarding choices:
Qaidah Nooraniyah (Qur'an Tutor)
Tajweed & Qira'ah
Nazrah (Qur'an Reading)
Hifz(Memorization of the Qur'an)
Revision of the Qur'an
Arabic Language
Pre-Alim (Intro Alim)
Alim (Arabic & Islamic studies)
Online home schooling
Visit us at:
Al-Farooq Masjid of Atlanta
442 14th Street NW, Atlanta, Georgia 30318
(404) 874-7521
Contact Info:
Muhammad Sajid
Imam/Administrator: (678) 886-3457 | Email: info@alfarooqmasjid.org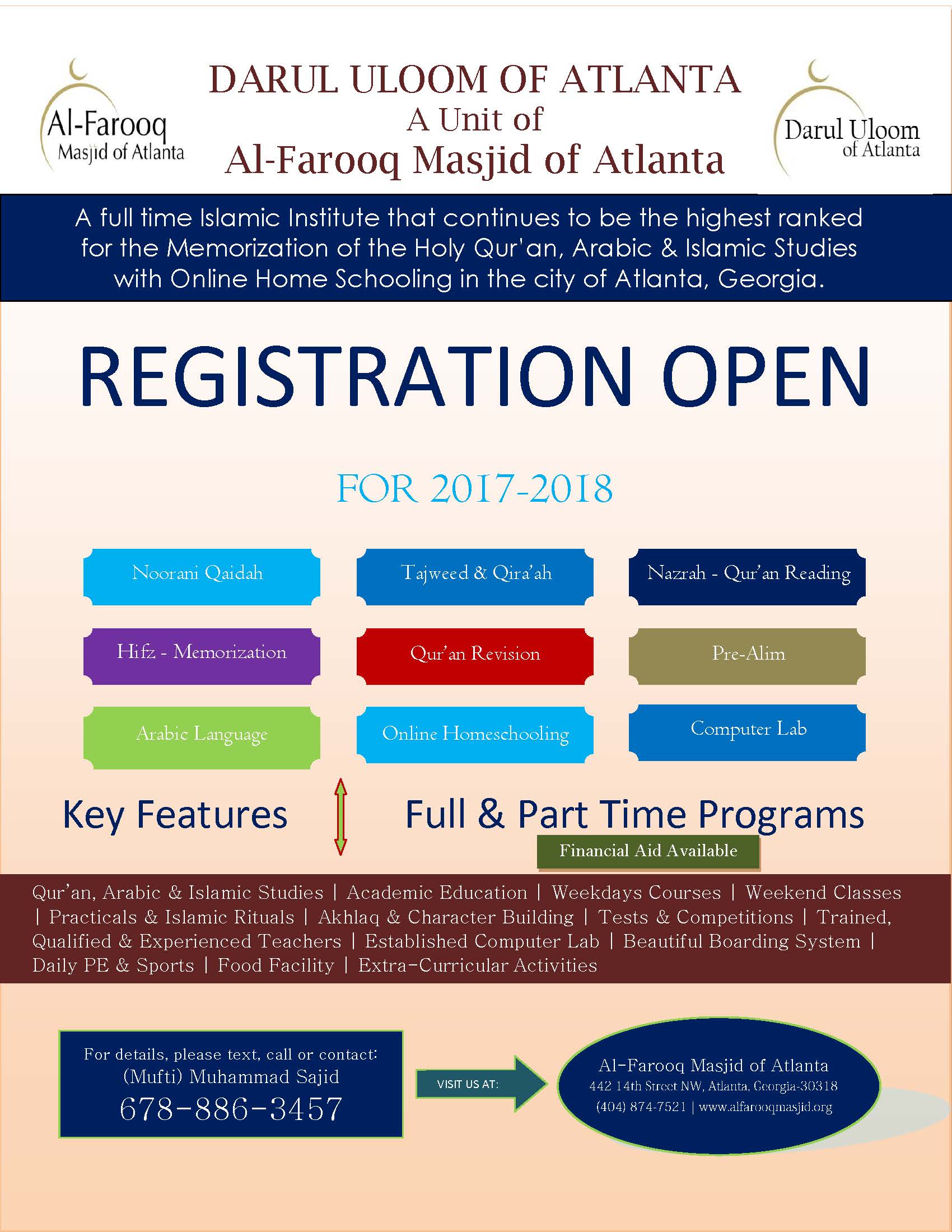 ---
Healthy Eating & Ramadan Diet Lecture
Posted on Wednesday, April 26, 2017 10:37 am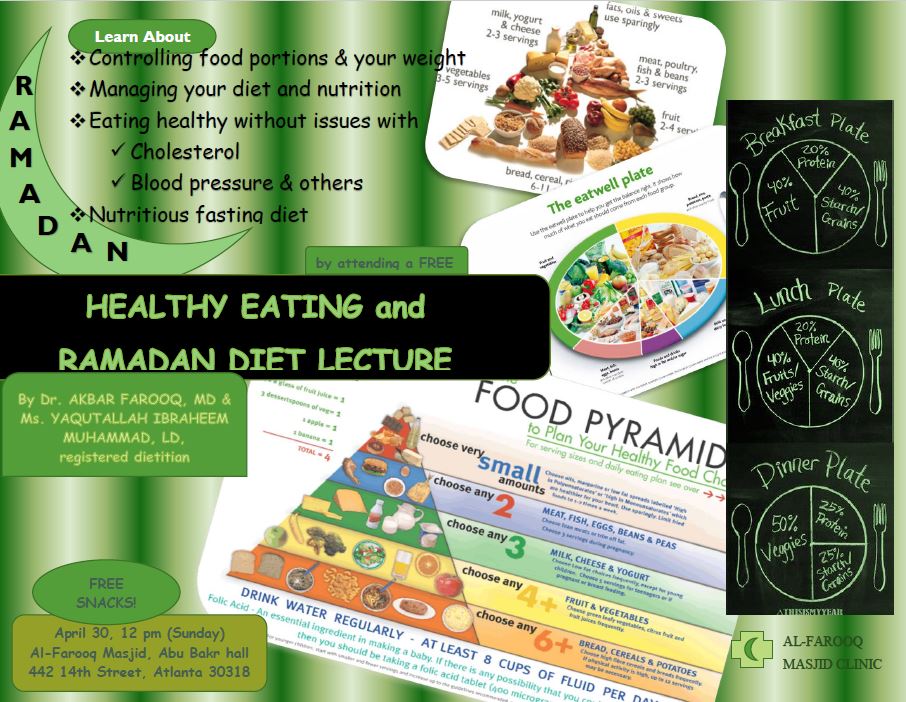 ---
Ramadan Diet & Healthy Eating Lecture - Sun. April 30
Posted on Wednesday, April 26, 2017 10:35 am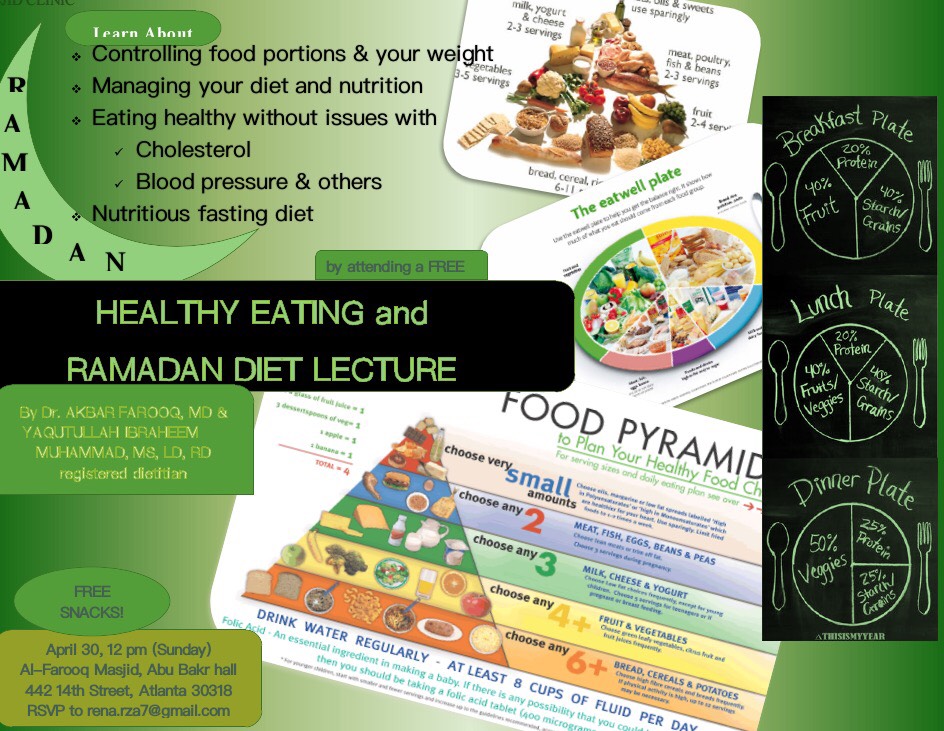 ---
"
Narrated 'Umar bin Al-Khattab: I heard Allah's Messenger

saying, "The reward of deeds depends upon the intentions and every person will get the reward according to what he has intended. So whoever emigrated for worldly benefits or for a woman to marry, his emigration was for what he emigrated for.""