Wednesday, July 26, 2017
3 Dhul Qadah 1438
| | Starts | Iqamah |
| --- | --- | --- |
| Fajr1 | 5:09 | 6:00 |
| Zuhr2 | 1:45 | 2:00 |
| Asr | 5:29 | 6:45 |
| Maghrib | 8:46 | |
| Isha | 10:14 | 10:30 |
Thursday, July 27, 2017
4 Dhul Qadah 1438
| | Starts | Iqamah |
| --- | --- | --- |
| Fajr1 | 5:10 | 6:00 |
| Zuhr2 | 1:45 | 2:00 |
| Asr | 5:29 | 6:45 |
| Maghrib | 8:45 | |
| Isha | 10:13 | 10:30 |
Al-Farooq Masjid
442 14th Street NW
Atlanta, GA 30318
(404) 874-7521
Visit a Mosque Day
Posted on Wednesday, March 1, 2017 6:35 pm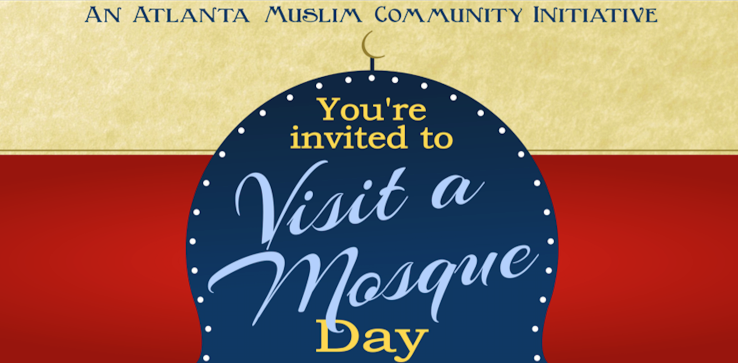 What
The Atlanta Muslim Community has organized a city-wide #VisitAMosqueATL day on Saturday, March 11th where area mosques will open their doors to the general public. Although most mosques are always open to the public, this is a chance for individuals and groups to enjoin in a casual setting with Muslims from their neighborhoods.
All mosques that have the capacity & experience holding open houses are invited to join the effort. There is no command & control structure, but rather an independent effort by each mosque. Each mosque will be responsible for how well they run their open house
When
Saturday, March 11, 3 to 6 PM
Why
Our goal is to strengthen communication and understanding across communities and allow people of different faiths to get to know one another on a more personal level. We hope that this is one of many events that you all will join us in to help foster a sense of brotherhood and sisterhood in our communities. Together, we can encourage people of all faiths to learn more about each other and build relationships, which will ultimately strengthen our communities.
Where
Open House will be held at participating mosques. Please note: This is not the final list. This page is being updated regularly as more mosques confirm. For more information please email Rosemin@AtlantaMuslim.com
---
Volunteer To Help Refugee Orphans
Posted on Tuesday, February 28, 2017 10:36 pm
We are trying to launch a program to help refugee orphans in the Atlanta area. We need volunteers who can help in any capacity - tutoring, mentorship, companionship, financial support etc. Please signup here: http://bit.ly/2lujKdG
Please feel free to contact us with any suggestions or comments at musheer@alfarooqmasjid.org
---
Love and Mercy: A Blueprint for a Successful Family
Posted on Saturday, February 4, 2017 11:38 pm
---
Burial Will Workshop
Posted on Saturday, January 28, 2017 9:58 am
We will be having a Burial Will Workshop on Sunday, Jan 29 at 11:15 am at the second floor library. We will explain the process that takes place after a person's death and will go over the simple Burial Will that will be completed during the workshop. A notary will be present on site who will help complete the document. 
Please attend to complete the will for free. This is especially important if you are the only Muslim in your family or you do not have any other family in town. However, all Muslims are encouraged to have this document completed to ensure we are able to perform Islamic rites such as ghusl, janazah and burial in an Islamic cemetery if someone was to pass away. 
Note: The burial will only describes what must take place after a person's death in terms of the preparation of the body and burial. It does not contain any inheritance information.
---
AFM Feed the Homeless - 5th Anniversary (B&W Photos)
Posted on Sunday, January 22, 2017 3:30 pm
---
MOHID is Al-Farooq Masjid's preferred method of accepting donations/payments.
Please write a check to "Al-Farooq Masjid" and either put it within a donation box at the masjid or mail it to:
Al-Farooq Masjid
442 14th Street NW
Atlanta, GA 30318
"
We have not sent thee but as a universal (Messenger) to men, giving them glad tidings, and warning them (against sin), but most men understand not."