Sunday, October 21, 2018
12 Safar 1440
| | Starts | Iqamah |
| --- | --- | --- |
| Fajr1 | 6:25 | 7:00 |
| Zuhr2 | 1:23 | 2:05 |
| Asr | 4:32 | 5:30 |
| Maghrib | 7:00 | |
| Isha | 8:16 | 8:45 |
Monday, October 22, 2018
13 Safar 1440
| | Starts | Iqamah |
| --- | --- | --- |
| Fajr1 | 6:26 | 7:00 |
| Zuhr2 | 1:23 | 2:05 |
| Asr | 4:31 | 5:30 |
| Maghrib | 6:59 | |
| Isha | 8:15 | 8:30 |
Al-Farooq Masjid
442 14th Street NW
Atlanta, GA 30318
(404) 874-7521

(404) 919-7521
Ramadan Iftar Program 2018
Posted on Sunday, May 6, 2018 6:48 pm
Note: All further donations will go to Ramadan expenses
The Al-Farooq Masjid Ramadan Iftar Program is sponsored by the community every year. This includes the dates, dinner, supplies, cleaning etc. Please participate in this program by contributing in any way possible. Allah (SWT) offers great rewards for feeding the fasting persons. We schedule dinner donations to avoid overlapping and provide balance, so please contact us to book a date in advance.
ALL CHICKEN & MEAT MUST BE HAND-ZABIHA.
You can contribute to this program in several ways:
Donate funds to be used to cater the dinners.
Contribute funds to purchase supplies (plates, cups, spoons, napkins, or dates).
Bring dates, fruits, bottled water or ice.
Volunteer to assist in daily set up, clean up and generally provide service to others.
Donations can be made on this website (PayPal), in the masjid lobby terminal, or by check/cash in person. Mark donations 'For Iftar'.
May Allah SWT reward us all bountifully, as we seek His pleasure during this blessed month. To donate, schedule dinners, or contribute in any way, please contact: 
Br. Rafeek, Sis. Farida at 678-665-0657 or rafkg@yahoo.com
---
The Search for Inspiration
Posted on Saturday, May 5, 2018 2:22 pm
Get your tickets here: http://bit.ly/yasmin_m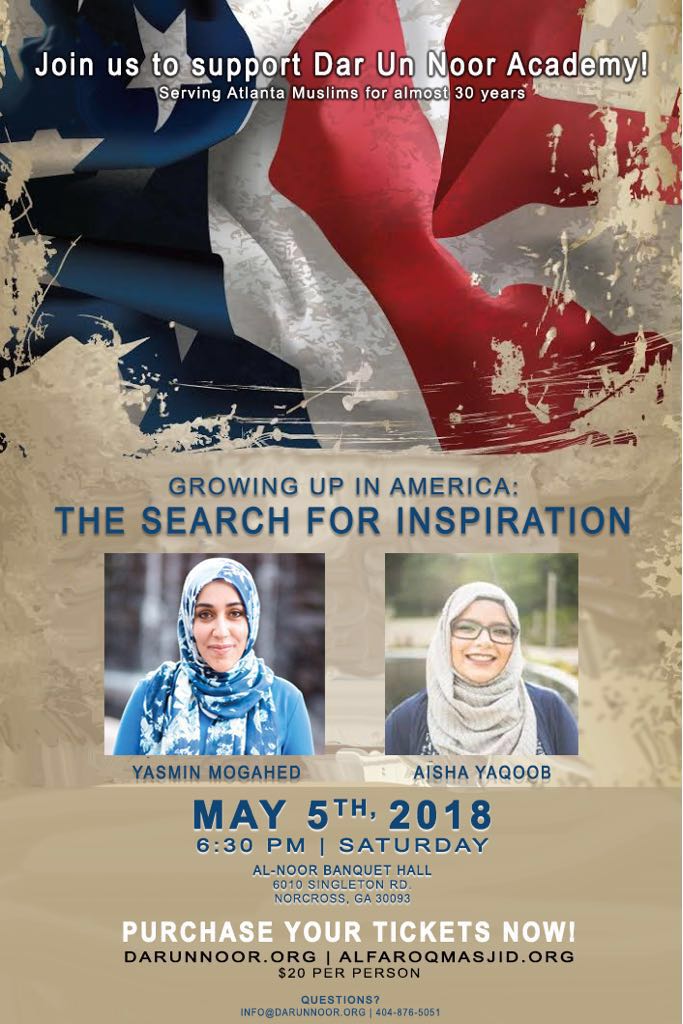 ---
Join us for ALFA Bike Ride #2
Posted on Friday, May 4, 2018 1:22 pm
Signup Here: http://bit.ly/2HQe3XK
Bike Ride #2 on Saturday, May 12 at 8:30am. We will meet on Snyder Street next to the entrance of Al-Farooq Masjid's parking deck (442 14th Street NW, Atlanta, GA 30318).
Distance: 5 miles (30-40 minutes)
Ages: 15 and up
Brothers and sisters welcome
What to bring: Helmet and Bike. Bike rentals are available nearby at relaybikeshare.com
---
12th Annual Hifz Graduation Ceremony
Posted on Thursday, May 3, 2018 12:24 pm
---
Darul Uloom of Atlanta Students at the 2018 United Benefit Dinner
Posted on Monday, April 30, 2018 7:09 pm
---
"
O ye who believe! Fear Allah as He should be feared, and die not except in a state of Islam."